Rooting for Rudy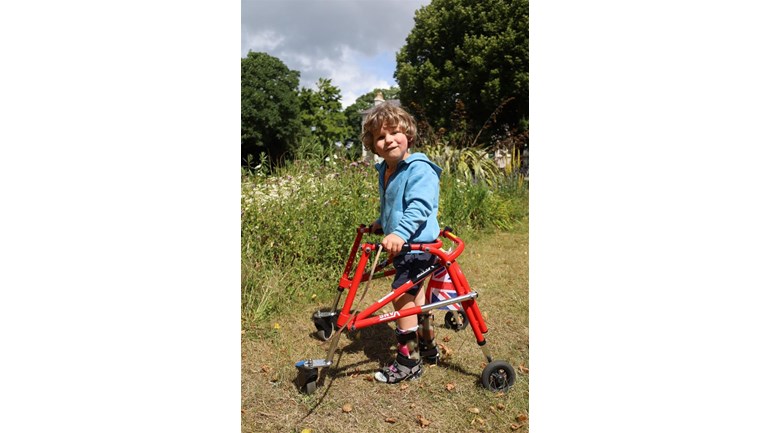 Rudy is a happy, brave and kind 3 year old who has spastic diplegia. We are fundraising to support the intense rehabilitation he will need before, and after a potentially life changing spinal surgery. The Selective Dorsal Rhizotomy Surgery (SDR) will result in him walking easier, safer, and without pain.

Rudy was born via emergency c- section at 42 weeks (he was just too comfy!). He was a very smiley, happy chunky little man who met all his milestones. It wasn't until he started walking that we noticed he was struggling. He couldn't walk without holding onto someone and he couldn't walk with his feet flat.

During the pandemic, and our second pregnancy with his baby brother Asa, we attended a physiotherapy assessment clinic. Here we found the tip toe walking was because Rudy had Cerebral Palsy.

An MRI later and it was confirmed that whilst during pregnancy, Rudy had a loss oxygen to his brain causing Paraventricular Leukomalacia (PVL) one of the most common causes of Cerebral Palsy.

It's has been a whirlwind year since his diagnosis. Rudy has adapted amazingly to everything this diagnosis has thrown at him. His AFO splints which he wears every day to maintain his range of movement in his ankle; the medication that he takes 3 times a day help relax the tone in his tight muscles. He also conducts daily physio and has had Botox injections to aid relaxing the muscles in his calves. He now uses a walker to keep up with his friends and ultimately keeping him steadier and safer whist walking.

He has been exceptionally fortunate to be accepted for a potentially life changing spinal surgery. This involves making an incision in the spine, moving a bone and then finding the nerves that send signals down to Rudys legs causing the spasticity. 66-75% of these are then cut permanently.

After the surgery comes the hard part. Rudy will have to learn to walk again and coordinate his legs without the spasticity. This process is not quick and will take a lot of intense rehabilitation for at least 2 years after the surgery. Although the NHS fund some increased therapy for a short period after the operation it is no where near what he needs to get the best results, which is at least 3hrs of therapy a week. We can only do this by privately funding his rehabilitation.

This is where we need your support. Rudy wants to walk up the stairs on his own, to walk without pain and to walk holding his brothers hand. All are possible with the rehabilitation he so deserves.

7.5% of all donations to Tree of Hope in relation to this appeal will be allocated to the general charitable purposes of Tree of Hope to cover our core operating costs.

If we raise insufficient funds, or surplus funds, then the funds will be used, if appropriate, to fund support for our child's needs in accordance with Tree of Hope's charitable objects.  If in those circumstances we are unable to use all or part of the funds for the benefit of our child in accordance with Tree of Hope's charitable objectives, then any funds that cannot be used will be transferred to be used for the general charitable purposes of Tree of Hope.
Donating through JustGiving is simple, fast and totally secure. Your details are safe with JustGiving - they'll never sell them on or send unwanted emails. Once you donate, they'll send your money directly to the charity. So it's the most efficient way to donate - saving time and cutting costs for the charity.