Isabelle Blay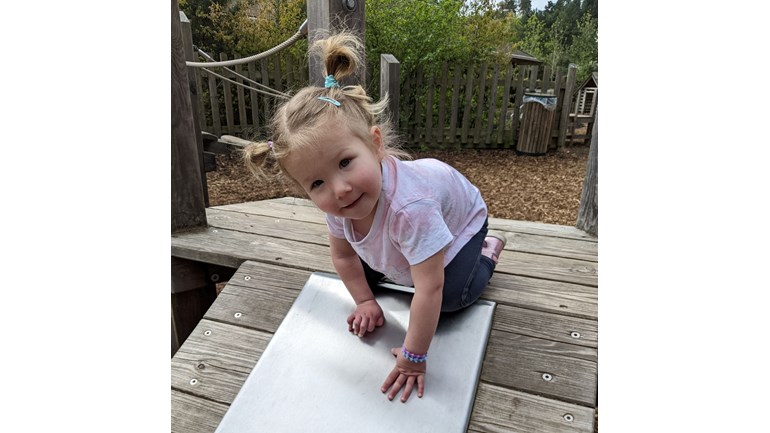 Thank you for taking the time to visit my JustGiving page.
My name is Izzy and I am 2 years old (nearly 3!). I have Right Sided Hemiplegia which is a form of Cerebral Palsy. This means I suffered from a bleed on the brain (stroke); damaging the part of the brain that controls muscle movements on my right. I was born healthy and it wasn't until 3 months old that my Mummy and Daddy noticed I wasn't using my right hand and it was often held in a fist. After an MRI scan I received my diagnosis at 8 months old.
Hemiplegia means I have weakness, stiffness and a lack of control on my right side of my body. My right side can feel heavy, tense or tired and stiffer than the other side. I feel hot or cold temperatures more acutely with my right hand. I can often forget my right hand is there and not use it! Fine motor skills are a challenge for me and I wear a hand splint to help open my hand and maintain my range of movement. I can walk; whilst many children with Hemiplegia can't! However my balance is not good and I often trip/fall over. I get tired very easily as my body is working so hard. I also wear a leg splint to help keep my heel down and stop me walking on my toes. This helps to stretch my calf and promote hip development. As I grow the tightness becomes worse and makes everyday normal tasks more difficult e.g. putting on clothes, going up/down stairs, washing.
Despite my daily challenges, I am a very bubbly little girl who loves to sing, run around and play. With your help and support my future could be a lot brighter.
Hemiplegia is a relatively rare condition, affecting up to 1 child in 1,000. The condition is lifelong and non-progressive. Hemiplegia cannot be cured, but a lot can be done to minimise its effects and help Izzy achieve her potential. Hemiplegia affects each child differently and it may however look different over time, as Izzy grows. At this stage it is unclear if Izzy will be affected in other ways. Other symptoms associated with Hemiplegia are epilepsy, learning difficulties, hearing impairment and visual impairment. 
The immature brain is very flexible and many of the functions of the damaged area could be taken over by undamaged areas of the brain. This is why early intervention is so important to help minimise the effects of Izzy's disability in later life. We want to do everything we can to support Izzy. Currently the NHS does not offer some of the therapy Izzy needs. 
With the help of Tree of Hope, a charity for sick and disabled children, we are hoping to raise £10,000 to fund the next couple of year's therapies, including physiotherapy, occupational therapy, Orthotics, CIMT (constraint-induced movement therapy), travel, accommodation and anything else we come across that may make the difference so she may fulfil her potential.