Felix Snell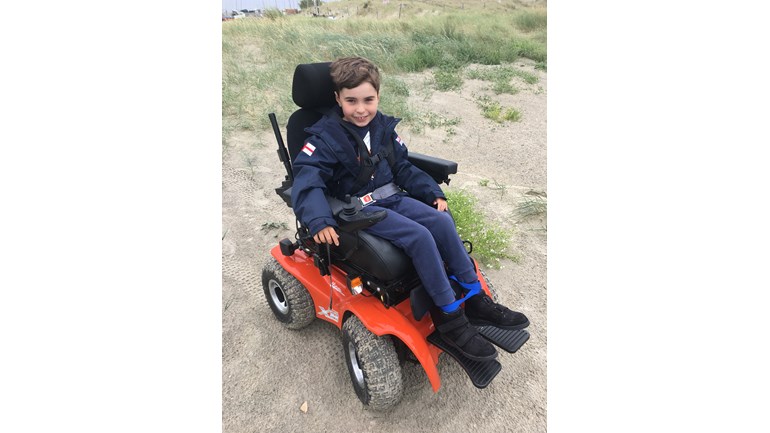 GET FELIX TO THE BEACH AND BEYOND - FUNDRAISING CAMPAIGN
You did it! - Thanks to all of you Felix has achieved and exceeded his fundraising target.  On 1 May he took delivery of his new All Terrain Wheelchair and it is amazing.    Since then he's been making the most of it on the beach, in the woods, at sports day, on family walks that we previously wouldn't have even considered, and he's even taken part in a cross country challenge race.  He is so pleased and so are we.  You all made this possible and we are very grateful.  He's looking forward to lots of adventures in his new chair.  
The additional funds raised for Felix will be kept safely in trust for his benefit only as and when the need for new/additional equipment arises.  Thank you so much. 
THANK YOU - THANK YOU - THANK YOU!  My family and I are overwhelmed by so much kindness from everyone contributing to and supporting my campaign.  We have recently completed our 1 mile and 5 K Santa runs along Southsea Sea Front and more events are planned.  We will keep you posted....
Hello! My name is Felix and I'm 9 years old.  I live on the south coast right opposite the beach.  We live here because it's where my Daddy works. 
I have cerebral palsy and for me this means I cannot walk.  However, I can use a power chair and this is how I get around.  My power chair gives me so much independence and has shown me what fun an active life can be.  I especially love all sports.
However, my wonderful NHS power chair can only take me so far and mostly on flat, level and even surfaces.  Despite living opposite the beach, my NHS chair can't take me onto the beach.  It can't take me onto the rugby or games pitch, it can't take me into the woods or on a muddy country walk with my family and friends.  I have to stay at home or not do these activities and sit and watch on the side-lines while others have fun in these places.  I find this very hard, because I just want to join in.  I'm happy and I love to be active, I love sport and I love my friends and I want to join in with everything.  It's also really hard for my Mummy and Daddy as when my brother and sister want to go to the beach I don't.
This summer I test drove an amazing All Terrain power chair.  For an hour I was able to go onto the beach, I  drove over the pebbles and right down to the sea all by myself.  I played in the sand dunes and sped across the sand chasing my brother and little sister - it was amazing.  And then the All Terrain power chair had to go back.
The All Terrain power chair will cost £12,740.  That's more than I have in my money box, and so I'm asking if you might be able to help me by kindly donating to my fundraising campaign "Get Felix to the Beach."
This All Terrain power chair will give me so much freedom and independence.  I will be able to join my friends and family wherever they go and I won't have to do something different.   Our family outings can be all together and I won't have to stay at home or inside.
This All Terrain power chair will last me as I grow-up - the base is suitable for all ages and I'll just need to adjust the seat as I grow. 
My campaign "AND BEYOND" also recognises that it is likely I will continue to need additional, special and supportive equipment as I get bigger.  My Mummy and Daddy help me a lot by lifting and carrying me and encouraging me to move by myself, but I am realistic that as I grow up I will need extra help at home simply to ensure I can wash, learn to be independent and stay safe.  All the specialist equipment is really expensive, but it's also really important as I want to do as much as I can by myself.  Your support for my All-Terrain power chair is amazing, but any funds raised over and above my initial target will enable me to have additional specialist aides and equipment as I need them.
Thanks for taking the time to visit my JustGiving page and thank you so much if you are able to donate to my "Get me to the Beach and Beyond" campaign - it means so much to me.  I'm looking forward to seeing you all on the beach!
Donating through JustGiving is simple, fast and totally secure. Your details are safe with JustGiving - they'll never sell them on or send unwanted emails. Once you donate, they'll send your money directly to the charity. So it's the most efficient way to donate - saving time and cutting costs for the charity.
7.5% of all donations to Tree of Hope in relation to this appeal will be allocated to the general charitable purposes of Tree of Hope to cover our core operating costs.

If we raise insufficient funds, or surplus funds, then the funds will be used, if appropriate, to fund support for Felix's needs in accordance with Tree of Hope's charitable objects. If in those circumstances we are unable to use all or part of the funds for the benefit of Felix in accordance with Tree of Hope's charitable objects, then any funds that cannot be used will be transferred to be used for the general charitable purposes of Tree of Hope.