Eli would love to ride his own trike with a bell!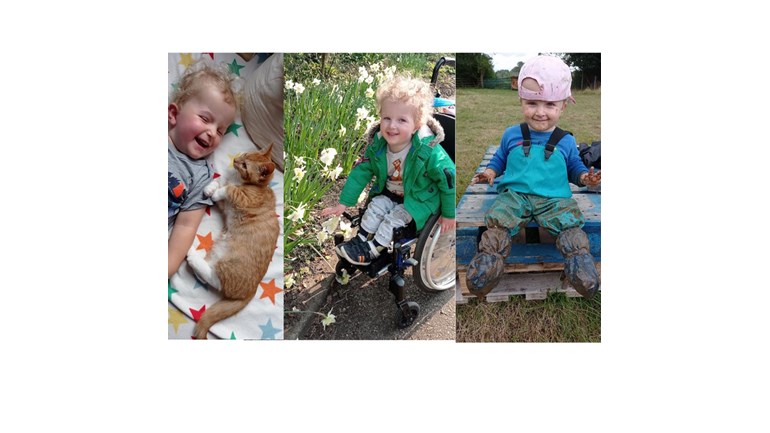 Hello, I'm Eli and I am nearly 3 years old. My story started before I was even born. At my 20 week scan My Mummy was told I had Spina Bifida and Hydrocephalus. My spine and head grew differently, this means I need help to walk and be independent. I have a loss of sensation and control of my legs and feet, it also causes problems with my bladder and bowels. 
At 25 weeks My Mum and I were very lucky to meet an inspiring surgeon who operated on my spine when I was still inside my Mummy's tummy, to stop my spinal cord from being damaged from the fluid in the womb. So technically I have been born three times as I was conceived via IVF, not many people can say that! 
I was born in June 2019, everything seemed to be going well, at 6 months the fluid in my brain rapidly increased and I needed brain surgery. A shunt was fitted to drain excess fluid from my brain to my stomach to be recycled. How cool is that! 
Today, I am a speedy crawler, I wear funky animal print splints to support my feet. I use a standing frame at home to strengthen my muscles, I will use my walker for short periods of time. I also love using my wheelchair. People say I am an absolute whizz in it, they're right. 
So let me tell you about me. I am very clever, cheeky, adventurous, and creative. I love messy play (Mummy says she loves doing laundry, he he). I love role playing, you might often find me at my toy kitchen or at my workbench. I spend most of my time being outdoors with nature and mud, just like Pepper Pig. I really like going to the farm to feed and stroke the animals. Most of all I love playing with my Henry hoover or Mummy's Hetty. Take a look at my some of my adventures in the photo gallery. 
Recently I got to trial a therapy trike, it was so cool! I asked if it had a bell and it did! I was so excited and I didn't want to get off. Mummy said it's a fantastic bike. It will support my posture, my feet can be strapped in to keep me in alignment, it will make my tummy and legs muscles strong too. My Mummy can steer and push me from the back, however I am a very determined toddler so I will keep peddling till I can do it by myself and if I do get tired my Mummy can turn a switch on so I can rest my legs, while still enjoying time on my trike.  Most of all I will have lots and lots of fun taking my trike to all sorts of places. I really hope I can have my very own orange trike just like Peppa Pig's has a bike but with three wheels.
Thank you for looking at my page, if you can help however small, I will be so grateful. I may blow a raspberry at you but that's my cheeky character. 
7.5% of all donations to Tree of Hope in relation to this appeal will be allocated to the general charitable purposes of Tree of Hope to cover our core operating costs.

If we raise insufficient funds, or surplus funds, then the funds will be used, if appropriate, to fund support for our child's needs in accordance with Tree of Hope's charitable objects.  If in those circumstances we are unable to use all or part of the funds for the benefit of our child in accordance with Tree of Hope's charitable objectives, then any funds that cannot be used will be transferred to be used for the general charitable purposes of Tree of Hope.


Donating through JustGiving is simple, fast and totally secure. Your details are safe with JustGiving - they'll never sell them on or send unwanted emails. Once you donate, they'll send your money directly to the charity. So it's the most efficient way to donate - saving time and cutting costs for the charity.