Dexter Summerscales-Heard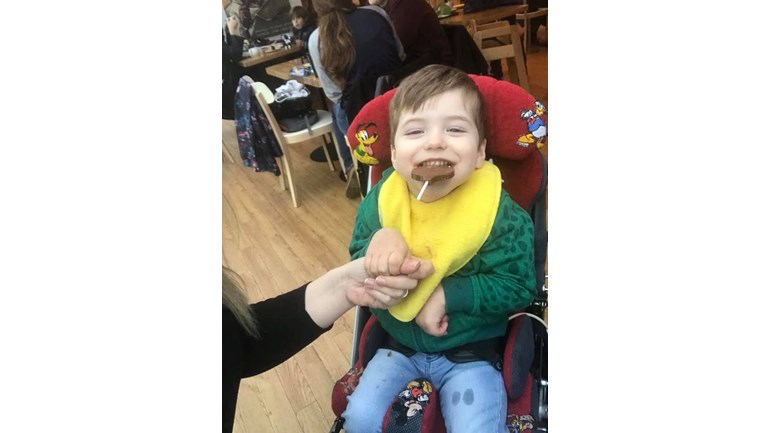 Can you imagine being told that you were never allowed to eat again.  Think of all the things that we take for granted where food is centred.  Christmas Dinner, Birthday Cake, Family Meals, Ice Cream on a Hot Day, a chocolate treat for doing extra well.  On 15th March 2019 after a study to check Dexter was swallowing safely was stopped abruptly because the food he was eating wasn't just going into his stomach, but in fact was going dangerously into his lungs.  Dexter wasn't showing any outward signs that it was going "down the wrong way" no coughs or splutters, not even a watery eye.  Dexter has been told if he is to eat he is in danger of respiratory failure.  
Dexter LOVES FOOD.  He gets the most pleasure from exploring tastes and also socially enjoying the food, don't we all?  The diagnosis is a huge shock for our family and has sent us into crisis.  His sister is hiding to eat meals in her bedroom and parents Gemma and Darren have decided to go on strike with him.  Dexter is only allowed to get his nutrition and water via a tube.  He is becoming withdrawn and as a family struggling to come to terms to the news.  
BUT
There is hope.... There is a treatment called VitalStim, only available in the USA for children, at a centre called NAPA.  We are raising funds to get Dexter to the therapy!  Our initial target is £10,000 to include the therapy £5,000 flights and accommodation for the period of time.  Help us give Dexter the chance to be able to make new connections to improve his swallow reflex.  
A little bit about Dexter.
Dexter has Cerebral Palsy which affects his whole body.  Dexter is currently non verbal because the muscles in his mouth are not able to co-ordinate.  He also is wheelchair dependent and struggles to do anything without aid.  Dexter however is like any other boy of his age.  He has normal understanding and is intelligent.  Though he isn't able to talk, he is able to communicate through eye pointing and gestures.  We know when he wants to eat his favourite foods!  Chocolate being most preferred!  Dexter is witty and a class clown, he always sees the humour in situations and has an abundance for energy.  A boy who's mind is trapped inside a body that doesn't work for him, he works hard and has huge determination to do.  
Thanks for taking the time to visit my JustGiving page.

Donating through JustGiving is simple, fast and totally secure. Your details are safe with JustGiving - they'll never sell them on or send unwanted emails. Once you donate, they'll send your money directly to the charity. So it's the most efficient way to donate - saving time and cutting costs for the charity.
7.5% of all donations to Tree of Hope in relation to this appeal will be allocated to the general charitable purposes of Tree of Hope to cover our core operating costs.

If we raise insufficient funds, or surplus funds, then the funds will be used, if appropriate, to fund support for our child's needs in accordance with Tree of Hope's charitable objects.  If in those circumstances we are unable to use all or part of the funds for the benefit of our child in accordance with Tree of Hope's charitable objectives, then any funds that cannot be used will be transferred to be used for the general charitable purposes of Tree of Hope.