autism assistance dog for freddie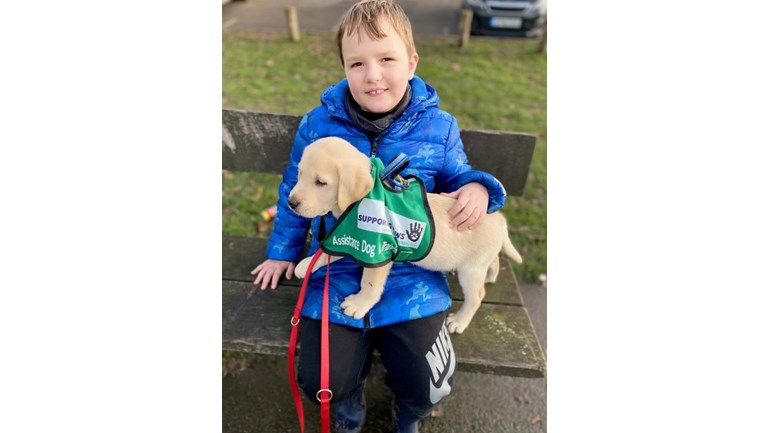 Thanks for taking the time to visit my JustGiving page.
Supporting Paws is an assistance dog organisation based in South East England, primarily providing Autism and Neuro disability support dogs. They will select a pedigree Labrador at 8 weeks of age and train the dog to meet Freddies specific needs. The training program is about 12 months long and will cover everything from obedience to providing Freddie with sensory intervention when required.
Freddie is 7 yrs old and was diagnosed with autism spectrum disorder (ASD) when he was 5yrs old. He struggles massively with sensory processing and also motor skills. He has had a really hard time with school and making friends due to the fact he struggles to interact with his peers and also controlling his emotions. He has been home schooled recently. 
Freddie is a massive Harry Potter fan and wants to call his dog, Dobby after his favorite character 😬
Having an assistance dog will be life changing for freddie, freddie finds  everyday tasks extremely difficult, like dressing, food, smells and especially noise. This all causes great anxiety for freddie, having an assistance dog will change freddies future, he will grow in confidence with the constant support he will have from his dog, having to walk him daily will get him out of the house which in time will lesson his anxieties about the world. 
Freddie also struggles with sleep and keeping calm in the evening, so his dog will provide safety and comfort there also hopefully making sleep time easier for him. 
So freddies family are trying to raise £8000 to go towards the training for an assistance dog. We will be grateful for any help we can get in making this happen for freddie. 

7.5% of all donations to Tree of Hope in relation to this appeal will be allocated to the general charitable purposes of Tree of Hope to cover our core operating costs.

If we raise insufficient funds, or surplus funds, then the funds will be used, if appropriate, to fund support for our child's needs in accordance with Tree of Hope's charitable objects.  If in those circumstances we are unable to use all or part of the funds for the benefit of our child in accordance with Tree of Hope's charitable objectives, then any funds that cannot be used will be transferred to be used for the general charitable purposes of Tree of Hope.


Donating through JustGiving is simple, fast and totally secure. Your details are safe with JustGiving - they'll never sell them on or send unwanted emails. Once you donate, they'll send your money directly to the charity. So it's the most efficient way to donate - saving time and cutting costs for the charity.