Austen Brooks-Peddie #Austensuperpower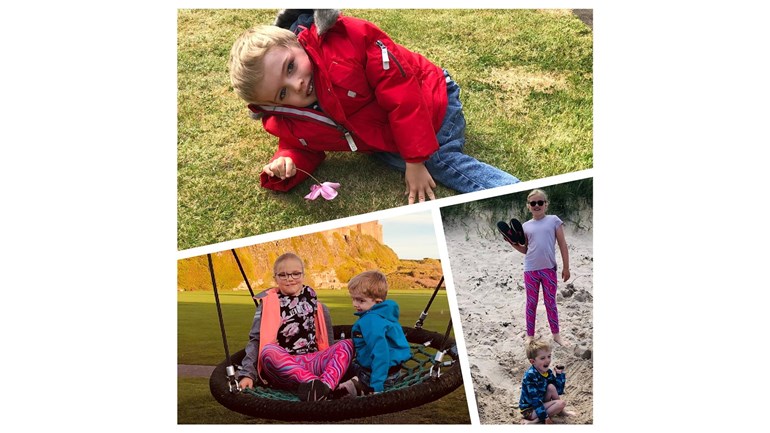 This is me and my little brother Austen.  Austen is 5 and has a rare condition called Ullrich Congenital Muscular Dystrophy, UCMD for short.  
Austen's condition means that his knees and hips are really tight and he can't straighten them fully.  The rest of his joints are really bendy, I call him rubber fingers.  Austen shuffles around on his haunches as he can't stand up himself and struggles with his balance.  His condition doesn't affect his brain so he is just as annoying as any other little brother and is always trying to wind me up and get me in trouble with mum and dad.  Austen always has a smile on his face and loves chatting to people about his favourite ninjas and superheroes. 
Austen started the same school as me last year and his reception teacher has said he's been doing really well, even though he was shielding because of Covid for a lot of the time.   He was given a power wheelchair to help him get around in February this year, this helps him to get around the house easier and around school.  Austen really loves his power chair as he can join in games in the playground and goes fast to catch the baddies.  He is well known in our school and got a special driving licence from our head teacher after passing his driving test in and around school (he always sticks to the speed limit).
Austen has a lot of exercises to do every day to help stretch his hips and knees and to strengthen his muscles.  He also uses a walking frame to move across the school hall (his target is 50 steps) which is hard work and tires him out.  He also has a disability trike that mum pushes him in when I go out on my bike.  Austens physio has told us that since getting his wheelchair she is worried that he is losing a lot of strength in his legs because he isn't using them as much.  She suggested that Austen try a new piece of equipment that might help him.  It's called an Innowalk and it's a bit of a mix between an exercise bike and a cross trainer.   
The Innowalk is a motorised system that helps Austen to move his legs, body and arms in a walking motion using a seated or standing position to help him build muscle strength and stretch the tendons in his knees and hips.  Austen has borrowed an Innowalk machine and loves being able to sit to stand (being as tall as me when on it) and trying to make it go superfast using his own #Austensuperpower.  His physiotherapist has said that she thinks the Innowalk will be really good for Austen helping him to stay strong to delay the progress of his condition for as long as we can.  It will last a long time and can be used to help him exercise for years.  
I'd really like for Austen to get his own Innowalk to use at home when the loan machine goes back but mum and dad said they are very expensive.  That's why I'm asking for people to help by either fundraising for Austen, sharing his story or donating to help reach his target. 
Thanks for reading Olivia x :-)  
7.5% of all donations to Tree of Hope in relation to this appeal will be allocated to the general charitable purposes of Tree of Hope to cover our core operating costs.
 
If we raise insufficient funds, or surplus funds, then the funds will be used, if appropriate, to fund support for our child's needs in accordance with Tree of Hope's charitable objects.  If in those circumstances we are unable to use all or part of the funds for the benefit of our child in accordance with Tree of Hope's charitable objects, then any funds that cannot be used will be transferred to be used for the general charitable purposes of Tree of Hope.
Thanks for taking the time to visit my JustGiving page.
Donating through JustGiving is simple, fast and totally secure. Your details are safe with JustGiving - they'll never sell them on or send unwanted emails. Once you donate, they'll send your money directly to the charity. So it's the most efficient way to donate - saving time and cutting costs for the charity.