Amelie Burns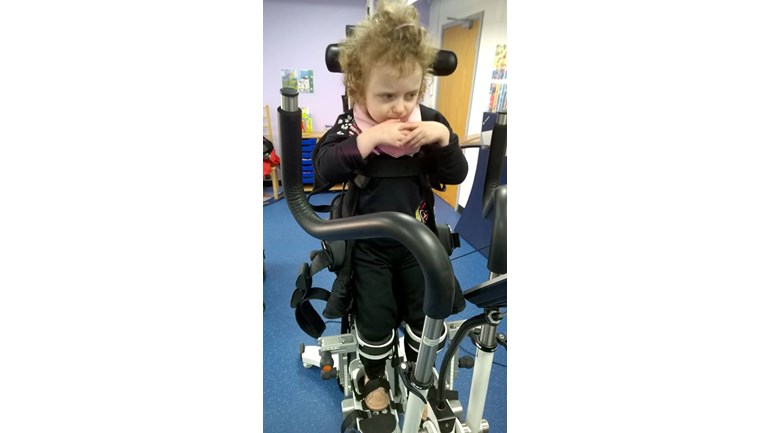 Amelie is a 9 year old Superhero! She has fought all her life against all odds to be able to do as much as she can for herself. Despite epilepsy, global developmental delay, bilateral perisylvian polymicrogyriain in her brain and a genetic condition Amelie has thrived. She is able to hold her head up and eat/drink, grab and pull herself up from lie to sit, grab to lean forward, shake her head 'No', kick her legs in happiness and wave her arms to dance to name a few. When Amelie was younger she was learning sit to stand and then stepping with the help of 2 – 3 people. Amelie took a great amount of pride in doing this. Unfortunately she cannot do this anymore because she has gotten bigger and it is too risky. Heel and Toe charity introduced Amelie and her Mum to the 'Innowalk', an amazing piece of equipment that electronically can sit to stand Amelie and move her legs in a walking fashion, she can override the motor and do herself if she wants. Amelie has trialled the 'Innowalk' at home and liked it. She built happily up to 40 minutes and was overriding the machine!! It seemed to give Amelie more energy and more of a lust for life as physical exercise does. Unfortunately the trail has ended and the machine has gone. Amelie's Mum is heartbroken as she thinks Amelie would like to be up on her feet again, she often grabs at her Mum and pulls as is she would like to stand up. This machine would let Amelie do this again.

It is an expensive piece of equipment (£22,734) and therefore the NHS cannot fund it. Mum has got a supporting letter off Amelie's physiotherapist who has outlined how beneficial for Amelie this machine will be, it will help keep Amelie healthy is a number of ways and will last her for years.

Please help get Amelie back out of her chair and moving again.


Thanks for taking the time to visit my JustGiving page.

Donating through JustGiving is simple, fast and totally secure. Your details are safe with JustGiving - they'll never sell them on or send unwanted emails. Once you donate, they'll send your money directly to the charity. So it's the most efficient way to donate - saving time and cutting costs for the charity.
7.5% of all donations to Tree of Hope in relation to this appeal will be allocated to the general charitable purposes of Tree of Hope to cover our core operating costs.

If we raise insufficient funds, or surplus funds, then the funds will be used, if appropriate, to fund support for my child's needs in accordance with Tree of Hope's charitable objects. If in those circumstances we are unable to use all or part of the funds for the benefit of my child in accordance with Tree of Hope's charitable objectives, then any funds that cannot be used will be transferred to be used for the general charitable purposes of Tree of Hope.