Yasmina young FA fighter.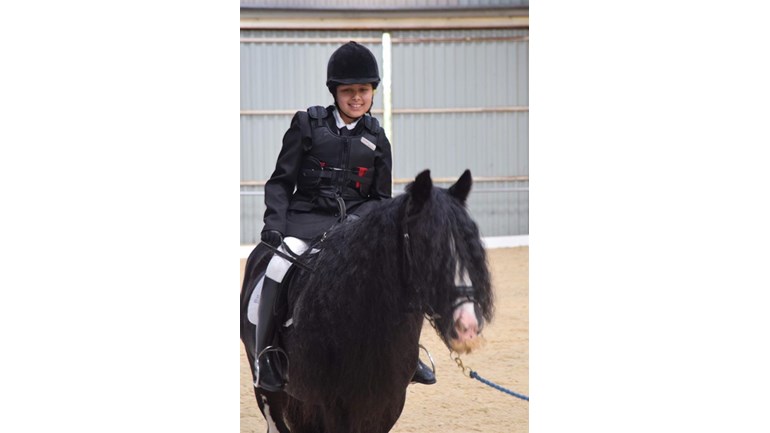 My name is Yasmina, I am13 years old girl, I have Friedrichs ataxia, (Friedreich ataxia (also called FA) is a rare inherited disease that causes progressive nervous system damage and movement problems) It usually begins in childhood and leads to impaired muscle coordination(ataxia) that worsens over time)
I am attempting

 

to fundraise so I can learn and enter competitions  in horse riding. I have never been

 

able to join in physical activities like P.E, sports day, etc., since I was 7

 

and at that age everyone noticed I was different to any typical child, I

 

could still run but I was slow and fell a lot, and it got

 

significantly worse. Pupils would make fun of me because I could not

 

join in. when I went to year 4, I still got bullied and they would make

 

names like slow coach, clumsy, contagious, and dumb, and in the

 

middle of year 4 just before my 9th birthday I got diagnosed and I came

 

into school with my walker, then my Weelchair, everyone was shocked, they thought I was

 

lying however everyone continued to bully me. I continued with my

 

studies, determined not to go to a special school. We started swimming

 

lessons, and everyone said, "you cannot swim you are disabled," now I

 

swim at an exceedingly high level.

 



I went to secondary school and was determined to be independent, get

 

well in my grades and stay active; so, I do not paralyze, (according to my condition).
I started horse

 

riding at 11 intending to do therapy for my scoliosis to improve.

 

Fortunately, I was about to start wearing a spine brace and also I could have a major spine surgery, then my spine

 

improved due to horse riding. I continued to do horse riding as

 

therapy. Then I saw a woman with the same condition as me Para rider,

 

and achieved second place, inspiring me to do the same.

 



I started to aim for better riding skills so I could perform in

competition.
The month of the competition came, and I practiced, the

 

day came, and I was ready, I practiced then I entered the test. I was

 

marked with the accuracy of maneuvering the horse. I ended up

 

winning in my class and qualifying for nationals,  

 



I am hoping after you read this short story you will be influenced to

 

help me fundraise so I can enter more competitions to achieve my dream, become 
a horse rider ,have my own horse to look after, ride any time I 
want, enter any competition that come in my opportunities to carry on lessons and training , because of my disability, I need more assistance and support (one to one lessons) to learn more about horses and

riding.
So If you choose to donate  you will help me achieve
my goal, support my mental and physical well-being, share awareness, 

and challenge my disability.
---