ZACH'S ROAD TO RECOVERY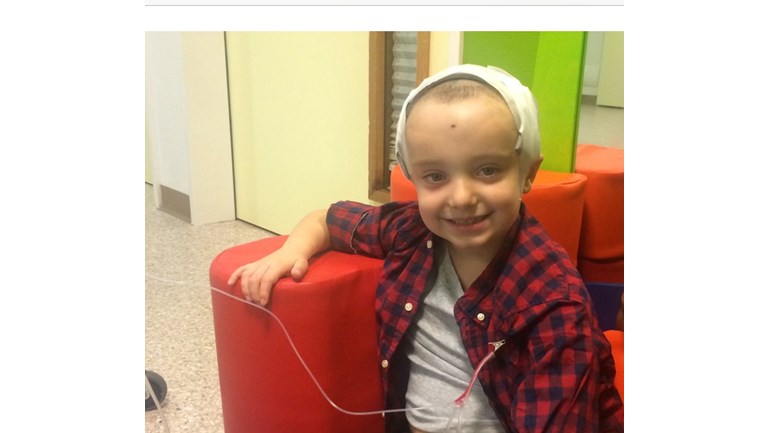 We had a happy, healthy 6 year old son called Zach who whilst on holiday in Barcelona in August last year suffered a stroke right in front of the family.
Something inside me told me what was happening and we were at the hospital within half an hour seeking the vital medical help that was needed. It was whilst here that further tests were carried out and he was diagnosed with Moyamoya disease. This is a rare, incurable and progressive brain disorder which is very difficult to diagnose and as Zach already had hereditary spherocytosis he became 1 of only 3 people in the world to have both conditions. As you can imagine we were left reeling as we were told that our son was literally a ticking time bomb for more strokes as the disease progressed. The neurologist in Barcelona told us that due to the severity of the stroke Zach was unlikely to be running around anytime soon and he could not grip anything with his right hand. The physiotherapist was so in awe of Zach's little smile that he came and worked with us for hours every day showing us what to do and within a week Zach had climbed out of bed and was walking unaided.  He was very unsteady and his balance was a constant worry to us as we couldn't take our eyes off him. His speech was slow and very basic so he just smiled a lot. He has worked tirelessly with the therapists to build up his strength and his ability to carry on regardless is inspirational.
Zach's only chance of help was surgery as soon as possible. It was overwhelming how people started to fundraise whilst Zach was admitted to Sheffield Children's hospital to undergo an emergency splenectomy. The money raised meant that we could take Zach to Zurich which has the only children's Moyamoya centre in Europe. Once here we were told that things were worse than we initially thought and 5 of the main arteries in his brain had already collapsed.  He then underwent 2 x 12hr brain surgeries with the first on the 14th November and the second on the 21st November. We were allowed home on the 1st December and we had the best Christmas present ever.
He started back at school on Monday 5th January just doing half days as we know it's just baby steps to start with so that we don't have any set backs. Zach has started to read again and after hours of practice he is holding his pencil and writing again. The wonderful occupational therapists he has are going in also to help him try and get back on track. His favourite hobby before the stroke was martial arts which he attended four times a week and we were so proud last Saturday when he decided it was time for him to go back and start training again. He was able to get dressed himself, pull on his boxing gloves and start sparring with his instructor. We can see how his balance and core strength have deteriorated but he will not let this stop him. He gave 100% and thoroughly enjoyed doing something normal to him. He is an inspiration to everyone around him.  He also got to see all his old friends which has been so important to him as he has spent so much time in hospital over the last 5 months that he missed mixing with children his own age. He also has to deal with the fact that he has such severe scars on his head which people stare at but he just looks at me now and says "they are thinking I'm super brave" and smiles. He has never moaned, complained or asked why during the whole time. My little boy is inspirational and I'm so proud of his ability to deal with everything that has been thrown at him. We know we have a long road ahead of us but he will never be defeated by this disease!
Should we exceed the target amount (or if we do not raise enough funds, or if they cannot be used for any other reason) the funds raised will go to the general funds of Tree of Hope to assist other sick children.

Thanks for taking the time to visit my JustGiving page.
Donating through JustGiving is simple, fast and totally secure. Your details are safe with JustGiving – they'll never sell them on or send unwanted emails. Once you donate, they'll send your money directly to the charity.