Born only 600g(1lb 5oz)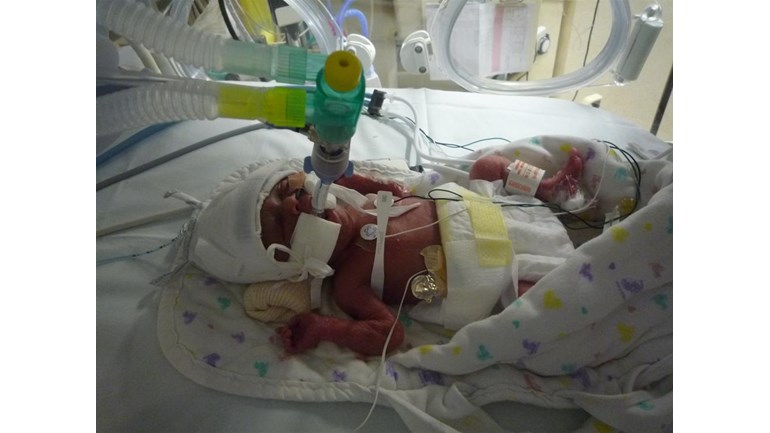 Hello, my name is Alice from London. I'm a lovely happy 3 years old girl. I was born too early and too small, just at 26 weeks and weighting only 600g (1lb 5oz), I spent over 7 months in a Neonatal Intensive Care Unit (NICU).
I have been intubated and mechanically ventilated since I was born while I have been on oxygen for the first year and half of my life as I developed a Chronic Lung Disease.
Because I was born too early at first I was fed with Total Parenteral Nutrition (TPN) but lately I developed an unsafe swallow, so I was then put on a Naso-Gastric Tube (NG) until the first 2 and half year of my life. Because of this I developed a strong food aversion alongside a strong Gastro-oesophageal reflux. For that reason I'm striving to growth.
My parents have given me all the support I needed. They went privately for a special tube weaning program so they could finally remove my NG Tube. Slowly I started to drink my special high caloric milk from a bottle, but I'm able to drink only a small amount of milk. If I drink more than 100ml I will likely vomit. Now after a long journey I'm starting to enjoy the taste of solid food, but I'm still unable to swallow weighing just 10kg. I'm looking forward to the day when I can fully enjoy eating the lovely food that my parents cook for me!
During my first days of life I had several ultrasound scans on my head to monitor two small brain hemorrhages. At 5 months I had my first MRI scan that confirmed brain damage due my extreme prematurity, and at 2 and half years old I had a second MRI scan that confirmed a diagnosis of Diplegic Cerebral Palsy.
I've been slow to reach my developmental milestones such as learning to roll over, sit, crawl, or walk. Now I have problems with movements, posture and balance because my Increased muscle tone (hypertonia) make the muscles stiff, and I walk on tip-toe toe because of tight heel tendons. Unfortunately cerebral palsy can't be cured, but early treatment can improve my capabilities giving me better chance to overcome my developmental disabilities. 
I'm looking forward to my future wishing to continue to be a happy girl. But I need things that are not provided by the NHS, such as regular physiotherapy from specialized centers who provide specific sets of exercises and activities that improve my muscle strength, balance, and motor skills, and prevent contractures. Now, on medical advice my parents would like to take me to the internationally renowned neuro rehabilitation Centre "Adeli" in Slovakia, a specialist centre where I can receive an intensive therapy.
The funds raised will go to Tree of Hope to assist other sick children if we exceed the target amount or if we do not raise enough funds, or if they cannot be used for any other reason.
 Please help me to fundraise over the next few years for Tree of Hope so that they can make my future a brighter one.