William Goodson #BeMoreWilliam garden fundraiser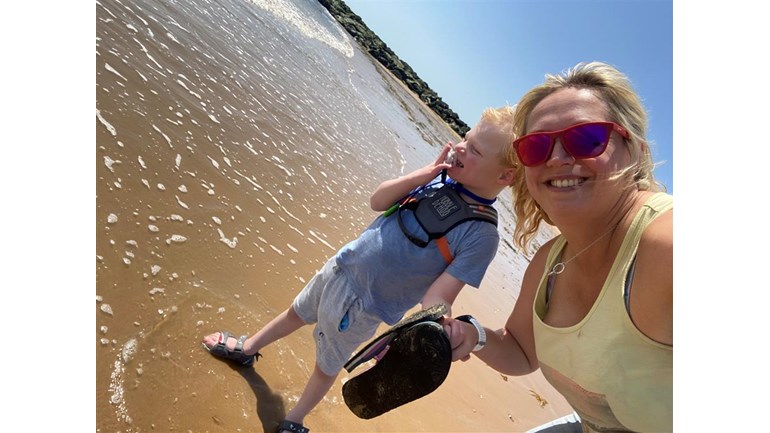 Currently we are fundraising for him to have safe step free access with a rubber wetpour surface from his new bedroom downstairs to the garden so he doesn't hurt himself during seizures or falls.
William will attempt to walk (assisted obviously) 10 miles in July to raise money. 

The cost is £4300 plus vat (£5160).
If you are looking at toh page the total amount raised is historical funds so the dedicated just giving page for this shows the amount we have for this fundraiser. 
We need to raise 50-70% deposit to even order it! 
We have mortgaged ourselves to the hilt and borrowed money all over to do the bare minimum needed to meet Williams needs in the house and currently do not have anything left to finish the garden for him. 
A council grant of £30k is available but as this won't even cover the cost of his bedroom and wetroom needs, we are in need of help. 
Thanks to everyone who has donated so far! 
The work has been delayed a year due to the pandemic but even though we have been shielding for a year now we have managed to start the work. We are hoping to be finished just before Williams 5th birthday in summer but would love to be able to get him safe access to the garden! 
BACK STORY brief version:
William has had over 50 ambulances in his short Life and takes nebulisers and twice daily medications to stay alive. He's such a brave boy and always bounces back so we started a hash tag due to his bravery! 
#BeMoreWilliam 
He's won a highly commended child of courage award at the Pride of Essex 2019 awards 
You can donate on the page or by text: 
text:
Bemorewilliam 5    to 70085 to donate £5. 
This costs £5 plus a std rate msg. Alternatively, you can opt to give any whole amount up to £20. Thanks!
My Facebook blog:
https://www.facebook.com/emsjg/

Back History:
William was born in 2016 and it was quickly apparent he had significant health issues. However at the time there was no reason to believe he was neurologically impaired. We have always been a couple to raise funds for charities, we never had a realisation that we were about to become a family ourselves in significant need (a hard transition to face).
From conception William suffered seizures and respiratory issues. However we did not realise that some of his odd behaviours / movements were seizures until he had a 3.5 hour long tonic clonic convulsive seizure including stopping breathing at 7.5 months old. This was on London marathon day 2017 - an event we watch as both of us (his parents) are runners.
Investigations started and a monthly cycle (or more frequent) began of life threatening seizures, ambulance blue light rides, high dependency stays, hours getting lines in and bloods. 
Every time he gets ill, it triggers seizures. He often stops breathing. He has refractory epilepsy (uncontrollable with medicines).
Along the way he picked up a life limiting condition called pseudomonas auregenosa (a super bug if you like), which lives in his lungs and attacks his respiratory system.
On June 2017 on daddy's first father's day, William suffered 12 hours of cluster seizures, using up all rescue medicine options and required intubation onto life support to stop the seizures.
During this week in St Mary's picu,  William was diagnosed at 9 months old with a neuro-genetic condition called Angelman syndrome. 
This is a chromosome 15 deletion (impairment for other individuals) which leaves him facing a life of therapy to learn to walk, even just sit properly and communicate. 
He has, amongst other things, sleep disorder (imagine new born stage... FOR LIFE), ataxia (movement disorder), apraxia (coordination and motor issues), dysphasia (communication impairment in brain- he is non verbal), dysphagia (difficulty co-ordinating swallowing), a slow brain wave pattern (encetholopathy), a small head (microcephalic) a flat backed head (brachecephaly), albinism, strabismus (a bilateral squint causing vision and depth issues) and epilepsy, all attributed to Angelman Syndrome. 
William has severe complex life threatening epilepsy (7 known seizure types) that puts him in hospital every couple of weeks and even intensive care on life support. He also has laryngomalacia bronchiomalacia, tracheomalacia, sleep apnoea, sévère reflux disease,  pseudomonas auregenosa and low muscle tone everywhere leaving him with breathing and oxygen issues and general issues doing things we take for granted.
He is a brave boy with all he's been through and always bounces back with a giggle and a smile. Even after a seizure If he can! 
He will never lead an independent life and move out and have his own family.
We may never hear him say mummy and daddy or I love you. 
William is now on the ketogenic diet to try to control his seizures.
He has amongst nhs therapies, numerous private therapies that just don't exist or aren't accessible on the nhs.
He goes to:
Reach for hippotherapy (physio on a horse not just horse riding)
jumpstart centre for occupational sensory integration therapy, 
Kids physio works for private physio
Brainwave for private speech and occupational therapy
All the above cost around £700 per month. 
We'd love to send him to napa for intensive therapy at a cost of £10-12000 per 3 week stay.
He also needs significant home adaptions of which the council grant of £30k will cover an eighth of the cost if we are lucky!
We have an inflatable hot tub but it's unusable for large chunks of the year. The dream is to install a proper hot tub in our garden for year round therapy. Cost around £15k. 
Please help us! 
You have no idea how hard it is for us to ask.
Every penny counts!
The legal bit:
As I said above this just giving page is to allow us through a charity tree of hope to raise VITAL funds for Williams needs and improve his motor function, give him the ability to use his digital Voice and improve his quality of life.
Why through a charity? Well it allows us to approach companies that can only donate to registered charities and ask for donations for Williams cause. We can apply for gift aid and even with the small fee the charity take (which are less than direct jg fees), we get more money per pound than doing our own crowdfunding page as we have in the past.
They can also set up payments on our behalf to the therapies saving me vital time and hassle!!! They can also help negotiate vat discounts from companies, something we will need when we do the house modifications.
7.5% of all donations to Tree of Hope in relation to this appeal will be allocated to the general charitable purposes of Tree of Hope to cover core operating costs.
 
If we raise insufficient funds, or surplus funds, then the funds will be used, if appropriate, to fund support for our child's needs in accordance with Tree of Hope's charitable objects.  If in those circumstances we are unable to use all or part of the funds for the benefit of our child in accordance with Tree of Hope's charitable objects, then any funds that cannot be used will be transferred to be used for the general charitable purposes of Tree of Hope.
 
If you have any questions at all please do not hesitate to call the family support team on 01892 535525.
Donating through JustGiving is simple, fast and totally secure. Your details are safe with JustGiving - they'll never sell them on or send unwanted emails. Once you donate, they'll send your money directly to the charity. So it's the most efficient way to donate - saving time and cutting costs for the charity.