Waiting to be heard again. Mya's recovery.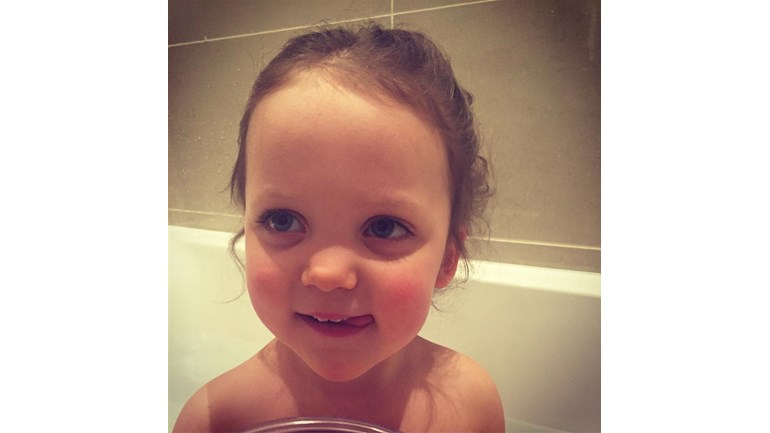 Thanks for taking the time to visit my JustGiving page.
Donating through JustGiving is simple, fast and totally secure. Your details are safe with JustGiving – they'll never sell them on or send unwanted emails. Once you donate, they'll send your money directly to the charity. So it's the most efficient way to donate – saving time and cutting costs for the charity.
UPDATE:
In June, My was finally diagnosed with an acquired form of epilepsy.
She doesn't have any of the genetic markers related to this condition, but her 40 ish absent seizures daily that started on 30th April 2013 are only part of what is going on.
Following EEG's looking at her brain activity, she also has significant sub clinical seizure and abnormal brain activity, that is contributing to and even perhaps driving her Autism and related co morbid conditions.
Although we fought for this testing for over 2 years, our pleas initially falling on deaf ears, the extent of the findings has still come as a shock to our family.
That said, looking at it from a positive perspective, it's another piece of her puzzle to work with to ensure we are focusing on the correct treatment for her recovery.
Dave, Sonny, Mya and I would like to thank everyone for their amazing support so far in our quest to secure Mya good health and the future she deserves. 
It means the world to us and we appreciate every single one of you.
Some how thank doesn't seem enough. 
We will get there and you have been instrumental in getting us the right help for our special little fighter xxx
***************************
 Mya Belle Vickers is a 3 year old, beautiful, courageous, amazing little girl. Our daughter, Sonny's sister, our star.
However, were proper precautions taken, and her needs met, she's a girl who should be happy, healthy and leading a very different life at this point in time.
One we hope to get back for her with specialist help, hence this appeal.
We are asking, begging you to help us in any way you can.
If we start at the beginning, she was born 6 days early by C section after a very difficult pregnancy, on 19th December 2011. The most perfect little baby I'd ever seen.
She was like a little doll. So tiny, although a good weight at 7lb 2oz, which she was clearly hiding very well. 
Even at this point though, there was a sign she was potentially a little more vulnerable.
A warning that wasn't heeded by those responsible for her care.
She had a congenital heart defect.. Although in the months that followed, she made it very clear this was not going to hold her back.
She thrived. Gaining a lb per week in the early days!
She suffered from some reflux, but this was common so we were told and nothing to concern ourselves with. 
However, at just 3 months she contracted viral bronchiolitis.
A lazy doctor mistakenly prescribed antibiotics for a 'chest infection', but just 24 hours later she ended up in hospital in need of oxygen and had to be tube fed for a week.
She was given lots of Calpol by the nurses and doctors.
Sadly this also spelled the end of breastfeeding and again more missed signs by the medical team, that she wasn't actually as strong inside as she looked outside.
She didn't do well on the medication given. 
Following this, she appeared to change. Her breathing remained loud and laboured for months, she began to get discharge from her ears on a regular basis and it became apparent that she was allergic to cows milk. Just like mum.
The answer?
More meds. Meds that her body clearly didn't get on with.
Regardless of this Mya leaped all of her milestones and had the cheesiest, most infectious personality.
The doctors dispelled any concerns we had and she was developing beyond all expectations. Sitting, waking and talking earlier than expected.
Things improved.
She was physically strong and very coordinated, chatty and social.
So much so, that even before she could walk, at just 9 months, she hands down beat a friends 4 year old to the top of a climbing frame - and at just 12 months could catch a ball.
By this time, her health had long returned to normal and she was very happy indeed.
The pictures speak a million words. Life was good.
Then very suddenly and cruelly, at just short of one and a half, we lost her as she was, in a way I didn't think was possible.
Ironically, she had had her developmental checks just a few days before which confirm she was flying.
However, in the space of 16 hours following her MMR vaccination, most of that spent sleeping, before the most piercing screams you have ever heard in your entire life, (that will haunt us both forever), our special princess changed beyond all recognition.
I will forever kick myself, as my mothering instinct was screaming at me to avoid this vaccine. However there was a scary and very hyped measles 'outbreak' in Wales and no single vaccines available.
She was due to start nursery so Dave could do more hours at work.. So we had our arms twisted. With huge reservations.
But we felt it was the best thing to protect her.
Anyway, when she eventually woke, we couldn't get her to look at us.
It was like she was still asleep with her eyes open.
I was screaming her name and holding her face.
A absolutely nothing. She was staring beyond me at something else in the distance.
This went on for weeks.
It's like we weren't there.
She didn't cry any more. Just silent. Then she screamed, or laughed, seemingly with little reason. 
Sometimes for hours at a time.
From that day forth she didn't speak again. Nothing. No mummy, daddy. Nothing. She had lost all her language and the desire to engage with us or anyone else in any way.
She ignored her brother and other children, barging through them to escape and run away.
Gone was her coordination, fine motor skills and just about every aspect of her well being in the time she was asleep.
The days that followed are a haze & I'm glad I wrote every thing down.
She didn't sleep any more. At all really. Didn't need to. She just lay silent or in fits of giggles. Nothing in between. Her nappies were filled with putrid stools, so acidic they took off her skin in seconds.
She had reoccurant fungal nappy rash and bled constantly. She didn't feel the pain.
We had to change her nappy (and clothes most of the time) 8 times every night.
17 was the record.
She wouldn't let us touch her, didn't want hugs and screamed, bit her own skin and banged her head repeatedly, although it didn't seem to hurt either. It was like a release for her.
Eventually that violence turned towards us..
She couldn't bear any low level repetitive noise, bright, artificial lights or change in temperature.
This was often the trigger. It was like they brought about physical pain.
She wasn't tantruming. She was having meltdowns.
If we pushed her over the threshold of a supermarket for instance, she would scream repeatedly. We could literally pull her back out and she'd stop. It was like a switch.
I can remember taking her out many times, with us both leaving covered in bruises and tears.
She stopped eating and drinking.
She began walking on her toes, spinning, making strange repetitive movements, glancing out of the side of her eyes, partially obstructing things she was looking at, spinning and throwing things on the floor from above her head to see how they would land and more.
She smeared food with her fingers and liked to transfer things from one container to another, for hours at a time.
She was ridged in her routines and very OCD, from being extremely laid back.
She couldn't lie on her back comfortably, and would seemingly gasp for breath.
She stopped playing with her dolls and other toys, preferring stones and bowls of small objects.
She just wanted to be outdoors and barefoot 24/7.
She would seek the door, not paying attention to anything else and just run for it.
No awareness of any danger, come rain or shine.
Not long after (the reason we had vaccinated her), she started at a new nursery.
I'm not sacred to say this experience was horrendous.
We are still traumatised.
On her second visit, I was excited to collect her, still in abject denial, fuelled by hope and the doctors reassurance that this wouldn't last. In fact praying it might be what she needed to come back in to our world.. That was until I pulled on to the carpark.
I could hear her screams from inside the car.
By this point she had swung from diahorea to extreme constipation and was bloated most days.
I ran in and she was crouched over in the corner of the room, bright red, covered in hives and ticking.
I have to this day, never seen anything like it and this image haunts me as much as her waking after her MMR.
I just scooped her up, by this point crying myself and walked out dialling Dave on my phone as I squeezed her tight to try and comfort her and minimise, being kicked and punched in the face.
The nursery staff must have thought I was nuts.
We never went back.
Still deluded, Dave and I suspected abuse it was that bad. She ticked and sobbed on and off for 48 hours.
I enrolled her in another nursery a couple of weeks later, the same one S had attended & where I trusted the staff implicitly.
Dropping her off was traumatic for the duration. She would scream the entire short journey there, having realised where she was going when we turned out of the house. Staff reported her a little happier in the months that followed, although she played alone, was very demanding, wouldn't eat or drink much, if anything and took ages to settle.
When we collected her, she was often crouched in them sand pit in the early days. Still suffering from Gastro pain stimming.
Her eyes were always filled with gunk when she woke up and her cheeks by now a permanent shade of Crimson.
Gone was her beautiful skin & she suffered with eczema and itchy rashes.
She slept for 16 hours per day or not at all.
It was exhausting.
She would sneak off for naps or fall asleep in her food.
She looked horrendous and I was sick of the comments.
I used to put her photo through Instagram 5&6 times to dull the bloating and flushing to pretend all was well. It wasn't.
I struggle to look back at the unaltered images now. 
Although I have taken the step of putting old photos, pre Autism in our house just 3 weeks ago.
During this time, she would only eat dry cereal, pizza, bread, dry pasta and baby food too. She craved these foods like a drug and everything else made her physically wretch.
However inanimate objects seemed much more appealing. Stones, coins, sand and dirt. All on the menu. We had to watch her like a hawk.
Absent seizures also started. Usually in the mornings.
I was frantic. Why was no body telling me anything. 
I read every child development book out there and wanted the world to swallow me up.
By October time, medical professionals started to listen to our many concerns seriously. This was such a relief initially.
We had been there almost bi weekly since her initial reaction with something.. From a full body allergic rash to ear infections and more so her regression.
I was shouting, pleading for answers.. but because of how this started, there was a huge reluctance to help us and we were initially stonewalled.
But they couldn't dispel it any more and they referred her to the paediatric team.
I'll be honest, they were very little help and started what is a very long assessment process for Autism Spectrum Disorder.
They didn't say this. We had to be told by the health visitor very flippantly on the approach to her 2nd birthday.
Her words stick with me to this day.
"There's no point in doing Mya's developmental check, we know she's very behind and under the paediatric team"..
I mentioned that she wasn't.. Behind I meant. She was clearly sick, because she'd lost all her skills, not never gained them.. Plus she had a list of physical symptoms longer than my arm.
Her response, "The physical symptoms are unrelated and that regressions happen with Autism".
Autism.
There it was. That word. 
A tiny word, that meant so much in that moment.
A label. Something I had read about in lots of detail, but hadn't dared say out loud to anyone but Dave.
Autism. One word that would change things forever.
I'm glad she said that though. Really am, as it was the huge kick up the backside I needed to see it all for what it was.
This wasn't going to go away.
It was like it said in the books, all beit with a very different precursor.
They all knew. But given how, why and the circumstances, no one had told me.
My daughter was caught up in political dogma and this has no place in the care of a child.
They couldn't just fix her and undo the damage the vaccine had done to her little body.
It was what I needed to seek private advice.
To say it out loud.
Eventually, fast forward a few months and she was diagnosed with many, many things.
Autism Spectrum Disorder, Sensory Processing Disorder, Global Developmental Delay (a label I went ballistic about and they agreed to remove. She wasn't delayed I insisted. She regressed. They knew it and we knew it.. And there is no denying why. Well alarmingly there was. Despite all the evidence, & this label right there was abject proof of that to me. They agreed).
She also has brain inflammation, mineral and vitamin deficiencies, severe allergies, a metabolic disorder, chronic viral load, severe bowl issues, candida, bacterial infections, mitochondrial dysfunction and much more.
Yet NHS genetic testing proved she didn't have any of the genes they associate with genetic autism.
There was no autism in our family..why would she..
So was this still autism?
Yes. What most people don't realise is that ASD is still a behavioural diagnosis, despite many common, physical co morbid conditions often reported. 
How we got here was irrelevant to them. She had autism according to the assessment criteria and that was that. 
We were told she was non verbal and a severe case.
They didn't hold out much hope for her future.
I couldn't actually believe what I was being told. She was 2 1/2.
They were writing her off.
Yet they knew exactly what had caused her 'autism'.
Well I certainly wasn't.
They did this and I needed to undo it and make her feel happy and healthy again.
Pursuing answers privately, we found that indeed there was lots that could be done.
We immediately implemented a gluten, casein and soy free diet.
It was like someone switched the light back on behind her eyes. Everyone noticed and this spurred me on. 
She was making eye contact again.. Wanted to engage with her parents, although, she still really only used us and other adults to facilitate her needs, by leading is to what she wanted. This was communication though and a huge step forward from nothing. 
Or relentless screaming!!
Nursery mentioned she'd said a few things and was sitting at the table with the other kids. Listening even to a degree.
We did some more detailed allergy and intolerance testing and there was a long list of things we were to avoid.
This was miraculous for us. Her stomach went down and gradually she began to return to a normal colour.
However, on her nursery day, we were finding she was coming home with bumps on her lips, red cheeks and ears and would regress a little again for a few days. 
We'd list get her right again and the same cycle would repeat. She had a series of infections and sickness. This despite us sending our own restricted diet in. 
She was clearly eating things like Play-dough, tissue and sand from her nappies and this is what was holding her back and preventing her body from healing.
We removed her and turned the focus on to building her back up.
We ran many more tests privately at a cost of thousands of pounds and we now have a much better understanding of what happened and why.
This has been a source of both hope and frustration. She can be helped.
But not on the NHS. They are happy to forget her.
They do not offer this treatment in England.
The minute the 'A' label was applied, any need she had was put down to autism and her physical symptoms ignored for so long as though they didn't matter. Because she's autistic.
Wilful neglect. Plain and simple.
If I did the same as a parent, she would be removed from my care.
I was appalled.
Even little things like speech therapy, we are the back of the queue. She's 3.5 now and has had a total of 2.5 hours. That's it.
We know what is driving her ill health and her autism, but as of last October, there is no longer any doctor in the UK who can help us recover her even privately..
How can that be right?!?
Anyway.. We have pressed on as best we can. Testing has proven she was born with a common genetic mutation, meaning she has impaired methylation and detox pathways. 
Had she not been vaccinated, Mya would be healthy now. 
Confirmation of a fact we already knew. But what we needed to know how to help her.
We were told that her body couldn't deal with and detox the virus and other synthetic ingredients in the vial, like a normal child and this has caused an abnormal immune response where her system effectively shut down, causing severe inflammation and damage to her digestive system and other parts of her body.
This was all entirely preventable, had they tested her as a baby. Something I intend to push for when we have restored Myas health. 
Along with further vaccine information and safety measures for other children effected.
However still, there is apathy in the UK.
Regardless of these undisputed facts, this is apparently something we should just accept.
Although, in just about every country in the world, there are options. Hope. 
Recoveries. Many, many recoveries with effective pioneering treatment.
I researched day and night and off our own back and with the help of some amazing, experienced people, we have done all we can here, through a series of dietary and biomedical interventions and Applied Behaviour Analysis (ABA).
All  funded ourselves, running up massive debts, but it hasn't been fruitless.
We made up huge ground and she has exceed all expectations. 
There is a scale used to assess progress called ATEC.
Mya was right at the top of that just 12 months ago. And this is one of those scales where being a high achiever is not a good thing. Her score was 148.
With sheer determination, huge sacrifice and lots of hard work, we have managed to get down to 49 at last assessment.
I quietly think we have knocked a few more off that since.. Touching all wood in sight. 
However with out medical treatment, this is it unfortunately.
Her underlying conditions caused by the damage her MMR did are preventing her making a full recovery.
She has proven she's not a miracle child who can completely heal with a change in her diet and natural therapies.
She needs to see a specialist doctor.
If she lived in the USA and had started treatment immediately, we are convinced she would have made a full recovery by now.
As is the doctor we have engaged. He has many kids like her on his books who have.
However, like with any progressive and chronic health problems, they get worse over time and her chances of a normal, independent life fall day by day.
But our pot has well and truly run dry.
We have raised enough for the initial consultation with the leading physician in the US, responsible for recovering thousands of children with Myas condition, but she will need more testing and an estimated 2 years worth of care running in to 10's of thousands of pounds from where she is today. 
When your child is sick, you expect to be able to take them to the doctors to help get better. 
Especially when it is as a direct result of something they did.
You don't expect to be fobbed off and turned away.
I still have to pinch myself that this is not the case. It's surreal.
So cruel that we cannot help our child, when there are people out there who could make a real difference to her future. And not to mention and Sonnys. 
I find it criminal this treatment isn't funded for Mya and hundreds of kids like her in the UK.
Not just for the child, although every case is clearly tragic, but even in an economic sense. Our government would rather pay for life long care than treat them as toddlers. In what nonsensical world is that a good investment.
I'm done being angry though and that is why we are here. Fundraising again. Seeking help, sponsorship.. Anything.
This time we are lucky enough to raise money with the support of the 'The Tree of Hope' Charity.
This means we won't be taxed on donations and qualify for gift aid, so hopefully we can get her the help she needs and so deserves very soon.
There is a 6 month waiting list for these appointments to be put on the care plan we want for her.
In that time we hope to raise £10k which the Tree of Hope will use to pay medical expenses and secure treatment for at least 6 months.
We then intend to fundraise ongoing until she is better.
For a minimum of 24 months.
Following that we will divert our efforts to help others and force change in the UK for future Myas. 
Thank you for reading our story.
However it's not all bad..
Despite all her many challenges, she's still strong, tenacious & more determined than anyone I've ever known.
If anyone can kick Autisms ass it's this girl right here.

She's come so far & inspires us every day. 

With more thanks, thank you so much for any help you can offer our daughter.
You can  follow her progress on Facebook at Waiting to be Heard Again, all things Princess Mya and Autism. 
Lots of love, the Vickers x