viktoria needs help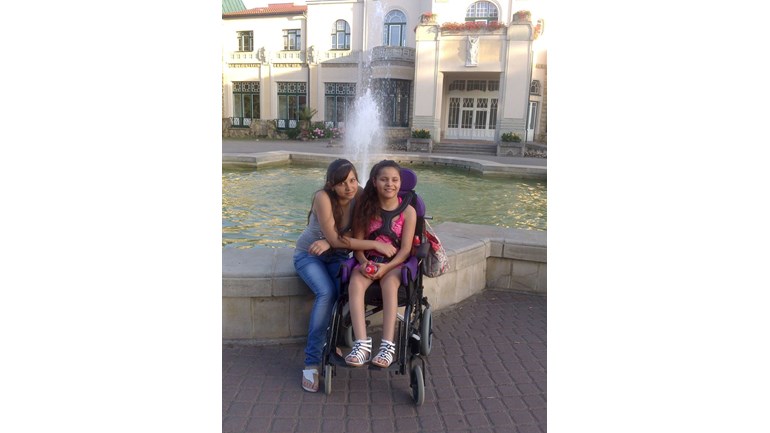 Hello! My sister,Viktoria was born in 2000. After her birth,our lives have completely changed. She was born in 27th week of pregnancy. She weighted 900 grams and her height was 34cm. 
Straight after her birth, she collapsed. Doctors tried to resuscitate her heart. After 6th time of resuscitation, the doctors managed to bring her back to life. Mum was shocked. She was scared and worried of whats happening to her baby.
Viktoria was put in an incubator for 6 weeks. The doctors haven't told mum why Viktoria collapsed and whether if everything was alright with her. They couldn't answer her questions. They didn't even try to give mum an explanation, they didn't say a word. 
We were all excited for the day to come. The day Viktoria will come home. She came home on 24th of December 2000, day before christmas day. The whole family was happy that Viktoria is at home. Mum and dad didn't know what was up with her. The more was Viktoria growing the more was mum realising that something was wrong.
When Viktoria was 6 months old she couldn't hold a bottle of milk in her hands by herself. She didn't move around like the other healthy children. Mum started worrying and with Viktoria,they visited the doctor. 
From there, they got sent to the neurology department. There was a variety of examinations. after all sort of checks and tests, Viktoria was diagnosed with Cerebral Palsy! Mum was even in a bigger shock than she was before. She was scared and kept on asking herself if Viktoria will ever be able to walk. 
Viktoria is 13 years old now. She can't walk, she is in a wheel chair. She is able to sit but not without support. She's always smiling,likes to communicate with people and loves listening to music, maintly pop. She realises the situation she is in. When she see's other children playing, she always tells mum " Mum i want to play with children too. I want to run and play games as well. I just want to do the same things as the other children do". 
It's really hard! Hard to hear these words and not know how to help. We tried to help her in lots of different ways. One of these ways were to visit a place called Adeli Center in Slovakia. Adeli Center is a neurorehabilitation center were lots of specialists make miracles such as making children like Viktoria to be able to stand on their feet and walk. The only problem are finances. Therefore, we would like to ask you for your help. We would like you to help us Viktoria's dream come true, which is to be able to walk. A way you can help her is to donate money to her through Tree of Hopes. The money that we will not use will go to other children with health problems like our Viktoria has. Thankyou.