Tyler's Wish to Walk.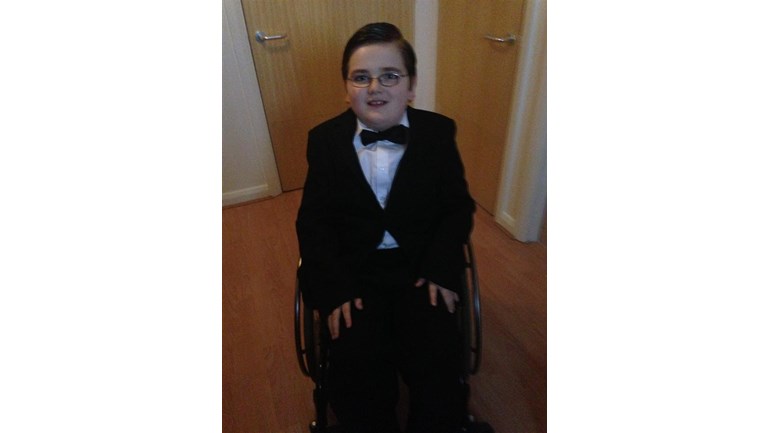 More than anything else, Tyler wants to be able to walk.
 Tyler was born prematurely and as a result of this he has four limb cerebral palsy and epilepsy. Tyler is a very happy and brave 11 year old boy. He is one of the most determined boys I have ever known. The predictions for him at diagnosis were that he would never sit or move unaided and he would probably never talk or eat solid food. With pure determination and hard work he proved everyone wrong. He can sit unaided and can transfer independently. He can also self propel his own wheelchair, never stops talking and he loves his food. He attends mainstream school and is doing incredibly well. As a result of his cerebral palsy Tyler is wheelchair dependant. This means he finds it difficult to join in and keep up with his friends and he has difficulty taking part in physical activities. Tyler has had major surgery in the past to keep him as mobile as possible. The surgery gave him the ability to walk very short distances for a short period of time in a walker. Tyler works incredibly hard on his physiotherapy and is determined to do as much as he can for himself.
 There is now a better surgery that could change Tyler's life forever. This surgery is called SDR or Selective Dorsal Rhizotomy. The surgery would eliminate the spasticity (stiffness) in Tyler's legs making it possible for him to walk. It would also make sitting and transfers easier for him, he would be able to move around on the floor better and it would take away the pain and spasms he suffers with in his legs. After Tyler heard about the surgery he waited for his next visit with the physiotherapist and asked her to refer him as it is what he wanted. Sadly the surgery is only available privately and this is why I am asking all the wonderful people in this world to help my son achieve his dream. A dream I know he will never give up on and will work incredibly hard to achieve. We also need to raise funds for much needed equipment, storage and the intense therapy that Tyler will need to get the very best outcome after the surgery. Please help him with his wish to walk. 
 Update.
  Tyler was lucky enough to have had his surgery a few months ago and is doing really well. He recovered much quicker than we expected and is now working really hard to improve his mobility. He has daily physio therapy sessions which are really hard work for him and is having intensive physiotherapy at least once a week with a private physio therapy clinic. They are working him really hard so that he can regain the strength he has lost since the surgery and he is making amazing process. We also have a house full of vital equipment and more equipment is needed if Tyler is to get the most from the surgery. We are hoping to build him a physio den to store some of the equipment and to free up some space inside. The cost of his therapy is ongoing and will be for quite some time. We are very grateful to everyone who has helped Tyler to receive this amazing surgery and also to those who are continuing to fund raise and donate so that Tyler can continue with the private therapy for as long as possible.  Thank you for helping move Tyler one step closer to his wish to walk.

Thanks for taking the time to visit my JustGiving page.
Donating through JustGiving is simple, fast and totally secure. Your details are safe with JustGiving – they'll never sell them on or send unwanted emails. Once you donate, they'll send your money directly to the charity. So it's the most efficient way to donate – saving time and cutting costs for the charity.
Should we exceed the target amount (or if we do not raise enough funds, or if they cannot be used for any other reason) the funds raised will go to the general funds of Tree of Hope to assist other sick children.