Supporting Tyler's Therapy Fund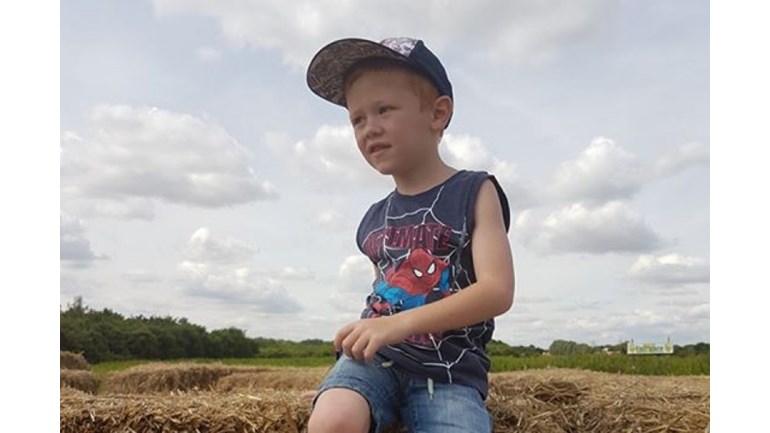 My name is Tyler-James.

I live at home with my mummy, daddy and little brother Reuben. I like playing football with my daddy, playing with my I-pad. I am a happy little boy and am very friendly.

I had a traumatic entrance into the world. I suffered from Meconium Aspiration Syndrome which resulted in my brain being starved of oxygen for nearly 15 minutes as the doctors had to suck all the meconium out of me. I also had no heartbeat for 7 minutes so the doctors and nurses had to work hard to get my heart pumping again.
As a result of this I suffered moderate brain damage called HIE Grade 2 (Hypoxic Ischemic Encephalopathy) septicaemia, kidney failure and had to have lots of oxygen.

This was a very scary time for my mummy, daddy and family as they didn't know if I would survive the first couple of days and the machines were very noisy and intimidating, but I'm a fighter and fought so hard every day to come home with my family.

As a result of my birth, I now have a diagnosis of Autism, ADHD, Learning Disabilities, Sensory Processing Disorder, Sleep Disorder, Speech and Language delay and very challenging behaviour. I have recently been diagnosed with Hypotonia and Hypermobility. These mean I am very floppy and not good muscle tone.
 I attend a special needs school that can cater for my disabilities and I love it there. Each disability affects me differently but it makes every-day life a struggle for me which can often result in a sensory overload or meltdown. For example, I do not like the feel of some different materials on my skin, so buying clothes can be difficult or getting me dressed might cause me discomfort so I get upset.

My mummy and daddy did not learn the full extent of my birth until recently and are finding it hard to get answers and help for me as physically I am a very able little boy. However we have recently had some of our questions answered and have been told to prepare for Tyler's struggles to get harder.

This is why my mummy and daddy are fundraising for me so I can get the therapy that I need to help me communicate better and to help live as normal life as you. We would like to raise enough funds to help me to get the medical care and attention that I need and the help and support for my family that have not been available to us through the normal NHS system.

This includes but does not end with therapy, sensory equipment and private hospital procedures and hopefully somewhere within our home to create a sensory space for Tyler. Also to make my life as enjoyable and not as daunting for me and to help my little brother Reuben to have better coping mechanisms when I get upset. My mummy tells me that they are doing this to help me communicate better and help my mummy understand me a lot better so that we can all be happy as a normal family. I am a very special little boy.

Thank you for reading.
Lots of Love
Tyler-James and my Family