A Little Girls Wish To Walk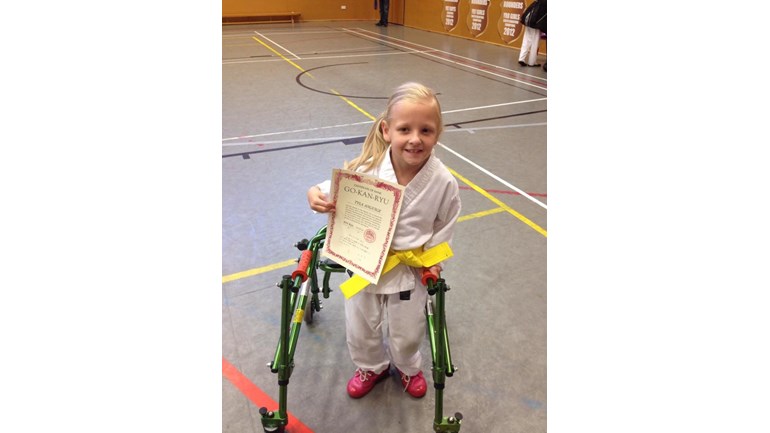 Tyla is almost 9 years old from Bradford and suffers from cerebral palsy. She was born at 28 weeks gestation, blue and not breathing. The amazing doctors resuscitated her and saved my little girls life. We spent 10 weeks in special care and she was finally allowed home weighing 4lbs.

2 days before her first birthday we had an appointment with her consultant and they delivered the devastating news that she had CP. My life collapsed. They told me that she was unlikely to ever walk, run or ride a bike or do many of the things any child should do as part of their childhood.

Our first goal was to get her to sit up. She mastered this eventually at 4 years old.

In 2011 she underwent surgery on both of her hips as they were completely dislocated and had to be reconstructed. Along side this she had her adductor muscle cut to alleviate any spasticity causing her thigh bone to pull and not allow her hips to heal. Each hip took around 5 hours to fix and saw her in a full body cast for 14 weeks.

In 2013 after campaigning for 2 years and with the help of an amazing neurosurgeon, Tyla was patient number 5 to undergo a pioneering operation in Leeds called Selective Dorsal Rhizotomy. This involved cutting nerves inside her spinal cord that were responsible for her tight muscles.

The operation has changed her life so far and she is now walking with a walking frame most of the time. We recently had a review with her surgeon and he said that without this operation she would have been a full time wheelchair user by now.

Our problem is physiotherapy. As everybody is aware the NHS is stretched massively and as a result of this we are only seeing our physiotherapist 2-3 times a year. This is no way enough! We are doing everything we can as a family physio-wise but she has lost her confidence and needs more. In 2014 she took 2 unaided steps but now her left foot is valgus and is quite deformed, stopping her from walking well. This issue intensive physiotherapy could fix.

We would like to take Tyla to an intensive 2 week physio course in Scotland to an amazing centre called MP Fitness to give her some encouragement and a good workout and build her confidence to hopefully start her journey of walking unaided. However, it is incredibly expensive for the physio and costs of living and accommodation whilst there. Monies will be also used towards private physio at home and put towards equipment that she needs such as splints.




Donations can also be made via text message by texting
TYLA99 followed by the amount you wish to donate to 70070

We are holding a Fun Day on 24th May at the White Swan in Wibsey, Bradford, where Tyla will be cutting at least 7" off of her hair to donate to Little Princess Trust who make wigs for children with cancer (this will take her hair from waist length to around shoulder length). There will be raffles, DJs, Auctions, a bouncy castle and loads more. Everyone is welcome to join us. Great way to spend a Bank holiday Sunday!

Should we exceed the target amount or if we do not raise enough funds, or if they cannot be used for any other reason, the funds raised will go to the general funds of Tree of Hope to assist other sick children.