Trying For Toby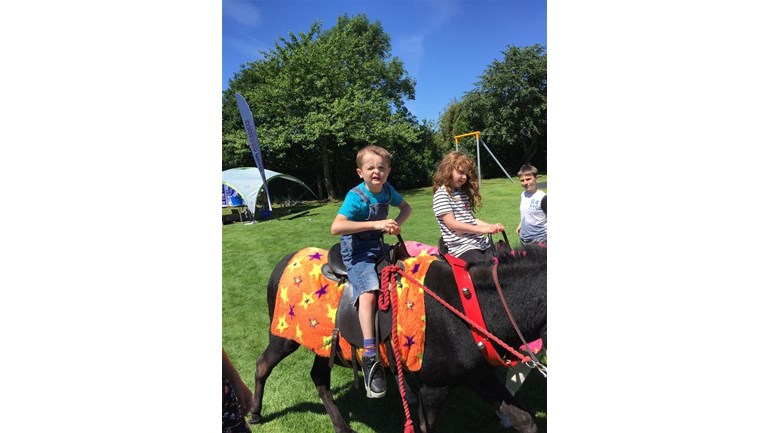 Thanks for taking the time to visit my JustGiving page.
Toby is our son, the middle son of three amazing boys. He is nine years old, happy, enthusiastic and motivated. He cannot walk or talk but this doesn't stop our little adventurer.

Toby is still largely undiagnosed - from age 4 months he was given a diagnosis of vertical nystagmus, resulting in him being registered as severely visually impaired. Earlier this year we found out he has a partial mutation of the ABCD1 gene, the prognosis going forward being 'unknown but difficult'. We also discovered that he has an 'underdeveloped cerebellum' - prognosis largely unknown.
Despite this Toby has slowly made progress from birth and is still heading in an upwards direction. He has learnt to crawl, pull himself up and walk with equipment. All of this has been done with grit, determination and the belief that he will make more progress than forecast. This has not been easy. Access to many activities can sometimes be limited, although with Toby being quite small for his age we have managed to be able to physically support him to do such things as rock climbing, archery and - most importantly - playing in the park with his brothers!

Two years ago we found out about an organisation called The Family Hope Centre which assesses Toby's stage of development and gives him an individual program to follow. This program incorporates sensory activities, learning activities, physical exercises and much much more.  It has been amazing to see how much progress Toby has made in these two years and i just wish we had known about this earlier. But we are where we are. The treatments offered to Toby - as well as his program of development which we undertake with him at home 5 days a week - include Molli suits, which stimulate his muscles to help to increase his low tone; Breathing jackets, which help to maintain his breathing in a regular pattern and decreases his bouts of ataxia; and Hyperbaric  Oxygen Therapy which can help develop his brain pathways and even help neuron development.
However, this is not funded in any way by the NHS and as we have seen amazing benefits and progress it is something we really want to continue whilst Toby is still young enough to gain maximum benefits. To think that it was expected that Toby would be immobile and fed through a tube, the progress he has made to eat, drink, crawl and stand up is outstanding!! We find it unbearable to think that it is funding stopping his progress.
Through the Tree of Hope we are hoping to raise money to enable us to continue his development through The Family Hope Centre and fund the support and equipment he will need as he progresses.
Please help us in any way possible to raise funds, as we are Trying for Toby so that Toby can continue to try.  Thank you.
Donating through JustGiving is simple, fast and totally secure. Your details are safe with JustGiving - they'll never sell them on or send unwanted emails. Once you donate, they'll send your money directly to the charity. So it's the most efficient way to donate - saving time and cutting costs for the charity.
Tree of Hope reserves to use these funds for any purpose stated in the parents charter, including but not limited to, medical treatment, surgery and therapies and related travel expenses, medical and exercise equipment, child care, home adaptations and the cost of vehicles designed for the disabled.