Treatment for Thomas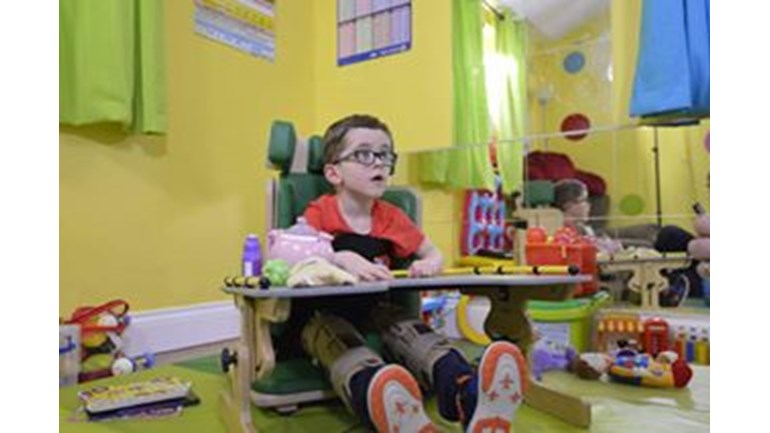 Thomas is 5 years old and lives in Lancashire. 
His favourite things are eating, swimming, singing and reading books. He loves Mr Tumble and ALL things Cbeebies! 
He is funny, brave and a fantastic little boy!
He was born 10 weeks early in September 2011. When he was 20 days old we were told the devastating news our little boy had suffered bilateral periventricular leukomalacia (PVL), a type of brain damage from a hypoxic event during labour or after birth, which would most likely result in cerebral palsy.
Thomas has spastic quadriplegic cerebral palsy. He has increased tone (stiffness) in all 4 limbs, but worse in his lower limb. He cannot sit,stand or walk. 
We want to raise money to be able to provide Thomas with as many opportunities as possible! 
We have been told Thomas is a good candidate for SDR surgery. This is a neurosurgical procedure aimed at reducing spasticity (tight and stiff muscle tone) in the lower limbs. It will cost £16,000 plus costs for physiotherapy afterwards. We are aiming to raise £25,000. We already have £5292 (September 2016) from fundraising in the past, which  is a FANTASTIC place to start!!

We have used funds in the past to visit the Bobath Centre in London. We also want to use money to make any changes to the house to ensure Thomas can move around as much and as easily as possible - for example extending the patio outside so he has more room - grass and wheels don't go! We have bought him equipment so he can stay at his nana and grandad's house and have bought him a swing and trike so he can play outside. All of these things have made a huge difference to Thomas! We cannot thank people enough for helping us. 
Please help us achieve our goals for Thomas. He deserves it. He works so hard everyday. He is a determined little thing and with us supporting him there is no limit to what he could achieve.
Please also like our facebook page: www.facebook.com/treatmentforthomas
We are also on twitter: @TreatforThomas 
If anyone has any fundraising ideas, please contact us on treatmentforthomas@gmail.com 
So please dig deep and donate now.
Should we exceed the target amount (or if we do not raise enough funds, or if they cannot be used for any other reason) the funds raised will go to the general funds of Tree of Hope to assist other sick children.
http://www.justgiving.com/treatmentforthomas