Transform Winnie's life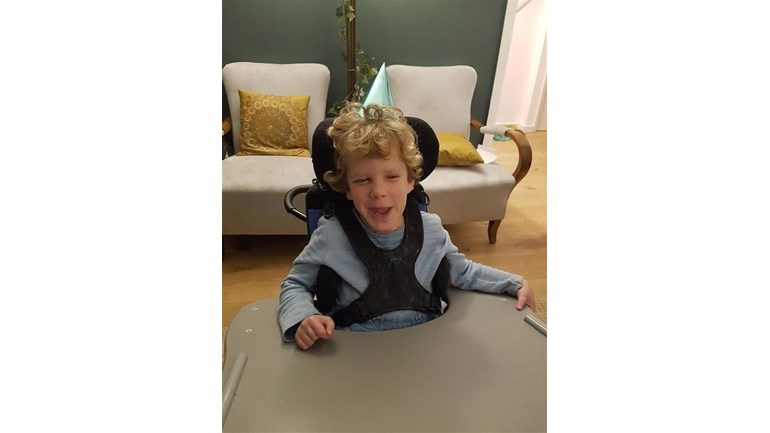 Thank you visiting Winnie's just giving page! 
Please help us to transform Winnie's life.  Your donation will help
us to increase access to the therapies and equipment Winnie desperately needs to help build her strength, reach her potential and enjoy her life to the full. 
Winnie has had to endure so much in her little life that it is difficult to write about her journey concisely and in a way that doesn't overshadow her character.  We have put together a short video of Winnie doing her physiotherapy so you can see for yourself our beautiful and vibrant daughter and also some of what your donation would support.  
Winnie was born by emergency c-section and had to be resuscitated at her birth and then multiple times in her first 24 hours.  The doctors
quickly discovered she had cysts on her brain, and during a subsequent MRI, she went into heart failure. She wasn't expected to survive and at just a few weeks old Winnie underwent open heart surgery at Great Ormond Street for eight hours. Amazingly, this was a success but she was in intensive care for the first three
months of her life.
Over the next few years further problems associated with Winnie's physical development were found. She was not moving as expected and did not learn to talk.  She also developed epilepsy and also required further heart surgery.  During a routine eye operation, it was discovered Winnie's eyes had not formed correctly.  She was diagnosed with retinal dysplasia, a condition that has left her completely blind. 
It was always believed that her difficulties were partly due to a virus she may have contracted during pregnancy but we were told this was unlikely to be the whole picture. Last year we found out that a variation was found in Winnie's CDK8 gene.  There are only 15 other children in the world known to have this variation and the effects for Winnie are devastating. 
Winnie is now 7 years old, she is really sociable but she finds it difficult to interact and communicate. She is unable to walk or talk and can only hold her head up for a few minutes. She suffers with a lot of anxiety and distress in new situations and learning for Winnie is much harder and she needs as much 1:1 support as we can give her. 
There is good news too.  Winnie is a true fighter and has made
amazing progress. We have noticed that Winnie responds exceptionally well to physiotherapy.  The more she does the more strength she builds and the more she is then able to move and stand.  In addition, Winnie is very bright and her speech and language therapist is helping to her to find innovative ways to communicate
her thoughts and needs reliably. 
However, desperately sadly, this has been restricted by funding cuts (Winnie only gets 6 therapy sessions per term from NHS therapists) and the rise in prices of private therapy.
As a result, we hope to raise enough money for Winnie to support her ongoing therapy.  We have two aims:
1. For her to be able to sit and stand for long enough to be able to use a toilet. 
2. To be able to communicate using assisted technology. 
To achieve this, she needs physiotherapy sessions twice a week and a week-long block each school holiday.  
She also needs speech and language sessions once a week.  
The cost of this for a year is currently just under £15,000. 
Whatever you can donate is fantastic. Everything that is fund-raised for Winnie will go towards the 1:1 physiotherapy and speech and language therapy and any other equipment she so desperately
needs.
We can't thank you enough for taking the time to read about Winnie. 
Thank you
Fiona and James (Winnie's Mum and Dad)


7.5% of all donations to Tree of Hope in relation to this appeal will be allocated to the general charitable purposes of Tree of Hope to cover our core operating costs.
 
If we raise insufficient funds, or surplus funds, then the funds will be used, if appropriate, to fund support for our child's needs in accordance with Tree of Hope's charitable objects.  If in those circumstances we are unable to use all or part of the funds for the benefit of our child in accordance with Tree of Hope's charitable objectives, then any funds that cannot be used will be transferred to be used for the general charitable purposes of Tree of Hope.