Thomas Jenkinson Fund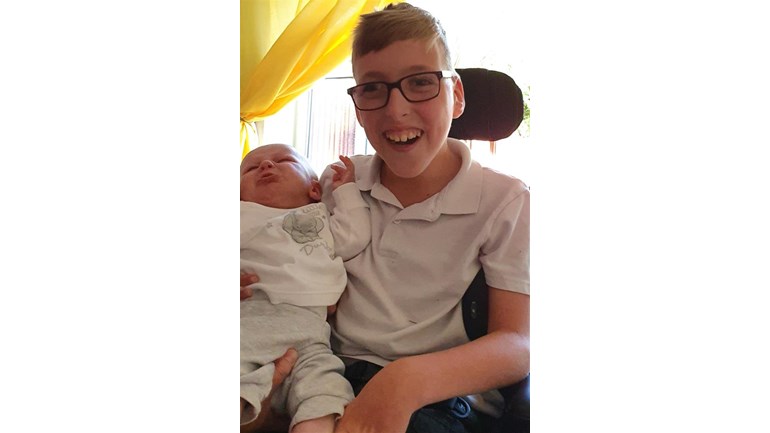 Tom has had his SDR OPERATION it's changed his life already in such a small amount of time. We would like to thank everyone for their support and encouragement that has got tom this far. But there is still along way to go with physio and equipment so please if u can carry on supporting tom. Thankyou
a huge thankyou to mrs evans for all her hard work with ten thousand tokens for tom £598. and another £5000 to be added at a later date.
a huge thank you to everyone for your support it is so appreciated
THANKYOU EVERYONE FOR YOUR SURPORT. LOTS OF EVENTS PLAN. STILL A LONG WAY TO GO.
next event for tom is a mediumship night on Friday 15th November
good luck to vicky for tomorrow who is running for tom.
please support tom
please share toms appeal the more people who are aware the more money we can raise.
tom had botox and is now 80% spasticity free in legs and left arm. but it doesn't last for long we really need to get him to st Louis for sdr op asap. Please keep supporting him. thank you
a long way to go but a huge thank you to everyone that has help so far. Please carry on supporting us with out you we will never get there. x
thank you so very much for your wonderful donation to toms fund it is so kind of you to help.
Martin Shew, Kevin White, Andrew Forbes, Martin Lintott, Darren Gillen. Ben Nevis 26th April 2013 x these wonderful people are doing the walk for tom. thank u x
keep going everyone plz
need to say a huge thank you to Lynn chislett and KP for your wonderful runs. both of you raising approx £500 each i will never be able to thank you as much as you deserve you are true angels.x
Hi my name is Thomas but you can call me Tom. Thank you for taking the time to look at my little place on the web. I would like to tell you a bit about myself don't worry I'm only 4 so it wont take long. I have a twin brother called Sam we were born at 26 weeks just 3 months early, i was the heavy one who weighed 1.4kg and SAM weighed in at a massive 800g. we both had to spend a lot of time in hospital as we needed help with our breathing, feeding and just growing.
We were in a two different hospitals for just over 12 weeks then they let us go home, Sam came home on oxygen, which i didn't need which was nice. As time went by my mummy and daddy noticed that i was not doing the things my brother was, like crawling and trying to walk as a normal baby/toddler would do so of i had to go back to the doctors just for a check up. It turns out i got quadriplegic cerebral palsy(
CP
).
Having
CP
means i cant use my limbs it makes it hard for me to do the things i like to do which include reading, playing cars, riding my bike, trying to play football (which is hard when you cant stand up on your own) and just normal things a 4 year old likes to do. unfortunately i always have to wait for Sam to get the toys out and then he gets to decide what we play most of the time, unless hes in a bad mood and doesn't want to play or get me any toys to play with.
My mummy and daddy have been trying to do everything for me that they can, they spend hours doing my physio with me and just as much time looking at different options that could help me. one big option is an operation called Selective Dorsal
Rhizotomy
(
SDR
). there also the options of physio and equipment which is why we are now trying to raise money with the plan that at the end i will be more independent and be able to play with Sam and I being the one to get toys and games for him to play with.
Thank you for looking at my page if you think you maybe able to help raise funds for me i would(and mummy/daddy) would be very grateful
p.s Sam is
ok
now and doesn't need the oxygen just in case you were wondering.
from TOM
Thanks again for taking the time to visit my JustGiving page.
Donating through JustGiving is simple, fast and totally secure. Your details are safe with JustGiving – they'll never sell them on or send unwanted emails. Once you donate, they'll send your money directly to the charity and make sure Gift Aid is reclaimed on every eligible donation by a UK taxpayer. So it's the most efficient way to donate - I raise more, whilst saving time and cutting costs for the charity.
So please dig deep and donate now.