Help find Tommy his freedom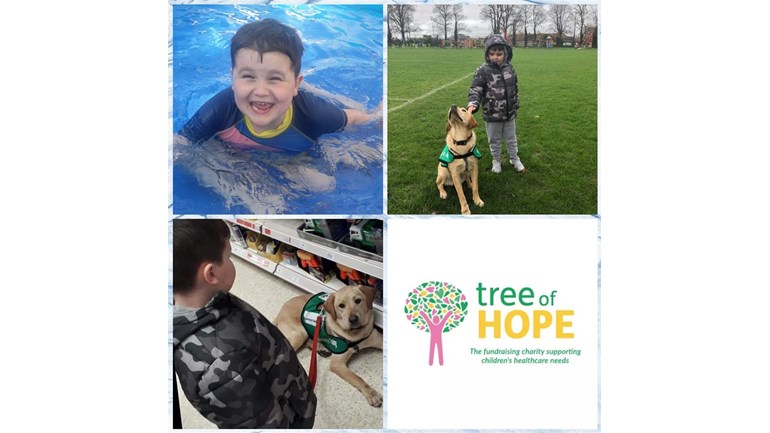 About me:
Hello my name is Thomas but I like to be called Tommy. I'm 7 years old and have an autism spectrum disorder diagnosis (Autism spectrum disorder (ASD) is a condition that affects social interaction, communication, interests and behaviour). Im a happy and fun little boy most of the time but because i have autism I have challenging behaviour and struggle with some day to day tasks. When I go out i can offen put myself into danger without even knowing it. This is very scary for my mummy, daddy and sister Molly.  When i am having a meltdown people will often stare and make unkind comments which upsets my mummy. A supporting paws assistance dog will give me more independence, keep me calm and make me feel like the big boy I am. I have been given an amazing opportunity through supporting paws but we need to raise funds in order to make this life changing assistance dog come into my world. Thank you for reading this. Me and my family will be forever grateful for any donations made. With love Tommy, his Mummy, Daddy and sister Molly.
Tommy's tree of hope page
https://www.treeofhope.org.uk/thomas-boulden/

A fully-trained autism assistance dog can help change behaviour by:
• Introducing routines.
• Reducing bolting behaviour. 
• Interrupting repetitive behaviour.
• Helping the child to cope with unfamiliar surroundings.
(Information taken from supporting paws booklet)
The Tree Of Hope Charity 
7.5% of all donations to Tree of Hope in relation to this appeal will be allocated to the general charitable purposes of Tree of Hope to cover our core operating costs.

If we raise insufficient funds, or surplus funds, then the funds will be used, if appropriate, to fund support for our child's needs in accordance with Tree of Hope's charitable objects. If in those circumstances we are unable to use all or part of the funds for the benefit of our child in accordance with Tree of Hope's charitable objects, then any funds that cannot be used will be transferred to be used for the general charitable purposes of Tree of Hope.

Donating through JustGiving is simple, fast and totally secure. Your details are safe with JustGiving - they'll never sell them on or send unwanted emails. Once you donate, they'll send your money directly to the charity. So it's the most efficient way to donate - saving time and cutting costs for the charity.