SOMETIMES MIRACLES HAPPEN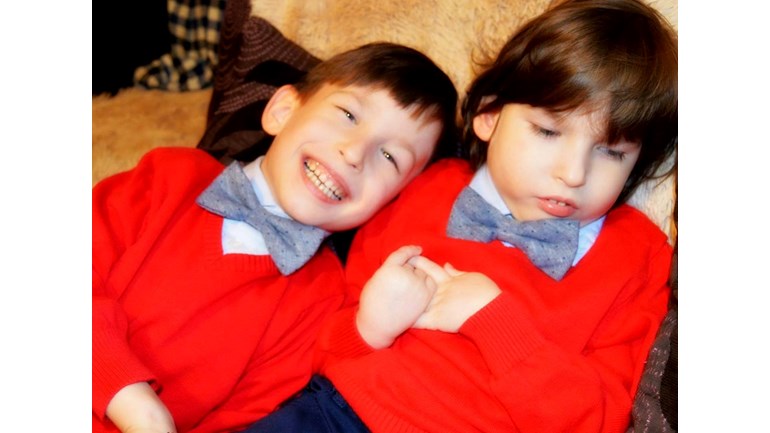 Nathanial and Maksymilian are my lovely 7 year old sons whom were born at 29 weeks of pregnancy.

At a few weeks old we discovered that both of our boys had suffered a Cerebral Haemorrhage – Maksymillian appeared to pull through with little medical intervention whereas Nathanial went on to suffer a stroke, sepsis, meningitis, pneumonia, intestinal blockage, blood vomiting and various neuroinfections – so much for such a small baby to have to fight.
 Due to the severity of the stroke and the other medical emergencies he faced in his first few weeks of life our little boy has been left with Optic Nerve Atrophy, Hydrocephaly, Blindness, Refractory Epilepsy and Cerebral Palsy. Our Nathanial is unable to sit or move without assistance and has to be bottle fed as he is unable to consume solid foods – such a difficult and frustrating way of life for a little boy however he continues to fight and smile every day of his life.
 After the boys traumatic start to life and the heartbreak and unknowing we faced with Nathanial we were blessed that our little boy Maks had pulled through without life changing illnesses and disabilities. We watched Maks grow and develop, believing he was meeting all of his childhood milestones however our family faced more heartbreak and turmoil when our little boy was diagnosed with Autism at 4 years old.
We have watched Maks turn from a happy and content little boy into a frustrated and angry child – the school that he had attended, enjoyed and thrived at could no longer offer him a place which had a very detrimental effect on our little boy. Maks no longer speaks and his frustration is so clear to see – this kills us as parents as we just want to see our son happy, content and achieving to his full potential.
I cannot express the love and pride we as parents and the boy's 13 year old sister feel towards Nathanial and Maks but the emotional and financial challenge that our family face every day is overwhelming and we only wish that we could provide them with the best quality of life possible.
We have done extensive research on therapies, treatments and equipment that could benefit our boys lives however as a family we just cannot cover these costs alone which is why we are fundraising so that our boys can have the very best chance in life.
Both Nathanial and Maks have very different needs so we are currently fundraising £20,0000 so that we can provide them with the following therapies and equipment:
-          Nathanial desperately needs equipment such as a specialist car seat, mobility car and specialist buggy covers to keep his legs warm and to prevent him from becoming ill – these items would allow Nathanial more freedom and independence which he desperately needs.
-          Both of the boys would greatly benefit from therapies such as physio and we would like to be able to provide them with these therapies throughout their childhood
-          We are also looking into specialist treatments for Maks to help improve his life with Autism – Hyperbaric Chambers Therapy is just one of the wonderful treatments we are looking at for our little boy.
From the bottom of our hearts we couldn't thank you enough in advance for any donation you can make or any fundraising you can do on our sons' behalf.
 Thank you for taking the time to read our boys story and for believing in them.
More about Nathaniel and Maks  :
 http://natanek2009.blogspot.co.uk/