Dary: For Future, Let Build Him Now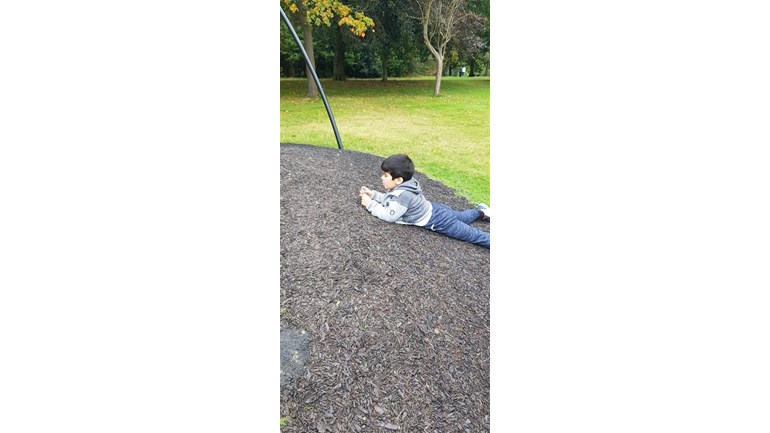 My son Dary is a five year old boy. He is autistic and in mainstream school. He struggles in all aspects of life, especially, his communication and his challenging behaviours. Just two days ago was his birthday. He couldn't celebrate his birthday in school as his behaviours are challenging and his school can not cope with them. But in spite of that he is very smart and very clever. Since he was two years old he knew how to read. For me he is my genious baby.
I never thought my child might have autism, not becouse I didnt know about autism. It is becouse he didnt have any signs of autism until he became two years old. He was talking, looking at people, smiling, laughing, and full of joy. But all of a sudden he regressed, stopped talking and looking at us. He didnt respond to his name and not even wanted to be around us. He was in his own little world. I didnt notice all that until one day I got a call from his Nursery and they told me, Dary is lining up toys and might have autism. 
From that time on, I left everything behind to help my son. However, I had my PhD degree just around that time, and  I was building my career. I was volunteering in both British Red Cross and Coufin Works Museum in Birmingham. And two days working in Oliver Architecture. But I decided to stay in home and support Dary. I started doing research. Every night I was sleeping at 4 am reading countless books and teaching my self how to support Dary. Until I managed to got a 50 hours training to learn ABA, which helped me to support Dary for his toileting, eating and even teaching him how to request his needs. I couldn't afford to get a private ABA tutor. ABA (Applied Behaviour Analysis), is a very effective therapy for children with autism. It is based on  35 to 40 hours therapy by trained and qualified tutors.  The therapy helps to decrease behaviours that are harmful for the child and his learning ability.  
And the therapy is not available from NHS. He was on the waiting list to be diagnosed. We waited 3 years until just recently last month they diagnosed him with ASD. For 3 years I was teaching and playing with him daily from morning until his bed time. And then doing research at night time. 
This September he started reception in mainstream school. I thought I can take a break while Dary goes to school and strated  again to do volunteering in Britush Red Cross and this time I even wanted to do volunteering in BAES, until the school decided, they can only let him to come to school for 1 hour a day. Which is very hard to see my child go to school for only one hour a day while his friends are full time. That is why I decided to get ABA for him,  and Local Authority doesnt provide funding for him. Therefore there is no support again. 
But above all, I cant ignore my child, I got an ABA consultant privately for him but I cant afford to get an ABA tutor to help me to deliver the ABA program for him. As getting ABA tutor is very expensive costs 18 to 25 pound an hour. He has to get 35 hours an ABA a week and then he will progress. ABA is very expensive and not available through NHS and not fundded by government. One hour consultant's time is 85.6 pound and they they have to review their program every 3 weeks which costs 150 pound. 
I have been doing ABA tutoring for my son for a long time, but now that I got some health conditions like savierasthma that I cant do 35 hours therapy for Dary. That is why I really need your support to get ABA tutor for my child. As I know the therapy is working for him. He is responding to it and he will thrive if he gets more hours supported by professionals. 
I am looking for funding for 1 years of ABA therapy which will cost around 20 000 pound. I deeply appreciate any donations small or big. Many thanks for taking the time to visit my page and your support. 
7.5% of all donations to Tree of Hope in relation to this appeal will be allocated to the general charitable purposes of Tree of Hope.