Riley's page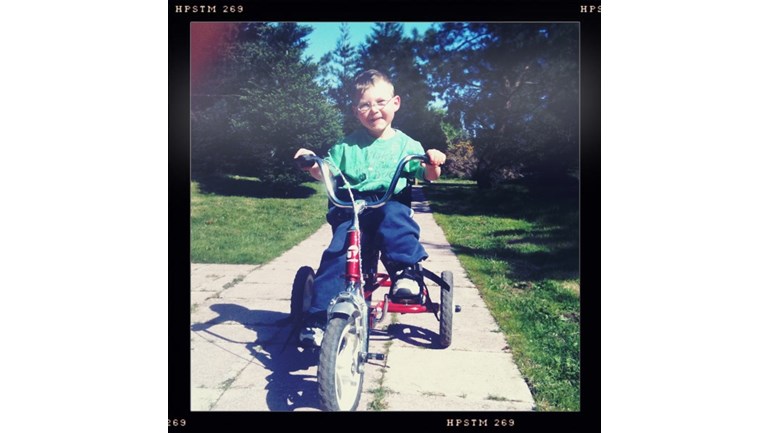 Riley is 4 years old and lives in New Deer, Aberdeenshire.
When Riley was born, there were huge complications with his delivery. He was delivered through an emergency section, and when he was born, it took over 20 minutes to resussitate him. This resulted in a huge lack of oxygen and blood, resulting in major organ failure and brain damage. Eight days after he was born, he underwent a life saving operation to mend a perforation in his intestine.
Whilst in the Intensive Care Unit at Aberdeen's Neo natal Unit, we were told he had major brain damage. It was uncertain at the time if Riley would ever be able to hold his head up, eat on his own, talk or walk. We just had to "wait and see".
Riley is now 4, and his Mummy and Daddy are pleased to say that despite having Cerebral Palsy and severe learning difficulties he has developed into a handsome and cheaky little monkey! Riley can now drink from an open cup on his own, use a spoon, walk with a walker, sit, crawl and stand unaided for over a minute.
He also loves Cbeebies, swimming, and getting out and about on his special Bike!
So why do we need your help?
All of these things have been achieved through Riley's determination and hard work, and we dont think he would have reached many of these goals without the help from the Scottish Centre for Children with Motor Impairements, otherwise known as "Craighalbert Centre".
The aim of the Centre is to work with not only Riley, but also us, his parents to teach Riley everyday key life skills which, due to his learning and physical difficulties are a huge challenge for him. The time spent at the centre enables us as a family to really focus on basic tasks and to help embed them into Riley's learning and everyday way of life. Things that have been focused on in the past include dressing, eating/feeding, speech and communication, fine motor skills, and basic transfers such as going from sitting on a bench to standing un-aided.
In July 2011 Riley experienced a major set back when during a routine Hip X-ray, it was discovered that his hips were on the verge of dislocating. He underwent major surgery on both hips to re- align them back into position and was unable to weight bare on his feet for 3 months.
In October, he had a week placement at Craighalbert, and we saw him taking his first steps again in his walker. In January 2012, during another weekly placement, Riley took his first unaided steps since his operation. He can now take 20 unaided steps, and can stand unaided for around 5 minutes!
The treatment that this centre offers our son in my opinion is excellent, and every single time he has a placement, we notice a significant difference in his physical abilities.
There is no other treatment centre in or around the Aberdeen area that offers this treatment for our son, and we feel that the service the centre has provided us has given Riley a better chance of fulfilling his potential in life that he possibly would not have done otherwise.
Although some Local Authorities in Scotland fund these periodic placements, Aberdeenshire Council do not fund this placement. This means that we have to fund this placement ourselves, at a cost of over £2000 a year.
Please can you help us?
Donating through JustGiving is simple, fast and totally secure. Your details are safe with JustGiving – they'll never sell them on or send unwanted emails. Once you donate, they'll send your money directly to the charity and make sure Gift Aid is reclaimed on every eligible donation by a UK taxpayer. So it's the most efficient way to donate - I raise more, whilst saving time and cutting costs for the charity.
So please dig deep and donate now.