Taylor - Aiming High!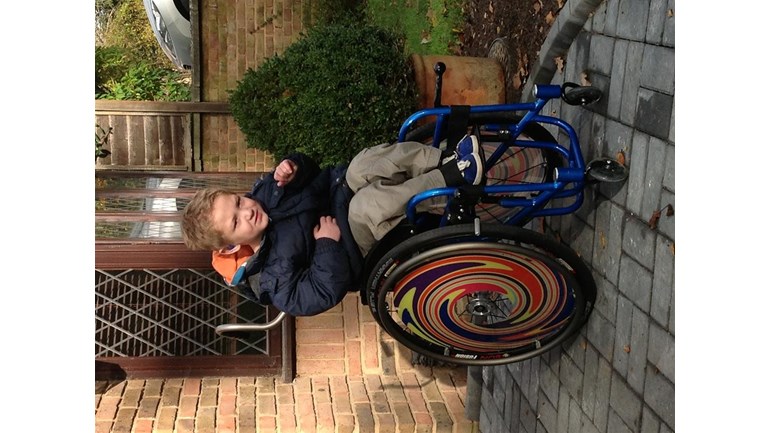 Thanks for taking the time to visit my JustGiving page.
"Hello, my name is Taylor.  I'm 5 years old.  I was born extremely prematurely and have a few problems as a result.  I cannot walk, I cannot hear and I do not talk.
I have an uncommon type of Cerebral Palsy (Dystonic Athetoid Dyskinetic) which means the operation some of my friends have had to help them walk won't work for me. Instead I need lots and lots of physical therapy to help me learn how to use my body. I also need specialist equipment; I'd really like a new lightweight wheelchair that's easier for me to move and so achieve my aim of becoming more independent.  At home I need special seating and exercise equipment to keep my body healthy and help to stop the degenerative effects of my condition. 
I am deaf and so far I don't talk much.  I can say 'mummy', 'daddy' and a few other words but it would be good to be able to talk like my friends.  I love being with people and other kids but sometimes it's difficult for them to understand me:  I can use signs but most people don't.  With lots of speech therapy maybe I could speak, that's my aim – it's a big one! It's possible that my brain damage means I won't be able to and if that's the case I might need a special computer to help me communicate and support to help me learn how.
I'm just like any other little boy really – I'm very cheeky and like making everyone laugh.  I love to play with my cars and trains and I love rough and tumble with daddy and my friends.  But I'd love to be able chase them round the playground or stand up and play catch with them.  I'd love to tell mummy that I love her, tell my friends a joke or just say 'Hello, my name is Taylor' to someone I meet.
All the intensive physical and speech therapy I need and the special equipment costs a lot of money.  Mummy and daddy can only do so much and unfortunately the NHS doesn't provide what I need.  Perhaps you could help me be the best that I can be?  Perhaps you could help me aim high? "
Through the Tree of Hope charity we are aiming to raise £25,000 to help Taylor reach his maximum potential.  This would cover the approx. cost of intensive treatments, therapies and equipment for the next 2 years.  This is a crucial time; whilst he is young he has the scope to be able to increase his mobility through therapy and exercise.  Research also shows that if a child does not speak by the time they are 7 years old they are unlikely to, so intensive speech therapy now could make a massive difference to his whole life.  The next couple of years are critical.  Please help Taylor reach his potential.
Donating through JustGiving is simple, fast and totally secure. Your details are safe with JustGiving – they'll never sell them on or send unwanted emails. Once you donate, they'll send your money directly to the charity. So it's the most efficient way to donate – saving time and cutting costs for the charity.
So please dig deep and donate now.