Team Teddy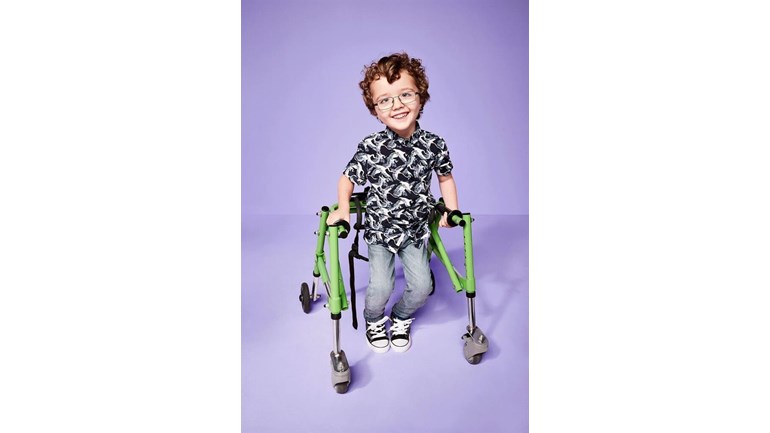 Thanks for taking the time to visit my JustGiving page.
Teddy is six years old now. Despite a number of problems, he's an adorable, happy, cheeky little boy who's always smiling, his wicked sense of humour, and character lights up any room, he is an absolute trooper.
Born early at thirty two weeks, he needed special care for three weeks before we could bring him home. Our joy turned into a nightmare, in a short while Teddy was in utter distress and crying for fourteen hours a day, the local doctors were clueless, we did intensive research ourselves until we identified silent reflux and possible causes, it fitted Teddy's symptoms to the letter, we presented it to the doctors, who'dnever heard of it. 
We changed from breast feeding at 6 weeks to formula adding gaviscon to his feeds with no success; It later transpired that teddy was intolerant to diary, so a milk change eased things slightly. At 4 months old it transpired that the valve at the top of his stomach had not developed properly causing acid to pass from his stomach burning the throat, no wonder he was screaming endlessly. 
This is still an ongoing issue, even at 6 years old he's intolerant to soya, egg, and most red meat. He has a low fat diet all the time, as it's difficult to digest the fat proteins which cause his constipation issues. 
Teddy was not meeting his physical milestones, we were told he was hyper mobile, with the physiotherapist failing to pick up, why he was not crawling, and blaming his mother for not pushing him, it was heartbreaking.  With no developments, we finally saw a new paediatrician, expressing our concerns; this was when Teddy's diagnosis started. 
After an MRI scan at three years old he was diagnosed with bi-lateral cerebral palsy, affecting all four limbs, but predominantly his legs, the correct intensive physiotherapy was finally commenced, Bacolfen was prescribed to ease his spasms and discomfort. 
Over the next 18 month period, Teddy was diagnosed with Epilepsy, and autism. He has Digestion, and Constipation issues, He's partially sighted, has regular bouts of Glue Ear /infections, and continued food Intolerances.
What a roller coaster ride, and a lot of medication to deal with at such a young age on a daily basis. 
Teddy's Cerebral palsy means, he requires daily physiotherapies. His epilepsy is poorly controlled, which can impact his daily life, and hinders his chance of alternative procedures, such as the SDR operation, Stem Cell treatment and even his Botox treatment was withdrawn. Due to his epilepsy, and funding, these options are no longer available,the only thing left to help him is physiotherapy.
His team have identified the INNOWALK machine as absolutely vital to gain muscle, strength, improve his constipation issues, flexibility and posture, hopefully give him a chance to walk aided, and be as independent as possible, he currently only uses his kaye walker for very short periods of standing.
Any money that is kindly donated or raised is going towards Teddy's equipment, and therapies, which are not available on the NHS. 
Donating through JustGiving is simple, fast and totally secure. Your details are safe with JustGiving - they'll never sell them on or send unwanted emails. Once you donate, they'll send your money directly to the charity. So it's the most efficient way to donate - saving time and cutting costs for the charity.

7.5% of all donations to Tree of Hope in relation to this appeal will be allocated to the general charitable purposes of Tree of Hope to cover our core operating costs.

 
If we raise insufficient funds, or surplus funds, then the funds will be used, if appropriate, to fund support for our child's needs in accordance with Tree of Hope's charitable objects.  If in those circumstances we are unable to use all or part of the funds for the benefit of our child in accordance with Tree of Hope's charitable objectives, then any funds that cannot be used will be transferred to be used for the general charitable purposes of Tree of Hope.