Team May !! - Fundraising for May's new wheels and more !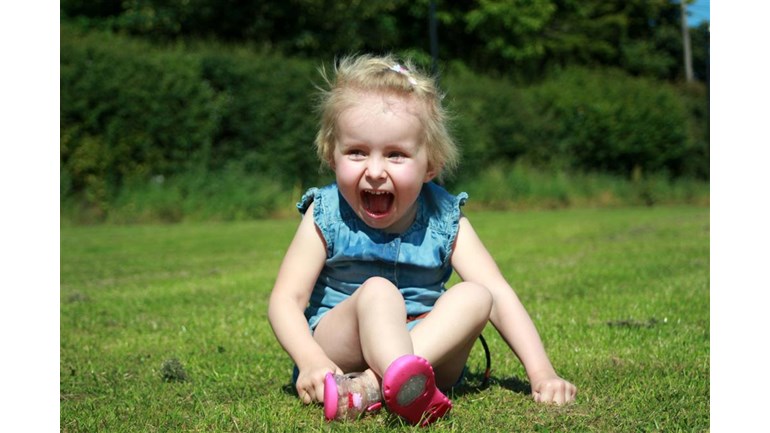 May is the youngest of my 3 children and was born 2 weeks early in December 2010,  weighing a healthy 7lb 4oz. There were no complications at birth and May started the first 5 months of her life no differently to her sister and brother. Around this time I was beginning to get a bit concerned when May wasn't rolling over or showing signs of sitting up unaided. By the time we reached her 8 month check I flagged up my concerns with the health visitor, who referred us to a paediatrician. On the 23rd August 2011, our world was rocked  when May was diagnosed with spastic quadriplegia cerebral palsy. As we began to learn about and understand what was ahead for May we also grieved the " normal " things in life May wasn't going to be able to do.
May is now 3 and a half and is the light of our life,  along with Ella and Archie. Her condition basically means she cannot sit up unaided for long periods of time, walk or talk as she should for a child of her age. Mentally May is the same as any other 3 and a half year old, she is just trapped in a body that will not do what she wants it to do. This aside,  she amazes me every single day with her determination and courage and has achieved many things that at the beginning I thought she never would, such as rolling over and commando crawling. She goes to her local playschool and with the help of her fabulous one to one and the other lovely playschool staff she plays and takes part in activities the same as everyone else.
There are 5 gradings of cerebral palsy, 1 being the mildest and 5 the most severe. May sits at level 4 which means she will always need a wheelchair to get around. At the moment she has a manual chair which we will always encourage her to use to continue to strengthen her upper body. However we would also like May to have an electric wheelchair which will help her to keep up with her siblings and friends. The chair that we would like for May is an Xtreme X8 which is an all terrain electric wheelchair. With this May will be able to come on dog walks with us, go onto the beach, even come out in the snow ! All things we like to do as a family. This is the link to the page which shows the wheelchair http://www.allterrainwheelchairs.co.uk/extreme-x8/
The Tree of Hope is a registered charity who will look after all money raised for May's wheelchair until we are ready to buy her new wheels .
If after reading this you feel that you would like to help us raise funds for May, or have any ideas that might help us to fundraise for this chair, we would be very pleased to hear from you.