Team Amelie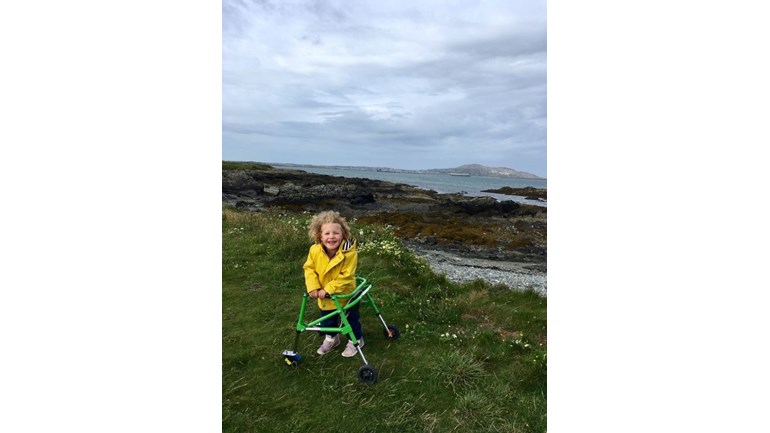 ***UPDATE 29 AUGUST 2017***
With thanks to the fantastic effort of our friends and family, as well as MANY kind-hearted strangers, we have now raised enough money for Amelie to have SDR (this has been paid for and booked for 20 October) and all of the additional £14,000 that will be used for additional therapy and equipment in the two years following. 
As you may know, we still have some events planned over the coming months. We've spoken with Tree of Hope about how any additional funds raised (over and above our initial £35,000 target) can be used and they have assured us that they can still be used for Amelie's benefit until she is 18 years old in line with Tree of Hope's charitable objects. 
Even with SDR, Amelie will always need to do physio as her condition is lifelong. SDR will certainly be life changing but it won't make Amelie's CP go away unfortunately. 
The additional funds raised will allow us/Amelie to:
- access additional and incredibly beneficial therapy (over and above what the NHS are able to offer) for many years to come.
- buy any (often very expensive) specialist equipment (as an example, a specialist trike can cost in excess of £1,000).
- look into home adaptations that could make Amelie's life a little easier over the next few years. 
We didn't dare to dream of getting enough money for this sort of thing. So please be assured that Amelie will still benefit massively and continue to do so for years to come. 
Thank you, you lovely people. We're overwhelmed by the success of Amelie's fundraising.
***ORIGINAL STORY***
Change an incredible little girl's life. To see her journey so far, please click here https://youtu.be/TrWXbI09jBo


Amelie is 3 years old and lives with us, her brother Alexander and her big cat brother Lou in Marple, Stockport. Amelie has Spastic Diplegic Cerebral Palsy and has just been accepted by Miss Pettorini at Alder Hey Children's Hospital to have a life changing operation called Selective Dorsal Rhizotomy (SDR). The operation will give her the best chance to walk independently and avoid long term muscle deformity. You can read all about this amazing operation here:

http://www.alderhey.nhs.uk/departments/neurosurgery/selective-dorsal-rhizotomy-sdr/

Amelie was clearly desperate for extra cuddles and arrived 6 weeks early. She then spent 11 days in the neo-natal ward before coming home. As a baby, she did not reach the usual milestones you would expect a baby to reach. She wasn't rolling, crawling or sitting up on time. We started to get worried and went to the doctor. Weekly physiotherapy sessions started straight away and Amelie responded brilliantly. An MRI soon followed and Amelie was diagnosed with Cerebral Palsy (CP) at 18 months old.

Having CP is a nuisance! Her legs are very tight and sometimes ache. They don't quite listen to her which makes standing and walking independently really hard. After working ridiculous diligently she's
now able to walk well on a walking frame and is learning how to use walking poles. Unfortunately, all activity quickly leaves her exhausted.

It makes doing day to day activities hard too. Using the toilet requires special equipment and a fair bit of help. Getting dressed is a wrestling match against tight legs.

SDR can help in all of these areas. But it is only available on the NHS if you can find the funding yourself. At Alder Hey it costs £21,000 for the operation and the physiotherapy in hospital afterwards. We're hoping to raise this, plus an additional £14,000 for additional therapies and equipment in the two years following the operation.

The only alternative to SDR is to have botox injections which are a temporary help and, at best, become less effective over time. So our only option is to raise the funds and give Amelie the best chance
in life.

Thank you so much for taking the time to read our story and please support Amelie by making a donation. Any amount will go a long way towards changing her life. Thank you.

You can donate by texting BQQW93 followed by the amount you'd like to donate (e.g. BQQW93 £5) to 70070.


Please follow Amelie's journey on Facebook at www.facebook.com/teamamelieb or on Twitter at @teamamelieb
We are fundraising with Tree of Hope (charity number 1149254). If we raise insufficient funds, or surplus funds, then the funds will be used, if appropriate, to fund support for Amelie's needs in accordance with Tree of Hope's charitable objects. If in those circumstances we are unable to use all or part of the funds for the benefit of Amelie in accordance with Tree of Hope's charitable objects, then any funds that cannot be used will be transferred to be used for the general charitable purposes of
Tree of Hope.
Thanks for taking the time to visit my JustGiving page.
Donating through JustGiving is simple, fast and totally secure. Your details are safe with JustGiving - they'll never sell them on or send unwanted emails. Once you donate, they'll send your money directly to the charity. So it's the most efficient way to donate - saving time and cutting costs for the charity.