Team Poppy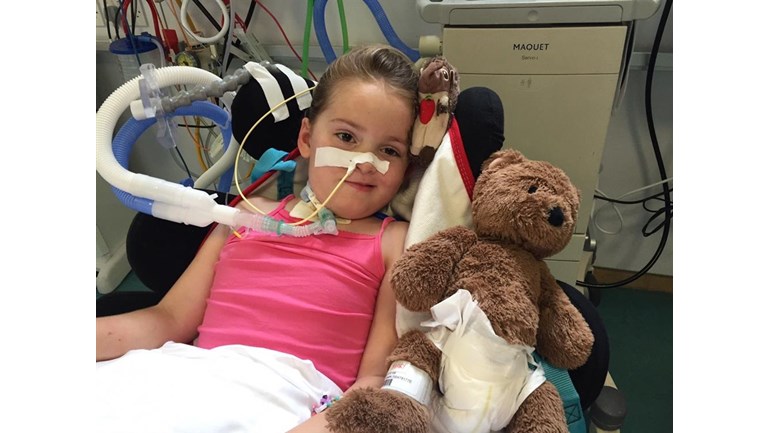 Thanks for taking the time to visit our JustGiving page.
Team Poppy is fund-raising for Poppy, a brave girl from Gullane in East Lothian, who loves gymnastics, dance and running rings around the boys at rugby-tots. Just days  after her 6th birthday Poppy picked up a cold bug. We now know this virus was"Entero-virus D68".
Most people who caught Entero-virus D68 developed a head cold for a few days. However, in a very few children (less than 10 in Scotland) the virus attacked nerves in the
spinal cord resulting in a condition called Acute Flaccid Myelitis. This results in paralysis of the limbs and, in the most severe cases (Poppy tragically is one) also paralysis of the muscles controlling speech, swallowing and breathing.
As a result Poppy has been in the Royal Hospital for Sick Children in Edinburgh since Sept 21st 2016.
Unable to speak, eat, or breathe for herself she is kept alive by an artificial ventilator. She has, with tremendous effort regained some movement of her hands
(allowing her to draw Team Poppy's logo!) but she still can't move her arms. Thankfully her brain is completely unaffected so she is still the same bright, spirited and funny girl she was before this nightmare engulfed her and her family.
Acute Flaccid Myelitis is a very rare condition and doctors are uncertain what further recovery there will be. We remain optimistic but are aware that the experience of families in the USA (which has had two recent outbreaks of Entero-virus D68 in recent years) is recovery, when it does occur is very slow and gradual, even with intensive physiotherapy.
Team Poppy, an appeal set up by friends of Poppy's family, aims to establish a fund to help meet Poppy's care needs now and in the years to come.
Thanks to money already generously donated, Poppy now has her own ipad, on which she is learning to communicate. 
The TeamPoppy fund will also help finance the adaptations to her family's house needed before Poppy can get home. There are also many extras pieces of specialist equipment that the NHS is not able to provide, which will enhance Poppy's rehab, treatment and quality of life once she is home. Poppy's therapists have already identified a specialized wheelchair, a supportive trike and a hydrotherapy pool as the first items on the wish list. We would also love to pay for extra physiotherapy sessions when she gets home to optimise her chance of recovery.
Team Poppy hopes to provide this amazing girl with whatever she needs, so she can, with the love and support of her incredible family and friends, overcome the worst
of her physical disability and have as great a childhood as possible.
7.5% of all donations to Tree of Hope in relation to this appeal will be allocated to the general charitable purposes of Tree of Hope to cover our core operating costs.

If we raise insufficient funds, or surplus funds, then the funds will be used, if appropriate, to fund support for our child's needs in accordance with Tree of Hope's charitable objects. If in those circumstances we are unable to use all or part of the funds for the benefit of our child in accordance with Tree of Hope's charitable objects, then any funds that cannot be used will be transferred to be used for the general charitable purposes of Tree of Hope.If you have any questions at all please do not hesitate to call the family support team on 01892 535525.
   
Donating through JustGiving is simple, fast and totally secure. Your details are safe with JustGiving - they'll never sell them on or send unwanted emails. Once you donate, they'll send your money directly to the charity. So it's the most efficient way to donate - saving time and cutting costs for the charity.