Taylors plagiocephaly helmet treatment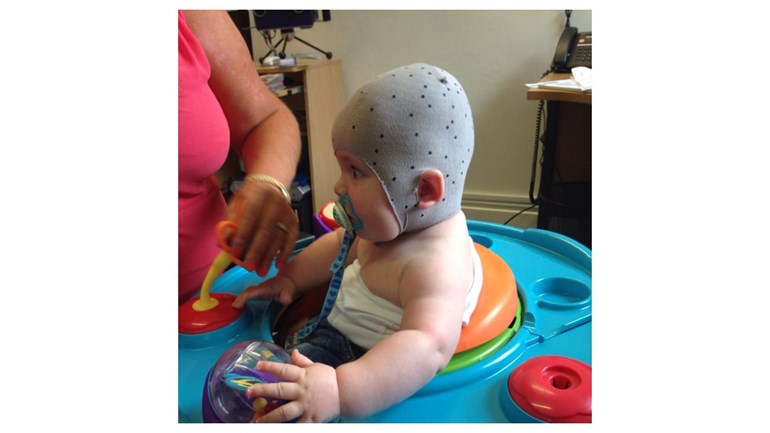 My son is 6.5 months old & was diagnosed with plagiocephaly (flat head syndrome) at his 8 week gp check up, 
I took him to the drs about his flat head several times to be told every time it 'should' correct itself & that unfortunately the nhs do not offer any treatment for it.
I had read online that re positioning the head whenever possible could help, so I spent several months re positioning Taylors head at every opportunity to try relieve pressure from the flat side & I also gave him lots of tummy time & bumbo chair time to keep him off his head, but unfortunately it never really made a noticeable difference.
Upon my online research, I came across a website called technology in motion (Leeds based clinic) that provide helmets to treat this condition & get the child's head back to a normal shape, after weeks of looking through the technology in motion facebook page & reading success stories, I telephoned the clinic & had a chat & booked an appointment for a free consultation, 
I travelled 3 hours on the train to the appointment & my son was given a thorough consultation, his neck muscles were checked for any tightness, a head scan was taken & head measurements with a hand held device were taken & the diagnosis was made - he had severe plagiocephaly, 
which had made his head flat on the left side & caused bossing of the forehead & misalignment of his ears.
Sandie from technology in motion clinic Leeds, who did the consultation - said Taylor had textbook plagiocephaly & he would really benefit from the treatment & she assured me that all of the faults with the shape of his head would be hugely improved.

He will have to wear the helmet for 23 hours a day for roughly 5 months with regular appointments in between to check on the progress, once the helmet has done its job it will finally be removed.
The NHS do not fund for this treatment, so I am trying to raise the funds myself.
The helmet costs £1950, which is a lot of money, but is such a small price to pay for my son to be able to grow up with a normal shaped head, 
Thank you for taking the time to read - Danielle (Taylors mum) x

Thanks for taking the time to visit my JustGiving page.

Donating through JustGiving is simple, fast and totally secure. Your details are safe with JustGiving – they'll never sell them on or send unwanted emails. Once you donate, they'll send your money directly to the charity. So it's the most efficient way to donate.