Sven's Story - To walk again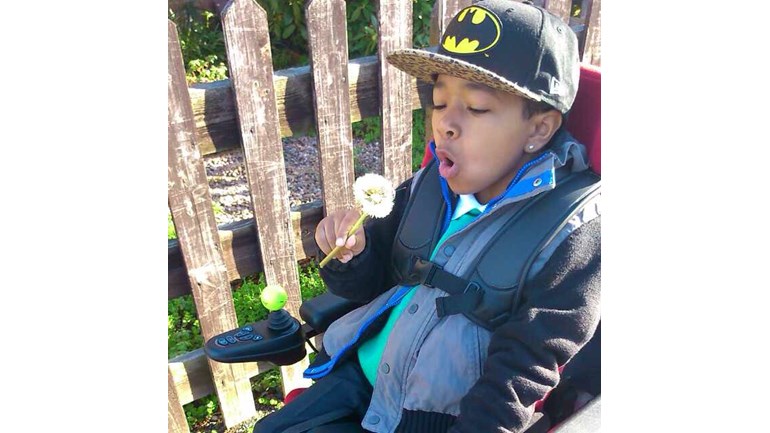 Hello, my name is Sven Louie Woolcock. I am 9 years old and live in Coventry, with my mum and siblings of 2
brothers and 1 sister. I would like to tell you about my long term condition of Transverse Myelitis - (a inflammation of the spine).
I became ill with this condition at the age of 2 year and 2 months, before that I was a healthy happy boy- jumping ,running, playing around - as you do at that age. Then one Sunday I fell ill, my mum explains that I was playing outside on was a sunny day and was having fun playing with my toys in the back garden. Then it was time for me to go inside and get ready for bed but I began to start screaming and crying in hysterics. My mum was worried as she had never seen my crying like that before - but she thought I was having a tantrum (being the age I was) I eventually calmed down then nodded off in my mum's arms, she held me for a while, then popped me upstairs into my cot. 
After a short sleep, I then awoke screaming and crying again, but this time when I was picked up I was screaming 'ouch ouch'. I was in a lot of pain, my mum was more worried and called the hospital straight away, she was advised to bring me directly to the hospital. I went with my mum and my nanny. When I was there I laid in the hospital bed, in pain crying not knowing what was wrong. Doctors and nurses did there checkups, and my mum was told it could be suspected Meningitis, as I had lost all movement in my upper and lower limbs, and was swollen. My mum and nanny were very, very worried and cried. 
I stayed overnight  in my local hospital,  the next day I was referred to Birmingham Children's Hospital for further tests, I had a MRI scan and that's when my mum was told I had contracted Transverse Myelitis, my spinal cord was severely inflamed, which has now damaged the nerves in my body and caused spasticity, and to this day we are still unsure how it all happened.
Today, I am still a happy boy- only I am unable to walk or stand alone due to my condition, I have an electrical
wheelchair (my best friend) and it helps me to be more mobile and independent. I am in a mainstream school, still working at my average aged levels. I also have a brilliant support team at my school, the children, teachers and LSA's are all fantastic.
Due to my condition, I have a Baclofen pump implanted into my tummy - it delivers my medicine to my spine to help with spasticity and I'm on the list to have the S.D.R.( Selective Dorsal Rhizotomy) operation  it's an expensive operation so my family and school are planning fundraising events to helps with the costs. If you read my story and can help in any way- I would be very , very grateful.
Thank you for reading my story :)
Sven xxxxxxxxx
Tree of Hope reserves to use these funds for any purpose stated in the parents charter, including but not limited to, medical treatment, surgery and therapies and related travel expenses, medical and exercise equipment, childcare, home adaptations and the cost of vehicles designed for the disabled.