Help Amber Walk Appeal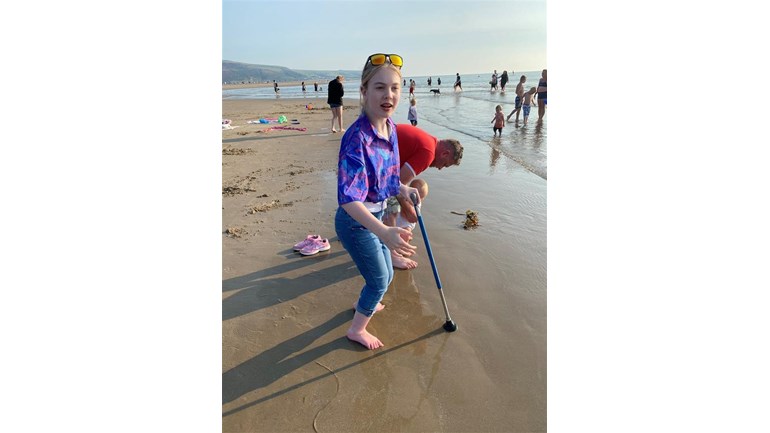 Hello everyone my name is  Amber and I am 5 years old.  When I was 18 months old I was diagnosed with Spastic Diplegia Cerebral Palsy. This is because the part of my brain that is damaged effects my legs so I can't stand or walk.
My legs are very stiff and tight and are very painful.  I cannot walk at all, and I use my walking frame and a wheelchair to get around. (even though they call me speedy lol)
I love life and have always got a smile on my face but most of all I would love to be able to enjoy playing with my friends and 2 big brothers all on my own. I try to do ballet in my walking frame but can only lift my leg a little bit, and I would love to do gymnastics with the ribbons but most of all, to be able to get around my house all by myself and go and do things all on my own. I don't want my walking frame or wheelchair anymore I just want to walk like everyone else.
There is an operation I can have called Selective Dorsal Rhizotomy (SDR) that will take away all the tightness, stiffness and pain in my legs and will help me to take my very first steps to my mummy,daddy and big brothers maybe even a pirouette lol. With this operation and lots and lots of physiotherapy and lots of excercise I will one day be able to walk on my own.
The operation is very expensive and I will need lots of care afterwards. Whilst it will not take my cerebral palsy away, it will make my life better and take away the pain in my legs to help me do all the things I can't do now.  In exchange for your help I will make you smile and laugh as i'm good at that. 
Please help me raise lots of money for this operation
"A few words from mum and dad" Thankyou to everyone who has, and will support us in raising this vital money for such an important operation. As we would like everyone who has donated and participated to understand what they have worked so hard towards.
This operation can only ever be performed once and is irreversable,therefor we only have one chance to get this right.
With an operation of such importance we have researched indepth as to where and who in the world has the most experience  and knowledge to perform this procedure, we as a family have decided that once we have raised sufficient funds we will be taking Amber to Dr Park at St Louis Cerebral Palsy Centre in America.
Dr Park is the leading neurosurgeon for this operation with outstanding results and with only one opportunity to get this right he is the best man for the job.
We cannot ever thankyou enough for the support, love, care and affection that you have all shown towards our daughter.
Thankyou from the bottom of our hearts
Sue & Mark xxx
If we exceed the target amount or if we do not raise enough, or if the funds cannot be used for any other reason, they will go to Tree of Hope to help other sick children.