Super Dog for my Super Son Tyler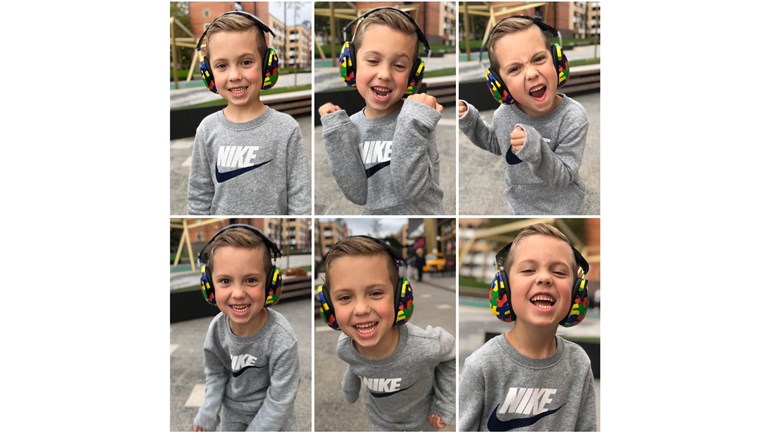 We are fundraising together to try to raise enough for an assistance dog for our son Tyler through Supporting Paws 🐾
Hi I'm Tyler & I'm 7 and look exactly like my Daddy. I have many super powers 🦸🏻‍♂️
I am diagnosed with a mix of complex neurological disorders which include Autism, ADHD, SPD, Pica & Tourettes 🙊 These aren't labels, but keys 🔑 to the extra support I desperately need. I also struggle with my mental health. Each of these things have a massive impact on my daily life & I can be danger to myself. Often I struggle with my emotions, my surroundings & understanding myself - this makes my head feel spicy. 🤯

I like Minecraft, Mario & I love penguins ! I get excited by certain logos & have a very good memory. I was featured in a channel 4 documentary "Emergency calls" after I helped save Mummy a few years ago. I am a gamer but I do like playing out on my trampoline or swing lots. 
Hi, I'm Tyler's Mummy. Thank you for taking the time to read Tyler's story.
Tyler now attends an Autistic specialist provision school which helps in many ways not just accessing the curriculum. Sadly despite years of struggling in a mainstream school, he was unable to develop a real friendship and relate to peers.
Now we'd like to give him a furry friend. An assistance dog can help keep him safe, keep him grounded, provide consistency, life skills & companionship. 🦮
Tyler lives at home with me, his Dad & his little sister, who also has a diagnosis of Autism. 👨‍👩‍👧‍👦 He is very loved. He's also very cheeky, very clever & ever so empathetic ! Tyler has experienced a lot of loss in his early life, he's lost a few close family members & he is a very sensitive soul. Tyler doesn't sleep well, at all, his brain struggles to shut off. Due to medical issues he awakes throughout the night & I have to be alert & keep him safe. He will eat anything & everything, seriously ! He will run off, run out, in front of cars, out of windows, we literally have to watch him every second & it's very demanding. Of course that's my job & I love being his Mummy but an assistance dog could have a great impact his life. It could make his life easier for him. Also benefiting us & his sister who has her own needs & often struggles for the limelight with her brother around.
These dogs are specifically trained to assist those on the autistic spectrum, amongst many things they can encourage social skills, develop a sense of being needed & achievement, interupt damaging repetitive behaviour. Help reduce anxiety & reduce fight/flight behaviours. A huge positive for Tyler's development, social interactions, independency & anxiety.
Simple tasks like getting dressed or washing his hands are skills Tyler just hasn't mastered yet. However he can recall number sequences & coding patterns perfectly. An amazing little brain, just sometimes it can be too much to regulate for him.
We are extremely fortunate to be working with Supporting Paws who work extremely hard training these dogs. We now have to try raise this money during a global pandemic - but hey if I can shield & home school 2 Autistic children & survive, surely this is possible right ?! 
I really do appreciate your time, any size donation & even just a share. I have to try 🤞🏼
Thank you x