Helping Holly Walk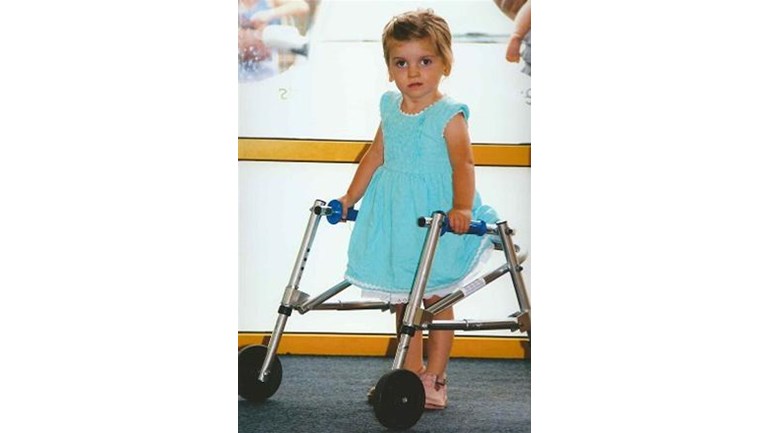 Welcome to Holly's JustGiving page.
At 10 weeks of age our baby girl stopped breathing and her heart stopped. Dead for a minimum of 20 minutes, she was brought back to life at St Helier's Hospital, spent a week in intensive care at Evelina Children's Hospital and a further three weeks on Evelina's neurology ward. Holly was eventually released from hospital on seizure medication and given a program of physiotherapy.
At aged 13 months Holly was diagnosed with cerebral palsy, she couldn't feed herself, sit up, stand or walk. This was all a direct result of her brain being starved of oxygen while she was dead.
Starting private Bobath physiotherapy in conjunction with her NHS physiotherapy was the best thing we ever did - at 22 months Holly can now sit up independently, feed herself with support, pull herself up to standing and take tentative supported steps.
For the first 9 months Holly received physiotherapy twice a week - with the NHS and with the private Bobath physiotherapist. Due to government cut backs, however, her NHS physiotherapy has been reduced to 24 sessions a year (from once a week). We can't afford to pay for the private Bobath physiotherapy twice a week so we are raising money to continue this twice weekly regime to give Holly the best possible chance of moving independently.  
Already Holly has defied doctors expectations. She wants to be like the other children she sees and through self determination she is now pulling herself to stand and can walk supported. However, the involuntary movements (correo athetosis) in her hips and shoulders prevent her from standing or walking unsupported. We are hoping that Bobath therapy will improve her ability to free stand and hopefully walk unaided... one day.
You can help, you can personally do something to change her life. Please donate if you can. 
Thank you for taking time to ready Holly's story.
Donating through JustGiving is simple, fast and totally secure. Your details are safe with JustGiving – they'll never sell them on or send unwanted emails. Once you donate, they'll send your money directly to Holly via Tree of Hope. So it's the most efficient way to donate.