Step up for Sophie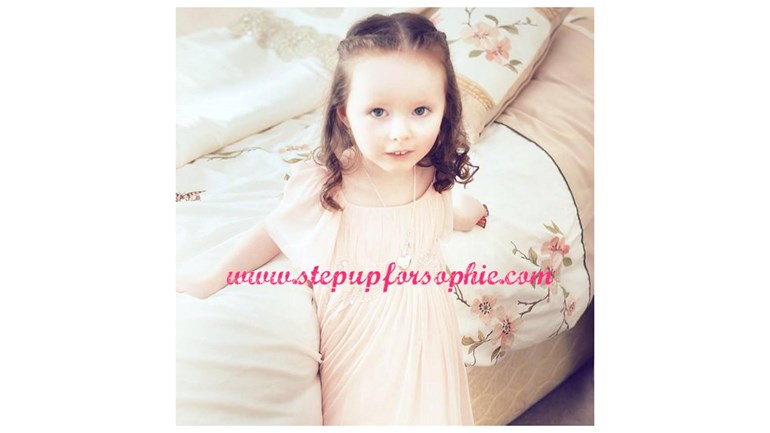 Here is where just a few minutes of your time can change this little girls life forever.
Sophie's Story
Hi, my name is Sophie, I am 4 years old.  I live in Dublin with my Mummy, Daddy, baby brother Harry and our dog Roxy.  I have Cerebral Palsy - Spastic Diaplegia and I have just been accepted by Dr Park in St Louis Children's Hospital in America to have a life changing operation called Selective Dorsal Rhizotomy.  You can read all about this amazing operation here:
http://www.stlouischildrens.org/our-services/center-cerebral-palsy-spasticity/about-selective-dorsal-rhizotomy-sdr
From the beginning!
When I was a baby, I did not reach the usual milestones you would expect a baby to reach.  At my 1st birthday, I could just about sit up by myself.  I did not crawl, and when my Mum and Dad brought me to be checked out they were told I would do it all in my own time.  I eventually took my first steps when I was 22 months much to the relief of my parents, however, something just did not seem quite right. 
As the waiting list was so long to be seen to by a special doctor, my parents took me to a private doctor who knew straight away by looking at me that I had Cerebral Palsy.  So I had an MRI and this confirmed what the doctor had said.  I was then sent to the CRC where I was introduced to my physio Mary.  I see her a lot.
Having this condition means that the muscles in my legs are very tight, and often quite painful therefore I am unable to sleep very well at night as I wake up with very bad leg cramps and I'm unable to keep up and play with my cousins.  I would love to be able to jump up really high someday. 
I struggle on a daily basis with simple tasks that we all take for granted, like walking up and down the stairs, steps, using the bathroom and I lose my balance and fall over all the time.
I dream one day of been able to not have this pain anymore in my legs and be able to take part in all of the fun activities that my friends and cousins take part in, and not having the severe leg cramps after an active day of fun as they can rip the muscles in my legs, and I cannot walk so I need to use my kaye walker (who's name is Lisa) and I often crash into everything! I would love to be able to keep up with my friends and right now I just am unable to.
SDR is not available in Ireland and there is no grant to help towards the cost of the operation.  We need to raise aprox €80000 for Tree of Hope to cover the cost of the surgery and the intensive physiotherapy and various types of  equipment to help me improve in all areas of my life that my cerebral palsy affects.  So please can you help me raise this money so my mummy and daddy can bring me to America and give me the best quality of life.  
Dr Park said that after the surgery my spasticity will be permanently reduced, also that my balance and posture will improve greatly and that I will be able to participate in sports and activities with my friends! Along with a long list of other benefits!  I will never need Botox injections in my legs again, these are very painful and they are now finding that the long term use of this can cause muscle wastage.  If I was unable to have the SDR surgery I would be faced with a life time of injections every few months, and eventually be unable to walk. 
Thank you so much for taking the time to read my story and please support me by making a donation.  It does not matter how small your donation is, any amount will go towards changing my life. xxxx
We have had to increase our target to €90,000 as the Euro to Dollar exchange rate has changed since we started fundraising and the cost of the operation is the same, however when you convert it to Euro's now we are losing out! 
If we exceed the target amount or if we do not raise enough, or if the funds cannot be used for any other reason, they will go to Tree of Hope to help other sick children.
Thanks for taking the time to visit my JustGiving page.
Donating through JustGiving is simple, fast and totally secure. Your details are safe with JustGiving – they'll never sell them on or send unwanted emails. Once you donate, they'll send your money directly to the charity. So it's the most efficient way to donate – saving time and cutting costs for the charity.