Stepping With Sophie...in her wish to walk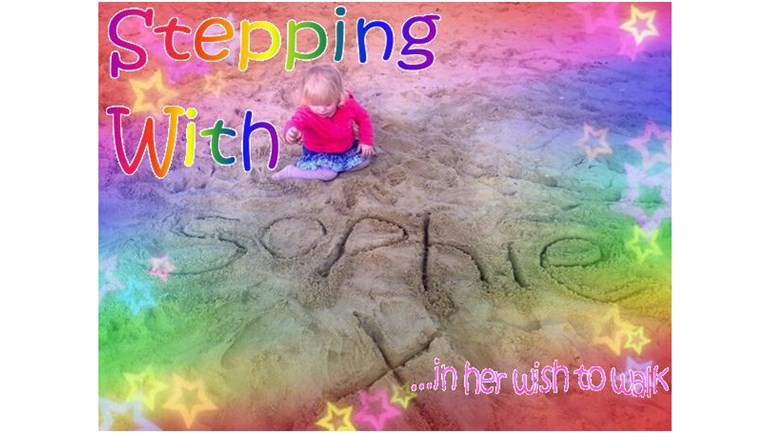 Thanks for taking the time to visit my JustGiving page that my Mummy and Daddy have taken the time to organise and set up with The Tree of Hope Children's Charity, to hopefully make my wish to walk come true! So come and step with me on my journey...
My name is Sophie Joy, I am almost 3 years old and I have Spastic Diplegia Cerebral Palsy (although as we like to say 'I may have Cerebral Palsy, but Cerebral Palsy doesn't have me!') I was born on the 6th December 2009 with my identical twin sister...although I haven't been able to come first with most things due to my disability, I can always say I was the first to enter the world, a whole minute before my sister!! We were born 8 weeks early after Mummy went into premature labour; we weighed just 4lb 2oz and 4lb 3oz and the first month of our life we spent in the Neonatal Unit at our local hospital, where we also stayed for Christmas!...luckily Father Christmas knew we were there! :-) The first few months of life at home after NNU were great, we were both doing really well for being born prematurely...feeding well, sleeping well, crying well! It wasn't until my twin started to do things a lot sooner than me that my family noticed I was a little delayed with my mobility, however this at the time was just put down to developmental delay due to being born prematurely! Ironically for us however, Nana has been a teacher for children with CP for years so was able to see the signs of CP in me and my Mummy and Daddy finally pushed for a diagnoses to get me the support I needed! To date, I have had just over a year of physiotherapy to help not only with the tight muscles (spasticity) in my legs, but to install the correct messages to the part of my brain which doesn't work properly...the part that isn't telling my legs to do what they should be doing and climb, walk and run like other children my age do all of the time! My Mummy and Daddy have to work hard to keep my physio up at home and I have had to work tremendously hard just to do simple things such as crawl, kneel up and climb small obstacles. Although I have come on remarkably really, from only being able to commando crawl when I first started physio at around 1 1/2 years old to now at 2 3/4 years being able to walk using my Kaye Walker (albeit with the difficulties with come with spasticity of the legs of course) and my family are all extremely proud of the things I have achieved...I still have a long way to go and physiotherapy will be on going for the rest of my life to 'manage' my CP...It will never cure it! Despite this, I am a happy little girl and my family say I always have a smile on my face!...I love to play with my friends at nursery, being creative, looking at books, getting messy, being outdoors, everything else any other nearly 3 year old loves to do! I love the little bit of independence that walking with my frame brings, but the one thing I long to do however is play in the park properly with my twin sister Heidi, my big sister Lily and my baby brother Barrett! This is why my Mummy and my Daddy have set up this page, to get me the key to the brighter future I deserve! That key is an operation called Selective Dorsal Rhizotomy (SDR), which I am very fortunate Mummy came across and researched tirelessly for me...this operation would mean the Dr's could take the tightness in my muscles away and without that horrid tightness which restricts me from doing so many things I want to be doing, I could hopefully learn to walk independently and maybe one day be running in the park with my brother and sisters!
This operation costs lots with the aftercare which is involved too and is unfortunately not widely funded or even carried out over here in the UK...we are going down the NHS path first however, which with any luck we will get a yes to both the operation and the funding; but this is sadly more unlikely than is, going on statistics and a lot of families are embarking on a journey to America to a hospital called St Louis Children's Hospital to pursue this operation, which comes at an expense. We have therefore come to the decision to start fundraising now, as even if we were very fortunate not to need funding for this operation, the aftercare that Sophie will need will still come at an expense and to start fundraising after possibly getting a no will obviously mean that Sophie will have to wait longer for an operation that could benefit her better the earlier it's done!
Donating through JustGiving is simple, fast and totally secure. Your details are safe with JustGiving – they'll never sell them on or send unwanted emails. Once you donate, they'll send your money directly to the charity and make sure Gift Aid is reclaimed on every eligible donation by a UK taxpayer. So it's the most efficient way to donate - I raise more, whilst saving time and cutting costs for the charity. Any funds we were fortunate enough to raise which Sophie didn't need if we were very lucky, The Tree of Hope Children's Charity would keep and donate to another child in a similar situation... So please help us on our journey and step with Sophie in her wish to walk. Thank you x
For more information and to 'like' and follow our journey on Facebook, click on the links below...
http://stepping-with-sophie.blogspot.co.uk/
http://www.facebook.com/SteppingWithSophie