Stanley Davies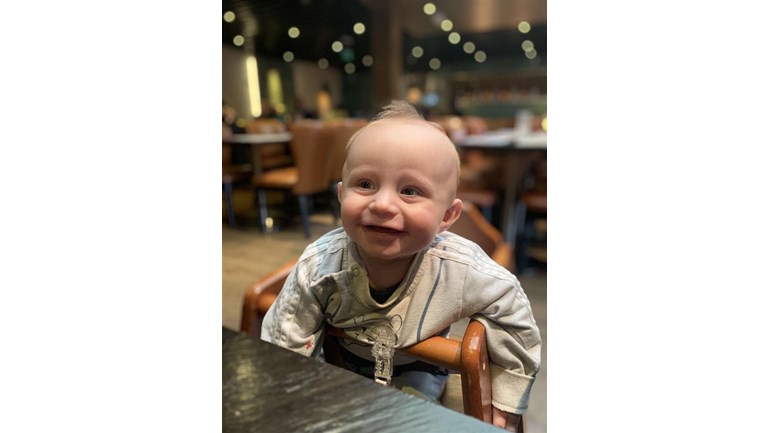 Stanley born in July 2021 developed plagiocephaly and brachycephaly which I noticed at 6-8 weeks of age, brachycephaly is when the head is flattened at the back which causes the head to widen, plagiocephaly is when the head is flattened more to one side which leaves a bulge on the other side. This can also cause misalignment of the ears and bulging of the forhead. 
I had asked the doctor and was informed that once babies start rolling an sitting up the head will start to reshape back to its rounded position. 
So it had been 10 weeks since I had spoken to the doctor his head had not got better, despite following advice of tummy time, walking with him in a sling instead of in the buggy, holding him for naps rather than laying flat and also bought a couple of pillows made to help prevent and eliminate this condition, I also bought a tortle repositioning beanie which is a hat with a piece stuck out there back and you put it on the flat side so it prevents them laying and flattening that side more.
The doctor referred me to a paediatrician, which sent me a letter back refusing any treatment and didn't even see him. 
The NHS refuse to acknowledge that when severe, this condition can cause real problems for a child - not just 'cosmetic' as they would have everyone believe! It is for this reason they refuse to treat the disorder, forcing parents to seek help privately.
After months of research,I then went to see a specialist at technology in motion who done measurements and a 3d scan of Stanley's head, his condition is in the severe spectrum and will not get better on its own, the only way I can help my little boy is to invest in a cranial helmet specially made to fit his head Which will need various appointments to readjust accordingly, sadly this is a very expensive treatment. 
Without this treatment his head will remain flat at the back and ears to be misaligned and could have future difficulties in certain activities.
Stanley will have to wear this helmet for 23 hours a day for about 6 to 7 months due to him being small and having small growth. 
Any help large or small will be greatly appreciated. 
Thank you for your care and support
Nicola 
7.5% of all donations to Tree of Hope in relation to this appeal will be allocated to the general charitable purposes of Tree of Hope to cover our core operating costs.

If we raise insufficient funds, or surplus funds, then the funds will be used, if appropriate, to fund support for our child's needs in accordance with Tree of Hope's charitable objects.  If in those circumstances we are unable to use all or part of the funds for the benefit of our child in accordance with Tree of Hope's charitable objectives, then any funds that cannot be used will be transferred to be used for the general charitable purposes of Tree of Hope.

Thanks for taking the time to visit my JustGiving page.
Donating through JustGiving is simple, fast and totally secure. Your details are safe with JustGiving - they'll never sell them on or send unwanted emails. Once you donate, they'll send your money directly to the charity. So it's the most efficient way to donate - saving time and cutting costs for the charity.