STAND UP FOR SADIE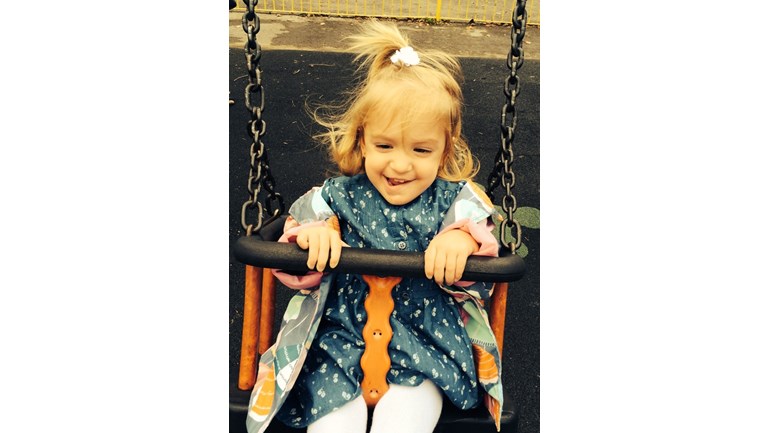 Thanks for taking the time to visit my JustGiving page.
Donating through JustGiving is simple, fast and totally secure. Your details are safe with JustGiving – they'll never sell them on or send unwanted emails. Once you donate, they'll send your money directly to the charity. So it's the most efficient way to donate – saving time and cutting costs for the charity.
For those of you who don't know us, I will give you a "brief" description of who we are, who our lovely Sadie is and why we are raising this money.
Sadie May from Margaretting, Essex was born on 8th May 2012 at 27 weeks. She was 13 weeks premature and weighed a very tiny 2lb 10oz.  She spent the first 3 months of her life in a neonatal unit and fought all the odds of survival. But unfortunately just after her 1st Birthday, Sadie was diagnosed with Cerebral Palsy, caused by her early arrival into the world. Consequently, Sadie is nearly 4 years old and is unable to sit unaided, stand or walk. 
Cerebral Palsy is a neurological condition caused by damage to the brain before, during or after birth. Specifically, Cerebral palsy affects muscle control and movement. Children with cerebral palsy have difficulties in controlling muscles and movements as they grow and develop. Cerebral palsy itself is not progressive; the injury to the brain does not change. However, the effects may change over time for better or worse.  There is no cure for Cerebral Palsy and in the UK one in 400 children are affected.
We have been fundraising since last year to allow Sadie to access treatment & facilities that are not funded in the NHS such as The Bobath Centre which is specialised centre in London for children with CP. They provide specialist physio & occupational therapy but this unfortunately is not funded by the NHS & it doesn't come cheap. A fortnight treatment block at Bobath is nearly £5k!!   Please see below a link of her highlights at her first visit the Bobath last October.

This year our sights & target are much higher, we are aiming to raise a whopping £60k by the end of 2016 with Tree of Hope to support Sadie to have a life changing operation called Selective Dorsal Rhizotomy (SDR) that will enable her to walk!!!.... something that even with lifelong intensive physio is something that Sadie may never do!
We are very excited about the prospect of Sadie having the operation & the thought of her being able to live an independent life with no restrictions makes us more determined and we hope with your help and support we can reach our goal!   Most children travel to St Louis, USA to have this operation but it is now being performed in London at GOSH and The Portland Hospital which is where we hope Sadie will be able to have it done in the next year or so. The money raised will be used for Sadie have the operation and for pre and post-op physiotherapy to enable Sadie the strength required for the operation and the months of rehabilitation after the operation.  It will be a long and tough journey for Sadie and us as a family but we know this will change Sadie's life and only bring positive things.
SDR is not a cure for Cerebral Palsy but it is the next best thing for Sadie to be able to achieve some form of independence and the chance to be able to one day walk into school, a job interview or down the aisle on her wedding day.  Something that we as able bodied people take so much for granted.
For more detailed information on SDR please see below details of the operation from Great Ormond Street Hospital website.
http://www.gosh.nhs.uk/medical-information/procedures-and-treatments/selective-dorsal-rhizotomy/
Right now for some background on Sadie.... rather than droning on I thought you would like to hear about Sadie from Sadie & some of her No.1 Fans:
Sadie: "My name is Sadie May Fisk, I'm 3 when I am 4 I will be a grown up like Ben & when I am bigger I can walk. I like walking!  I love riding Penny (Horse at Hippotherapy) it was Penny's birthday and I fed her horsey birthday cake. 
Ben (Big Brother, 5):  "My sister is called Sadie and she has "Sarah Lapalsy"  She can't walk like me but when she is older and 5 like me she will be able to walk.   She can't play in the garden really well but she loves to bounce on the trampoline with me.  Sadie is naughty and she is very bossy, she is always asking me to help her with things but I don't mind 'cos she can't do them herself because she can't walk.  I love my Sadie May"
Teddy & Bobby (cousins, aged 7 & 5): "Sadie has "terrible palsy".  Sadie has poorly legs & I have to carry her sometimes cos I'm the oldest."
Key worker from Sadie's nursery: "Sadie is a cheeky, confident little chatterbox who achieves something new based on her strong will for independence & we are all proud of her consistent determination. 
Messages from Sadie's friends at nursery: "Sadie always shares her toys with me" "Sadie is kind and she is my best friend" ""Sadie has big colouful eyes".
Should we exceed the target amount or if we do not raise enough funds, or if they cannot be used for any other reason, the funds raised will go to the general funds of Tree of Hope to assist other children in need of life changing operations and or medical equipment.
We also have a Facebook page where you can follow Sadie's journey in the run up to, during and post SDR.
www.facebook.com/standupforsadie
You can also donate to Sadie by texting SADI85 & your amount to 70070
You can donate £1, £2, £3, £4, £5 or £10 to Sadie! No donation is too small.
Thank you from the bottom of our hearts, there is no price on independence and Sadie will always know who helped and supported her to achieve that! 
Love Kelly, Mark, Ben & Sadie. xxx