Standing With Sebastian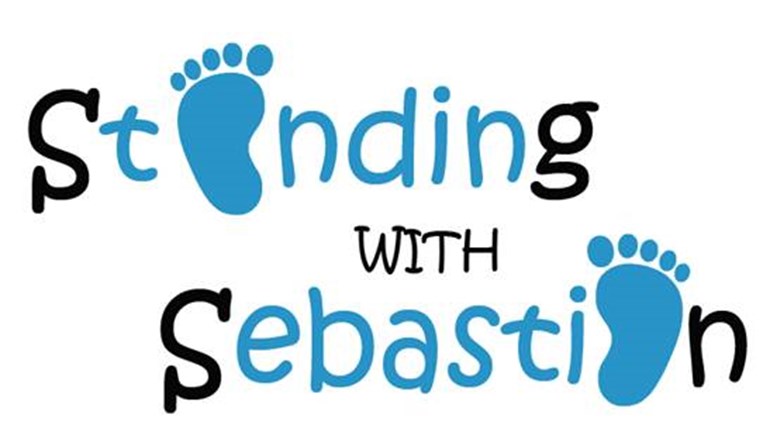 My name is Sebastian John Skinner, I am 3 ½ years old, I am my mum and dads little miracle boy. My parents had been told several times that they would not be able to have a baby. After trying for such long time with no success they had given up hope. Heartache was replaced with joy when they eventually got pregnant with me through their very last round of IVF at Leeds hospital in early 2010.
After a difficult pregnancy I was born 9 weeks early, arriving on Xmas eve in 2010, I spent 5 weeks on special care in Harrogate hospital before coming home. From day one my development has been much slower than most other children my age. I did not sit up properly, stand up or take any steps until I was 2. Whilst this was initially put down to my prematurity, at 18 months I had an MRI scan that revealed the heart-breaking news for me and my family that I had a condition call Cerebral Palsy.
Cerebral Palsy is a condition that affects my muscle control and movement. I have a type of cerebral palsy called Spastic Diplegia, which for me means that tight muscle tone (Spacticity) in my legs affects my balance, standing, walking, flexibility and mobility.
Over the last few years I have had a number of therapies and medical aids to assist and support my development and help me maximise my potential despite having CP. I have had hydrotherapy to relax my muscles, used a sitting frame and standing frame to help me strengthen my core and stand properly, I have had to use a special walking frame called a Kaye walker to get about and still wear specially moulded leg splints and boots to support my legs. I have to have my legs cast regularly as I am growing quickly and need new splints a few time per year.
I enjoy going horse riding on Murphy to improve my posture and core stability and more recently I have had Botox injections in both my legs to temporarily reduce the spasticity. Although this only last for a couple of months before it wears off.
I am a very determined, energetic and happy little boy, who always has a smile on my face, I love life and always want to do more than I physically can. Due to my condition I fall over a lot and am always covered in bruises.  I do get very frustrated, however I keep getting up dust myself off and try again. I am becoming more aware of my condition and that I am different to the other boys and girls and can't do the things that they can, which makes me sad. I sometimes play on my own if I can't keep up or keep getting knocked over.
There is no cure for Cerebral Palsy. It is not progressive and will not get worse, however as I age and grow I will experience additional issues such as increased levels of pain and discomfort, increase in contractures (shortening of muscles), less efficient motor control or osteoarthritis.
I am growing very quickly at the moment and my left leg is becoming extremely tight with very little flexibility to bend at my ankle joint. This means that when I take steps I walk on my tip toes and drag my left leg and foot along with both feet pointing inwards, often falling over.
These deformities could increase, with my legs twisting in further making even what I can do now more difficult. The reality is that without a special kind of life changing surgery I may have to use a wheel chair to get around for the rest of my life and be faced with several orthopaedic procedures throughout my life to cut and lengthen my muscles in my legs to try and prevent my bones twisting permanently.  
I will never be able to run jump or kick a ball, I can't go up or down the stairs on my own. I can't always play the same games as my friends, ride a bike or do any climbing. I have to be dressed and undressed and taken to the toilet by my Mum and my Dad every day.
We were made aware a few months ago about a life changing surgical procedure that is available to children with my type of Cerebral Palsy. It is conducted by a very small number of surgeons worldwide. The procedure is called SDR (Selective Dhorsal Rhizotomy).
SDR is a neurosurgical technique used to treat spasticity (increased muscle tone) in the lower limbs. The aim of the operation is to reduce the spasticity in my legs, to improve function and to improve walking. Basically, it involves cutting some of the sensory nerve fibres that come from the muscles and enter the spinal cord. The nerves are electrically stimulated until they find the ones that cause the spasticity and these are then cut, permanently relieving the spasticity in my legs.
Having SDR would be truly life changing for me and my family. After the procedure and extensive rehabilitation there is a very good chance I would be able to run, jump, and climb the stairs, I would be able to play fun games with my friends and lead a more normal independent life. I could even play football with my Daddy and get a bike!
SDR has positively impacted so many lives permanently, enabling children to conduct more normal and fulfilling lives. There is significant evidence of the benefits of SDR and yet still our health service (NHS) chooses to ignore the life changing benefits of this fantastic procedure in favour of aesthetic procedures and other operations that are conducted for conditions that were not evident at birth.
Due to the lack of funding and support here in the UK in order to have this procedure I need to raise £75,000 to go to St Louis in America to see Dr park an SDR specialist who has successfully changed the lives of over 3,000 children and young adults with CP, through successful SDR procedures.
Hopefully my situation can raise awareness as to the vital and huge changes SDR can make to CP sufferers in order to increase pressure on the NHS to start funding this vital procedure that changes so many lives immeasurably.
My parents have set up the "Standing with Sebastian" appeal to raise the £85,000 I desperately need for this life changing operation that will help me to achieve as near a normal life as possible. The money raised will go towards the cost of the operation and considerable post operative rehabilitation required over the following months and years. 

By supporting me, or giving your time to raise money or making a donation you would be helping me achieve the very best I possibly can out of life. Please donate at www.justgiving.com/standingwithseb to give me this wonderful opportunity. 
Note: We have received consent form Tree of Hope to increase our fund raising total by £10,000 in line with increased costs of post operative physiotherapy and rehabilitation once back in the UK. 
Should we exceed the target amount (or if we do not raise enough funds, or if they cannot be used for any other reason) the funds raised will go to the general funds of Tree of Hope to assist other sick children.