Stand up to CMT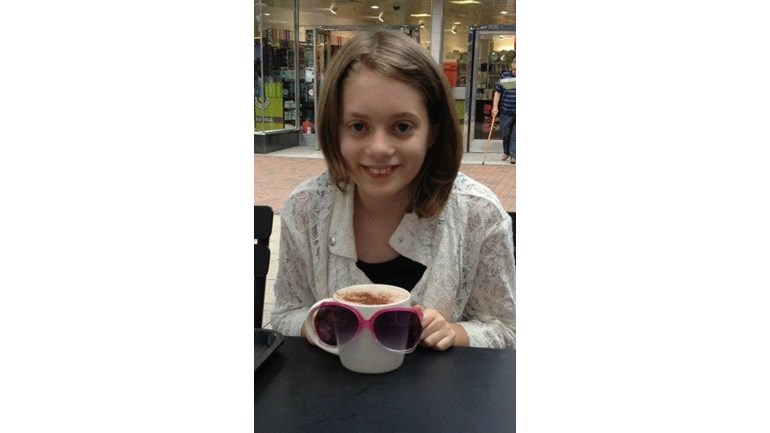 Thanks for taking the time to visit my JustGiving page.
Please help G stand up to CMT. 
G is a 13 yr old girl who loves art . G regularly exhibits and auctions her work to raise money for her treatments ,charities and raise much needed awareness for Charcot Marie Tooth. 
G was born with CMT which is described as the most common inherited neuromuscular condition on the list of in curable progressive rare diseases. 
G is passionate about raising awareness for this little heard of condition which effects about 1 in 2500 people. G's father and uncle have CMT and have both had a below knee leg amputations.  
G uses leg braces daily and finds these increase her ability to be independently mobile , helping reduce fatigue and pain enabling her to walk , keep better posture which reduces trips , falls and supports bone growth.
Georgia has also been diagnosed with a scoliosis curve and kyphosis curve to the spine, muscle weakness has effected her muscle tone which leads to further mobility challenges which also effects her fine motor skills such as being able to do up buttons or fasten her earrings.
G has a fantastic NHS team who she sees on a regular basis they provide help ,support and treatments .currently G uses a NHS wheelchair and will have NHS surgery when it is needed.
At the age of 2 G started to walk with the aid of a k walker and orthotic shoes provided by the NHS. The years following G received  a number of treatments and leg braces but found it very difficult to adapt to these types of treatment which unfortunately weren't having the desired outcome.
5 years ago after much thought and trialing of treatments we decided to fund custom made leg braces from a private clinic which also treat NHS patients. 
Unfortunately we have been unable to get NHS referral to the clinic despite moving house in view of being within catchment area so we decided to pay ourselves and have done since , the fact G  responded so well to the type of leg brace and casting treatments confirmed to us we had no other option but to provide these for our child. We feel lucky to have finally found orthotics that compliment and enable G to be as comfortable and mobile as possible. We have also paid for various other types of equipment and treatment including a special trike, exercise equipment,courses of regular physiotherapy and massage orthotic and casting.
.As G's condition progresses she will continue to need ongoing prescription of leg braces and equipment, a new type of custom made leg brace may be needed and better suited to her changing needs, we would also like to be able to look at purchasing other equipment like a modern wheelchair which G would use in school daily or possibly a lightweight wheelchair which would enable G to enjoy sport which is something that she isnt able to partake in without a suitable wheelchair.
We would like to thank you for helping G stand up to CMT . Your donations to G and her cause will help G have the best possible future and are so gratefully received.
 If we are able to raise more than what is needed to fund G's ongoing treatment we would donate any extra funds to other sick children at the Tree of Hope. 
Thank-You
Donating through JustGiving is simple, fast and totally secure. Your details are safe with JustGiving – they'll never sell them on or send unwanted emails. Once you donate, they'll send your money directly to the charity. So it's the most efficient way to donate – saving time and cutting costs for the charity.