Special Sisters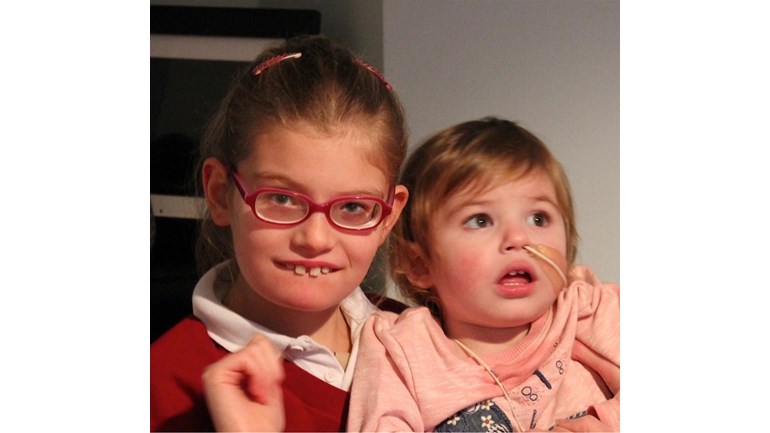 We are fundraising for Isabelle and Siena who are now 12 and 5 years old (and it's nearly 4 years since we started Special Sisters!)  They are very happy girls; despite all the challenges they face and have intriguing and mischievous personalities.  The girls have an undiagnosed condition which causes uncontrolled Epilepsy, severe developmental delay and visual impairment amongst other complex issues. 
http://www.treeofhope.org.uk/special-sisters/
Unfortunately, last year Siena became unwell very suddenly, and was transferred to a London Hospital, where she stayed for 5 months.  She was seriously ill and lost over half her body weight, her epilepsy was out of control.  Eventually, she started to recover but her daily care needs now require round the clock specialist care. However, she has surprised everyone with her gradual recovery and is much brighter, her epilepsy is improving too, but she is still frequently unwell.  When she is well, Siena has a joy for life that is hard to mistake if you meet her. 
Isabelle is a very determined girl who knows what she likes.  She has also had a challenging year at times, and now needs a Naso Gastric tube (which goes into her stomach via her nose). Having lost weight, she became dehydrated which caused her epilepsy to get
worse.  The NG tube is helping her to stay well and she has put on weight. Overall, her epilepsy has improved too, we think partly due to a long-term steroid treatment. 
The increasing pressures of their complex care and health needs has left us with little capacity to focus on the fundraising campaign for Special Sisters, so this has had to take a back seat over the last year and we have had to review our goals. We have decided that our original plan to get to America for treatment is no longer realistic for Isabelle and Siena.
Some of their health needs were much simpler when we started our fundraising, compared to now, meaning our original aim is no longer viable. The girls now need a large team of people around them every day, which was not the case when we started our campaign. Their health is more unpredictable and the risk too great, should either of them become unwell during the journey or whilst in the US.  Furthermore, there are some new developments in epilepsy medication in the UK which we would like to explore for the girls as soon as the licenses are granted here, which could be within the next year.  We are focusing on quality of day to day life for the girls, making good  memories and enabling them to be the best they can be both now and in the future.
Funds we have raised so far will continue to be spent on equipment and therapies for the girls, as always planned. We still need to raise funds for specific items of equipment as they become necessary.  The girls need essential adaptations and kit around the home, computerised communication systems and other pieces of equipment to make their lives more manageable and comfortable as they grow, as well as helping them develop and learn new skills, to help them be as independent as possible in the future.
We really are forever indebted to the wide group of people from our community and far beyond who have, and still are, raising funds to support the girls through events and sporting feats or those who have donated having read just their story. It gives us hope that the girls can have a good quality of life in the future.  Thank you once again for being
part of that and your interest and support for Special Sisters.