Sophias Stepping Stones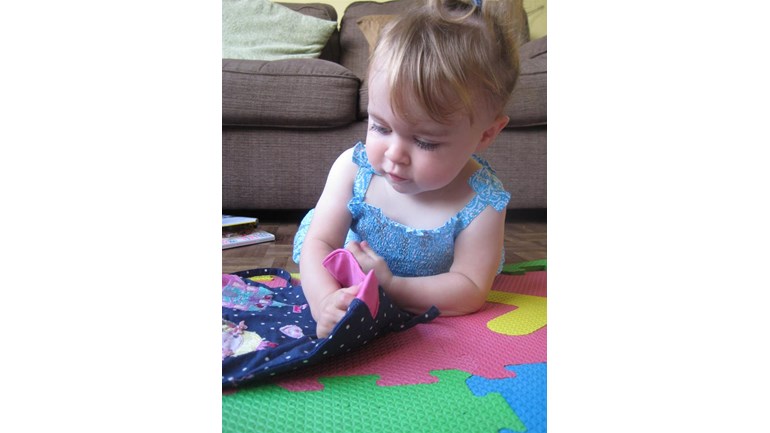 Please visit our website - http://www.sophiassteppingstones.co.uk
or - http://www.facebook.com/sophiassteppingstones
Sophia was born on 7 December 2010 at the Oxford John Radcliffe Hospital. She was 8 weeks premature due to her mum's ill health, but, after 4 weeks in S.C.B.U she was thriving. We finally got our little princess home and she was perfect.

The first 8 months were wonderful, soaking up every minute of her and everything seemed fine. We then started to notice that Sophia wasn't progressing as well as she should be. Her legs started to spasm, they were straight most of the time. She was unable to sit up, crawl or play with her feet like most babies. We voiced our concerns and were sent to a hip specialist. After x-rays, we were told her hips were fine but the registrar wanted Sophia to be referred to a Neurologist. Instantly, alarm bells started to ring, what could be wrong with our daughter?

Sophia was seen and sent for an MRI scan. We had to wait 2 weeks for the results, the longest of our lives.  On the 1st August 2012 our beautiful daughter was diagnosed with Spastic Diplegia, a form of Cerebral Palsy. We couldn't believe what was happening to our little angel and why her? To think she might never walk broke our hearts. We cried (a lot), we talked (when we were strong) and did a mountain of research. Sophia is our world, we both knew that we would make sure that we would do everything in our power and a little more, to make her life the best it can possibly be.

Sophia is an amazing child, she makes everybody fall in love with her the minute they meet her. She is beautiful, intelligent, strong and loving. Always trying her hardest in everything she does. Most importantly, she is incredibly strong willed and determined, which has seen her progress beyond professional predictions already.

The ultimate, available treatment for Sophia is an operation called S.D.R. This operation would reduce the pain in her legs, cutting spasticity and allowing her to place her feet flat. This, coupled with intensive physiotherapy will, hopefully, allow her to walk independently. The last few months we have spent all our time talking to parents whose children were post op, specialists and reading up on the procedure. After a long time soul searching we decided that this is an opportunity we have to give our angel. 
The operation will be carried out in America, where the surgery was pioneered by Dr T S Park. The cost of the S.D.R and the years of intensive physiotherapy, required afterwards is a massive £65000! This is a very daunting amount to raise, but, Sophia deserves this opportunity and we will do all that we can to reach our target.
Please help and support us in any way you can and make this more than just a dream.