Help Fund Skye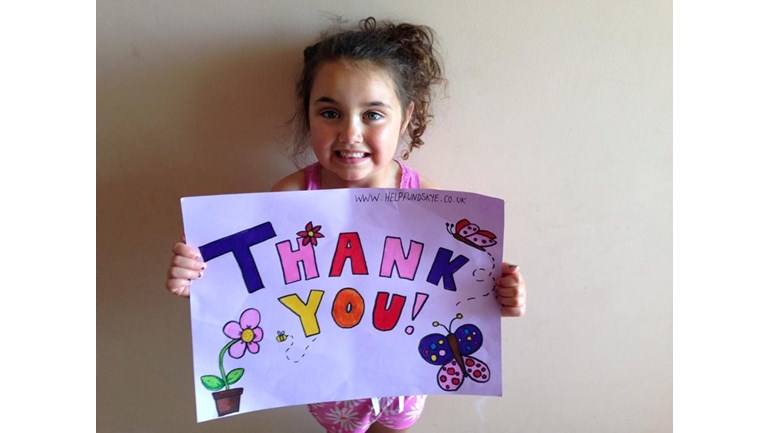 Skye Cowan a beautiful 6 year old girl who lives in Poole. She has Cerebral Palsy caused by brain damage at birth. Her condition affects her movement in her limbs causing her constant pain and restricting her quality of life.
She will never be cured of this but to stop the condition making her life worse and alleviate the pain she suffers daily there is an operation available called SDR (Selective Dorsal Rhizotomy).
At present, SDR is the only surgical procedure that can provide permanent reduction of spasticity in Cerebral Palsy.
If she gets the operation the results that we will expect are:
•    Skye's sitting and standing postures will be normal
•        Skye's walking will be close to normal
•    Skye's balance will be significantly improved
•        Skye will need no leg splints after a few months
•     Skye will be able to participate with her friends in recreational sports, dancing and in all fitness activities
•        The muscle tone in her legs will be permanently normal
•        Skye will no longer require physiotherapy treatment after a few years
These are all things that at the moment Skye cannot do and suffers daily just trying to walk.
The SDR operation is not available on the NHS in the UK for Skye. In the UK, SDR is at clinical trial stages and Skye is not eligible for this treatment in the UK if she were to be chosen, and if so would be classed as a clinical trial with no guaranteed outcome or continued course of treatment!!! This is why we would like Skye to have the operation in America where the operation we are looking to get is performed at the St Louis Children's Hospital in Missouri by Dr Park. He has been performing this operation for over 28 years and has operated on over 2,000 children with a 100% success rate and currently carries out 3 operations a day.
After the Operation Skye will need Physio therapy to help with her rehabilitation. The total cost of the operation and subsequent physio therapy for Skye is just over £65,000 to which the NHS will not fund any of this, the funding has to be found privately.
Skye has just received her operation date which is the 1 of October which is good news but means we need to have raised enough funds to pay for the operation and the date for payment is the 28 August, less than 21 days away!!!!!!! And that is where we need your help and support.
If we do not have the funds available Skye will not have the so badly needed Operation this time round and may not get a second chance.
Below are two links to a video on YouTube from a piece taken from a BBC current affairs programme "Inside Out" on the SDR treatment for children with Cerebral Palsy. I think you will find this piece news very interesting and informative. (This is also on Skye's webpage)
BBC Documentary on the SDR operation and a child undergoing this Op which is what we want to achieve for Skye
Part 1
http://www.youtube.com/watch?feature=player_embedded&v=JCss6Acj94Y
Part 2
http://www.youtube.com/watch?v=f6uc-5p8W30