Simones Hope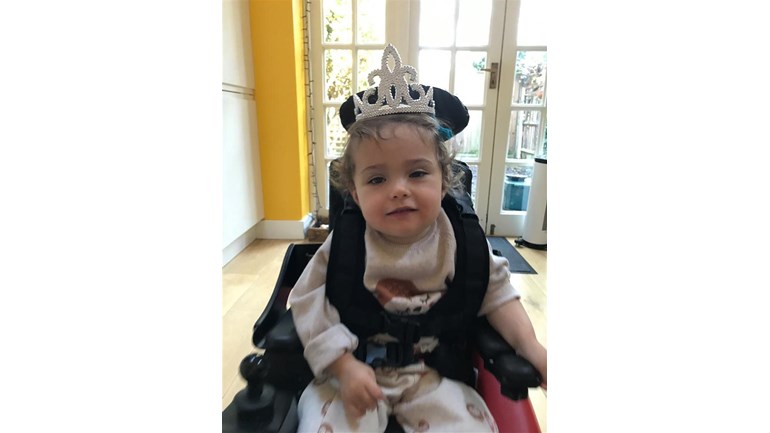 Our beautiful daughter Simone was born April 8th, 2017. She has a smile that melts you immediately and the brightest green eyes you've ever seen. We live daily in the joy that is our daughter, she is a happy, funny little girl, her laugh and silliness makes us laugh right with her every day. But, her journey, our journey, has been and is very difficult and has brought us to our knees on many occasions. Simone is almost 3 years old, she doesn't walk, talk or move freely like you would expect from a regular 3 year old. The journey started when Simone was delivered 11 weeks premature via breech delivery which deprived her of oxygen(hypoxic incident). This had catastrophic results leading to cerebral palsy, a bilateral Erbs palsy injury rendering her left arm completely paralysed and her right arm with significant nerve damage, she also has severe hearing loss (2 types). Simone spent the first 3 months of her life in the NICU. 
Simone was due to have cochlear implant surgery in January 2020 but this is delayed due to a new diagnosis called Septo Optic Dysplasia. More testing is needed to fully understand how this condition is impacting Simone's overall health, so far we know it puts her in a more medically fragile state.
 We, as her parents could never have imagined any of this for our little girl. We have grieved for the child we thought we were going to have, it has been so tough processing the trauma of her birth, the following months in the NICU and accepting the special needs life she now has. But, we have now come to a place beyond acceptance and choose daily to live in the joy that is Simone. We strive to give her every opportunity to grow and learn in the best ways possible for her. 
 The NHS provides support, but Simone needs more therapies, more support than they are providing to have the best possible chance to be the best she can be. We are a single income family (Tracy, her Mom is Simone's full-time carer) and we simply cannot financially sustain all the costs. And this is where we need your help, we need funding for our little girl.
 In our research to support her growing we have discovered ABMNM (Anat Baniel Method Nero Movement), it has been transformational for her, she has gone from a baby who didn't move much or vocalise much at all to a little girl who can roll over, who babbles all the time and now, she can sit independently! We cannot tell you the joy to finally see our daughter move and discover herself, her body and the world around her. These changes are not the milestones that are expected from a neuro-typical child, but for Simone, her progress has been extraordinary and this has given us so much hope for continued progress for her.For Simone to continue to fully benefit from ABM long term it needs to be done monthly in intensive blocks that cost on average £2000 a month. 
 Simone also needs more intensive, more frequent speech and language therapy, she's starting to say some words so we can know she can hear some sounds and we want to make sure she has all the opportunity to continue to find her voice. At a minimum we need £500 a month to provide her with this massive opportunity.
 So, if you can please donate right here, it's an easy 2 minute process!
 OR, if you would like to raise funds by doing an event we have joined with Tree of Hope which is a registered UK charity. They say it takes a village but at this point Simone needs an army of support to help her be the best little girl she can be!!
 All money raised will go directly to treatment and therapies for Simone as well as future equipment that will be needed. 

 We are so appreciative of your love and support, 
Tracy, Mark & Simone. 
7.5% of all donations to Tree of Hope in relation to this appeal will be allocated to the general charitable purposes of Tree of Hope to cover our core operating costs.

Thanks for taking the time to visit my JustGiving page.

Donating through JustGiving is simple, fast and totally secure. Your details are safe with JustGiving - they'll never sell them on or send unwanted emails. Once you donate, they'll send your money directly to the charity. So it's the most efficient way to donate - saving time and cutting costs for the charity.