Sienna's Footsteps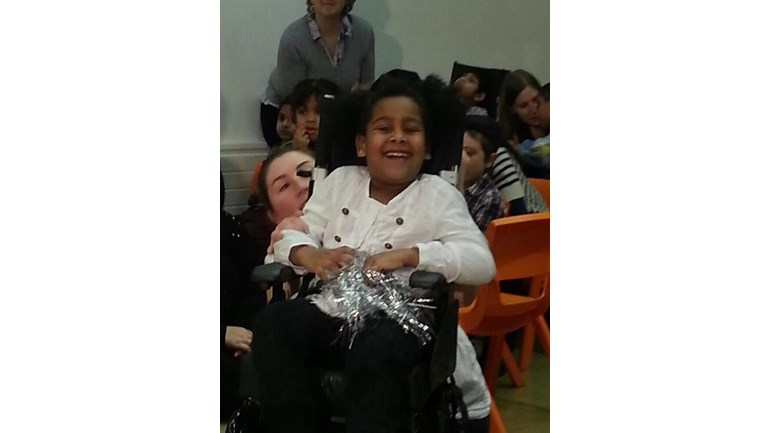 **Thank you for visiting Sienna's page. Please donate to our new page at this web address: www.justgiving.com/fundraising/Siennas-footsteps.**
My name is Sienna. I am 6 years old. I am a fun, sweet and loving little girl, my mummy tells me that every day! 
I was born at full term weighing 5lbs 11 ounces. When I had my 9 month check, I was not able to sit up on my own and needed support. I had to go back to be checked when I was one years old but by then I still couldn't sit up on my own and I wasn't able to do things other toddlers were doing like being able to feed myself finger foods or babble.  I had to go for different tests to find out if there was anything wrong. All the tests came back normal , so mummy and daddy went to see the Specialist at Addenbrooks hospital.  After being examined the Doctor said there was something wrong not just with me being physically unable to do things that other children my age could but there was something wrong affecting my brain. The Specialists say my neurological development is between 12 and 18 months. 
I have fine motor skills and it's difficult to feed myself as my grip with my fingers is not strong.  I cannot balance myself and I sometimes have falls.  I have marks all on my knees and ankles where I have been crawling and sitting . My family is hoping therapies to help me with my balance and to strengthen my muscles would help me and I won't struggle. I need to use a lot of strength to walk in my walker and I get tired easily and have to crawl. 

After seeing the specialists  mummy started to take me to special need groups and researched lots to help me. I have botox  injections to help with the stiffness in my legs and have undergone so many tests and countless hospital appointments and am monitored regularly.
The doctors and specialists all said I have severe development delay,  microcephaly  (small head size for my size) and generalised hypotonia but a little while ago we were told I have cerebral palsy but still have a genetic disorder that I am currently being tested for.  It is difficult for me to do a lot and i cannot do what other children are able to do and I need help with everything. This doesn't stop me though! I get the opportunity to have a go at everything and one of my favourite things is baking with my mummy and going to the park. 
I am unable to walk unaided and have limited speech but my whole family tells me that I am so special and I make everyone smile and I light up a room.  It's hard for me to do things and sometimes I get scared and frustrated and upset but I know I have my family who will always be there for me and give me lots of cuddles and love. 
I love the swings and being carried to dance to my favourite songs. I love my little brothers who play 'ring a Rosie' with me and tickle me. I love being outdoors and with my family.
I hope to one day be able to walk unaided and be able to do things like ride a bike. My family are trying to raise money so I can have therapy like physio, hydro and rebound therapies which would help me tremendously  to improve my physical development. We hope to raise money for surgery for SDR to have in America which we would need to raise a lot for including therapy after care.  We need to raise a big amount for this. This may help me to walk and improve the stiffness in my legs which sometimes cause me pain and discomfort. We are also raising money for equipment not available on the NHS and anything else that would make things much easier for me to be able to communicate and get around.
I hope you can help me on my journey to be able to walk and help with improving my development which would help me greatly.  Thank you for taking time to read my story . We are so thankful for your time xxx
Thanks for taking the time to visit my JustGiving page.
Donating through JustGiving is simple, fast and totally secure. Your details are safe with JustGiving – they'll never sell them on or send unwanted emails. Once you donate, they'll send your money directly to the charity. So it's the most efficient way to donate – saving time and cutting costs for the charity.