Matilda's Mission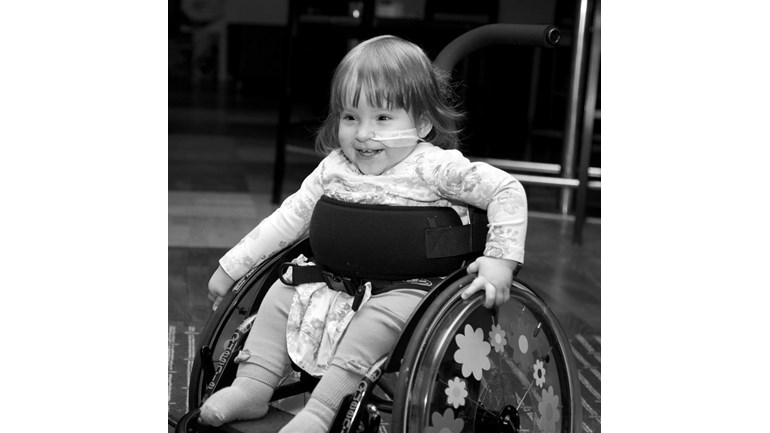 Our beautiful Matilda Rose and her twin sister Layla Grace were born in Sept 2011, sadly Matilda was born with a severe form of Spina Bifida and Hydrocephalus ( fluid on the brain). Her spinal cord was on the outside of her body and at just 16 hours old she underwent a 12 hour operation to close her spine, have plastic surgery and have a drainage tube ( a shunt) inserted in her brain in order for her to survive.
Matilda is sadly paralysed from the chest down, she cannot walk at all, crawl, roll or sit completely unaided for longer than a few minutes.
Matilda has brittle bones - she has had numerous fractures, she has lifelong kidney, bladder and bowel problems, she is tube fed as she cannot/ will not eat, she has camptodactyly which means her fingers are turned in and contracted so she cannot use them properly. 

Matilda also has Neuronal Migration Disorder, which means she has a degree of developmental delay although at this point we do not know what the future holds for Matilda in terms of learning disability. We have been told she has an 80% risk of seizures which terrifies us in terms of further brain damage.
Matilda has spent a large proportion of her life in and out of hospital, she has had her 7th major brain operation, 3 operations on her hips and legs and 14 general anaesthetics for other various surgeries/ procedures in less than 2 years.

Despite all these problems Matilda is a ray of sunshine, always smiling and a real character. She is a very determined little girl, one who struggles in all aspects of her life but she tries so, so hard to overcome these hurdles.
What we wish is to raise enough funds to take Matilda to Brainwave, 
We want to be able to offer Matilda every chance in life to reach her full potential and gain skills to help her as she grows.
Without the use of her legs life will be quite challenging to Matilda, but we feel that with the help of Brainwave, we can work together to devise Matilda a programme that will allow her more independence.

Brainwave works with families to deliver individual home based therapy and exercise programmes that help children with disabilities and developmental delays to achieve their potential.

Brainwave employs an integrated approach which aims at achieving progress in all areas: physical, developmental and sensory to address a child's social development as well as their physical needs.

Their multi-disciplinary therapy team is drawn from  the fields of physiotherapy occupational therapy, cognitive therapy, developmental therapy and education, they will devise an exercise programme uniquely suited to Matilda's needs and potential.
We are hoping that we may have enough funds to purchase her a specialised hand propelled trike, so she can play out with her twin and other siblings and ride their bikes together like siblings should. Why should Matilda miss out on this skill and enjoyment just because her legs don't work. The trike we are looking at is an Amtryke trike from America, as its the smallest one we can find.
If we reach our target and are lucky to go over, any further funds will be kept for Matilda and put towards the next piece of equipment she requires, for example she is in desperate need of a specialist car seats s her current one is a standard baby seat and does not support her enough.
Thanks for taking the time to visit my JustGiving page And for reading our story, your help means so much to us all as a family.
Donating through JustGiving is simple, fast and totally secure. Your details are safe with JustGiving – they'll never sell them on or send unwanted emails. Once you donate, they'll send your money directly to the charity. So it's the most efficient way to donate – saving time and cutting costs for the charity.
So please dig deep and donate now, thank you love from Matilda x