See with sound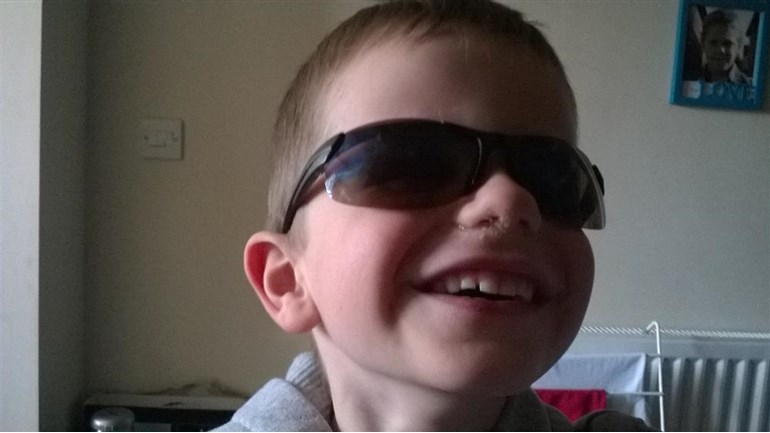 Training on echolocation with Daniel Kish
Mason is a very happy, energetic, intelligent and cheeky 6 year old. he was born with a very rare genetic condition called Lebers Congenital Amaurosis, this means that he was born blind with no light perception. This means that Masons' world is black. However this does not hold him back, there is nothing in this world that Mason doesn't believe he can do.

Echo location is very difficult to explain so I invite you to take a look at the video linked here - Daniel Kish is quite possibly one of the most amazing people I have ever met!  
For a fuller explanation of how this technique works, please watch Daniel's TED talk
The sort of independence and confidence that this man has is all that we wish for, for our little lad. We would love to see him going to university, maybe travel the world as Daniel does. For now though we would be happy for him to realise there are obstacles in his way so he can safely navigate around them.
Although World Access For The Blind is a non profit organisation, we have to cover their costs, travel from the USA etc. This works out at about £500 pounds a day. Daniel can put aside 3 days this July (he has other commitments) however this will be a perfect start to lay the foundations for echo location. Mason should after 3 days be able to know about large obstacles like parked cars.
It is recommended for an extended visit of 2 weeks to fine tune these skills to be able to find smaller objects and effectively give Mason 360 degree "vision". Mason has then been invited to a workshop in the USA where he can get involved in hiking, mountain biking and rock climbing. 
All we ask is that Mason can have a happy, independent and confident life - Daniel can help him achieve that.  I would like to take this opportunity to thank everyone in advance.
Lorraine x
Thanks for taking the time to visit my JustGiving page.
Donating through JustGiving is simple, fast and totally secure. Your details are safe with JustGiving – they'll never sell them on or send unwanted emails. Once you donate, they'll send your money directly to the charity. So it's the most efficient way to donate – saving time and cutting costs for the charity.
If you want to donate through a text message, just text SNBL68 and the amount to 70070. For example, if you wanted to donate £5, you'd text:
'SNBL68 £5' and send to the number 70070.    
You can donate £1, £2, £3, £4, £5 or £10 by text, for any other amount you'll need to give online. 
Within 24 hours you'll receive confirmation by text to let you know the donation has been successful.