Seb's Legs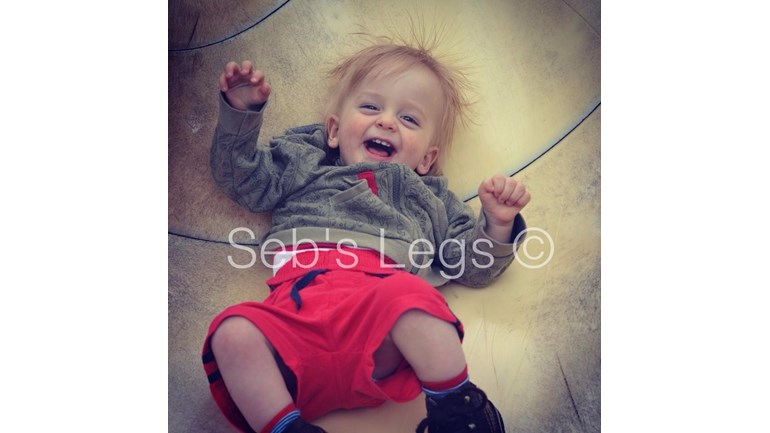 If you would like to sponsor our Three Legged London Marathon, please visit: www.justgiving.com/threeleggedmarathon 
Seb was diagnosed with Cerebral Palsy Spastic Diplegia at 15 months old, he is now two years old. He has difficulties with muscle control, balance and coordination. His legs have a tendency to be stiff and go rigid in extension, particularly when he is tired or working hard. This makes simple things, such as crawling, cruising and even sitting, very difficult for him. He is not yet able to stand or walk independently, but he is fiercely determined and trying so hard. "Go walk" was his first two word phrase!
Our aim is to raise at least £70,000 for Tree of Hope so that Seb can have life-changing Selective Dorsal Rhizotomy (SDR) surgery which will remove or reduce the spasticity in his legs so that he can move more freely. SDR is not yet routinely available in the UK on the NHS but Seb has been accepted by the world leading paediatric neurosurgeon Dr T S Park at the St Louis Children's Hospital in Missouri. Dr Park has assessed Seb as being an excellent candidate for the procedure and predicts he will be able to walk independently in all environments after surgery and rehabilitation. The money raised will pay for the surgery, aftercare, a prolonged course of physiotherapy and any specialist equipment he might need. 
Our wish is that one day soon Seb can walk holding hands with his twin brother, kick a football in the park, maybe even ride a bike or a pony. We just want him to have the chance to do the things we all take for granted. 
To find out more and follow Seb's journey:
www.sebslegs.com
www.facebook.com/SebsLegs
 
To follow #SebsLegs or Seb's parents' #ThreeLeggedMarathon training on Twitter:
@SebsLegs
@3LeggedMarathon
We are raising money through Tree of Hope, a registered charity (no. 1149254) which offers hope to the families of children in the UK with medical conditions who need specialist surgery, treatment, therapy and equipment in order to free them from suffering, giving a better quality to their young lives. All of Seb's funds will be kept securely with them and all invoices for his surgery, physiotherapy and equipment paid directly by them. Should we not need all the funds raised, any excess will go to other families supported by this charity.
 
Thanks for taking the time to visit our JustGiving page. Donating through JustGiving is simple fast and totally secure. Your details are safe with JustGiving - they'll never sell them on or send unwanted emails. Once you donate, they'll send you money directly to the charity. So it's the most efficient way to donate - saving time and cutting costs for the charity.