SDR4Oliver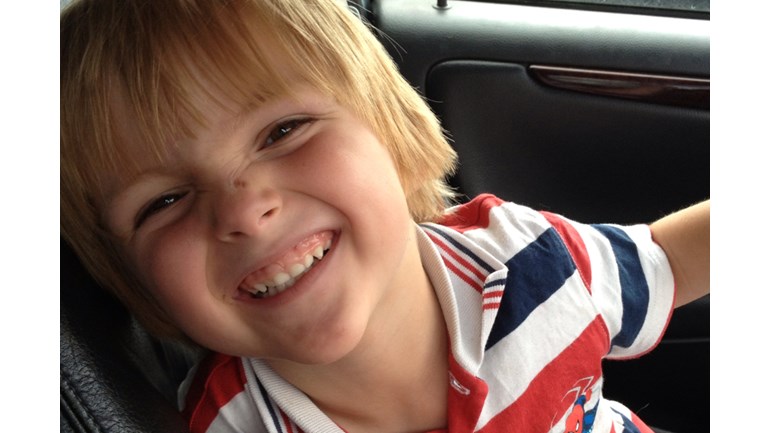 (Version Française à la fin de la page.merci)
Oliver was born in 2008 at 26 weeks gestation, weighing less than 2lbs. As a result of his extreme prematurity, he suffers from Diplegic Cerebral Palsy.
Cerebral Palsy is caused by brain damage very early in life.  It takes many forms, but in Oliver's instance, it causes extremely tight and painful muscles in his legs, poor balance and regular falls.  Oliver constantly walks on tip toe, so can only manage short distances before his legs become painful and tired. Although CP in itself is not degenerative, its effects will increase as Oliver grows, even with high levels of physiotherapy. Oliver will require multiple orthopaedic operations as he grows and it is predicted that as he reaches adulthood, he will use a wheelchair, particularly outdoors, in unknown, or uneven terrain.
There is, however, an operation available that could change this – Selective Dorsal Rhizotomy (SDR). The modern form of SDR was originally developed in America. It is a spinal operation whereby the spine is opened up to reveal the spinal cord and nerves inside. Using electrical stimulation, the surgeon can identify those nerves causing spasticity, and cut them, thereby permanently removing the spasticity. There is no other permanent treatment for Cerebral Palsy.
Oliver has been accepted for the operation at Great Ormond Street Hospital for children in London.  SDR is a new service at GOSH, having been recently introduced by the neurosurgeon, Mr Kristian Aquilina. Mr Aquilina originally introduced SDR to Frenchay Hospital in Bristol, and having trained other neurosurgeons to continue the service in Bristol, he has now moved to on to start the procedure at GOSH. Unfortunately, despite GOSH being an NHS hospital, Oliver's application for NHS funding has been refused.
The operation would remove the tightness in Oliver's muscles, allowing him to walk with a more normal gait and to put his feet flat with heels to the floor. This in turn would prevent the pains that Oliver experiences. The operation would greatly reduce the number of orthopaedic operations that Oliver will require in the future and would mean that he could run, jump and climb up and down stairs, just like any other little boy. Most importantly, it would mean that Oliver could continue to walk unaided, even as he goes into adulthood.
Despite his disability, Oliver is a very intelligent, charismatic and fun loving little boy, who is already only too aware of his limitations. He is already very conscious of other people's reactions to his disability and of having to wear unsightly leg braces. To be able to walk with a normal gait, and to be perceived to be 'normal' would be truly life changing for him.
--------------------------------------------------------
Oliver est né en 2008,à 26 semaines de gestation ,son poids n'était que de 925 grammes.Suite à sa naissance prématurée extrême,il souffre d'une paralysie cérébrale.
Une paralysie cérébrale est causée par des dommages au cerveau très tôt dans la vie.Cela prend différentes formes,mais dans le cas d'oliver,cela cause des raideurs extrêmes et douloureuses dans les muscles des jambes,un mauvais équilibre et des chutes très nombreuses.
Oliver marche constamment sur la pointe des pieds,donc il ne peut marcher que sur des courtes distances avant que ses jambes lui fassent mal et qu'il soit fatigué.Bien que la paralysie cérébrale ne se dégrade pas,ses effets vont augmenter lorsqu'Oliver va grandir.Même avec de la physiothérapie intense.
Oliver devra donc subir de nombreuses opérations de chirurgie orthopédique lors de sa croissance et il est prédit que lorsqu'il arrivera à son adolescence il sera dans une chaise roulante.
Mais ily a une opération qui pourrait changer complètement la vie d'oliver.
La rhizotomie dorsale sélective.
 La forme moderne de cette opération a été créée aux États-Unis.C'est une opération de la colonne vertébrale où une des vertèbres est ouverte et tous les nerfs à l'intérieur sont testés par stimulation électrique pour déterminer quels nerfs créent la spasticité des muscles et après le chirurgien coupera ces nerfs et de ce fait enlèvera complètement la spasticité.Il n'y a pas d'autre traitement pour la paralysie cérébrale.
Oliver a été accepté pour cette opération à l'hôpital d'enfants de Great Ormond Street à Londres.Cette opération est nouvelle dans cet hôpital,elle a été introduite par le neurochirurgien docteur Kristian AQUILINA.
Malheureusement ,cette opération n'est pas prise en charge par la sécurité sociale anglaise donc nous devons payer la somme de € 61000.00.
L'opération enlèvera toute la rigidité dans les muscles d'Oliver,de ce fait il pourra marcher normalement et mettre ses pieds à plat par terre,comme cela Oliver ne souffrira plus.
L'operation reduirait également le nombre de chirurgies orthopédiques que normalement Oliver devrait subir dans le futur et voudrait dire qu'il pourrait courir,sauter,monter et descendre les escaliers comme tous les autres petits enfants de son âge.Mais le plus important,cela voudrait dire qu'Oliver pourrait continuer à marcher sans aide,tout seul, même après son adolescence.
Malgré son handicap,Oliver est très intelligent,a un caractère charmant,est plein de vie,a un très bon sens de l'humour et il est plein d'amour.Mais déjà il connait trop bien ses limites et il est très conscient de la réaction des autres vis-à-vis de son handicap et au port de ses attelles aux jambes.
De marcher avec un pas régulier et d'être aperçu comme une personne normale serait vraiment un changement de vie radical pour Oliver.